Past Event
U.S. Strategy in the Middle East: An Address by Senator John McCain
Past Event
U.S. Strategy in the Middle East: An Address by Senator John McCain
Renewing American leadership in the Middle East should be a Republican goal. It should be a Democratic goal. And if the President makes it his goal, he will have my full support. – Senator John McCain (R-Ariz.)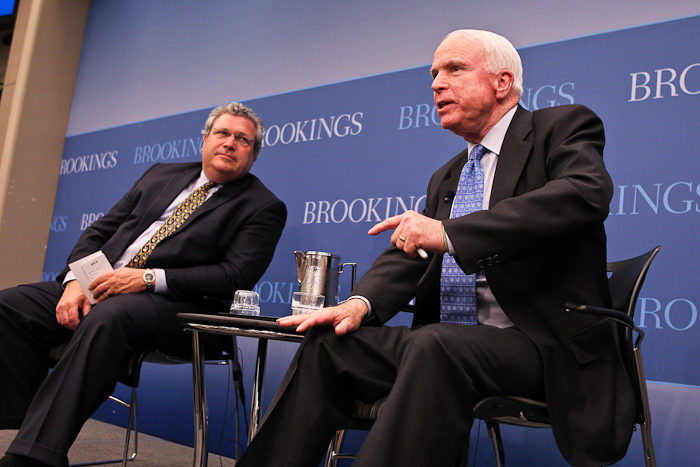 Robert Kagan and Senator John McCain during the question and answer session following

McCain's speech at the Brookings Institution, June 6, 2013 – Photo by Paul Morigi
 

On June 6, Senator John McCain (R-Ariz.) delivered his first public remarks on his recent trip to Syria, the ongoing civil war there, and U.S. policy toward the wider Middle East. McCain detailed how he thinks the United States should approach the Syria conflict and secure its interests in the volatile Middle East region.

Last month, McCain became the highest-ranking U.S. official to enter Syria since the bloody civil war began there more than two years ago. Spillover from the conflict increasingly threatens to destabilize Syria's neighbors. Hezbollah fighters are now battling alongside troops loyal to the Assad regime, fighting has spread into Lebanon, and orthodox Sunni clerics have escalated the sectarian tensions into calls for a new jihad. Many question whether the United States should lead the international community in a determined effort to ensure Bashar al-Assad's ouster as soon as possible—but the question remains: what might Syria and the region look like after multinational intervention? What might intervention mean for the confrontation over Iran's nuclear weapons, and for efforts to resolve the Arab-Israeli conflict? 
The Saban Center for Middle East Policy at Brookings hosted Senator McCain on the heels of his trip to the region (which included stops in Jordan, Turkey and Yemen). Brookings Senior Fellow Robert Kagan moderated the discussion and Vice President Martin Indyk, director of Foreign Policy, provided introductory remarks.

Follow the conversation on Twitter at #SenMcCain.
I am now more concerned than at any time since the darkest days of the war in Iraq that the Middle East is descending into sectarian conflict. – Senator John McCain (R-Ariz.)
If the Middle East descends into extremism, and war, and despair, no one should think America would be able to pivot away from those threats. Our national security interests will suffer. – Senator John McCain (R-Ariz.)
An alternative strategy must begin with a credible Syria policy. I want a negotiated end to this conflict. But anyone who thinks that Assad and his allies will ever make peace when they are winning on the battlefield is delusional. – Senator John McCain (R-Ariz.)
Our foreign aid budget is shrinking while the demands on it are growing. As a result, Egypt must show that it is a good investment of our scarce resources – that the return on this investment will be a freer, more democratic, more tolerant Egypt. If not, Congress will spend this money elsewhere. That is just a fact. – Senator John McCain (R-Ariz.)
I love Turkey. But I think Mr. Erdoğan, in the view of many Turks, is acting more like a dictator than a president. – Senator John McCain (R-Ariz.)
I would encourage a national dialogue on the Middle East. It's important, and it's not too late. – Senator John McCain (R-Ariz.)
Join the conversation on Twitter using

#SenMcCain
More Information
Contact
Hosted By
Twitter