Past Event
Transportation and the United States Economy: Implications for Governance
Transportation system is a large and vital part of a nation's economy, as it affects many sectors besides the users and suppliers of transportation. An efficient and extensive transportation system can greatly enrich the standard of living in modern society by reducing the cost in the economy, yet in many countries, including the U.S., large parts of the transportation system have been compromised by notable inefficiencies. With an enormous spending in both money and time on transportation, the U.S. experience in provision of transportation can serve as a valuable reference to guide policymakers on good governance in transportation sector.
On June 1, 2015, the Brookings-Tsinghua Center hosted a public speech on transportation system and its governance, featuring Clifford Winston, Senior Fellow in the Brookings Institution's Economic Studies program. Clifford Winston provided an overview of the U.S. transportation system from an economic perspective, discussed how a sound policy can improve transportation's contribution to an economy, and gave his own observations on Chinese transportation system.
The presentation introduced the US transportation system from an economic perspective in terms of promoting efficiency and reducing waste in transportation system. Dr. Clifford Winston elaborated on four aspects in his presentation. Firstly, transportation accounts for a substantial amount of economic activity with a share of 17% of GDP. Secondly, current U.S. transportation system reflects notable inefficiencies. It is important for this large amount of transportation capital stocks to generate higher returns and achieving social goal of transportation with minimum cost. Thirdly, improving system efficiency accounting for effects on non-transport sectors would yield larger gain. Finally, Dr. Clifford Winston discussed governance in transportation system in three ways: 1) regulation or deregulation? 2) public ownership or privatization? 3) Technology policy gains from adopting private sector innovations?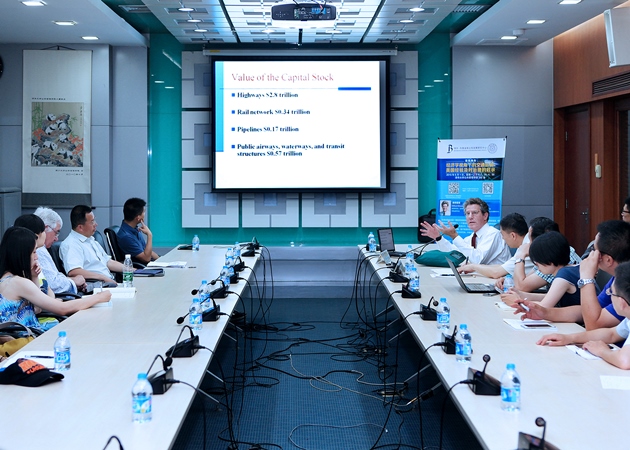 More Information
To subscribe or manage your subscriptions to our top event topic lists, please visit our event topics page.