On November 30-December 2, 2012, the Saban Center for Middle East Policy hosted the ninth annual Saban Forum, which this year was entitled, "U.S.-Israeli Relations in a Changing Environment." This year's Forum followed closely after the recent conflict between Israel and Gaza, as well U.S. Secretary of State Hillary Clinton's mission to the region last week and President Abbas' upcoming bid for Palestinian statehood at the United Nations.
The 2012 Saban Forum started on Friday evening with a gala dinner, and featured a discussion with Israeli Foreign Minister Avigdor Lieberman at 6:30 p.m., moderated by NPR's Robert Siegel.
On November 30, at 8:30 p.m., U.S. Secretary of State Hillary Clinton delivered a keynote address on U.S.-Israel relations, followed by a question and answer session moderated by Tamara Wittes, Director of the Saban Center.
On December 1, the Forum hosted a discussion for former Israeli Prime Minister Ehud Olmert, moderated by David Ignatius of The Washington Post.
Because past gatherings have allowed for an unparalleled level of dialogue, the Saban Forum has become a seminal event allowing government officials, policymakers and policy researches, journalists, and business leaders to engage in a candid exchange of views and generate creative ideas to address the multiple challenges that confront the United States and Israel in the Middle East.
Over the last eight years, the Saban Forum hosted many notable officials and private sector leaders, including President William J. Clinton, President George W. Bush, Prime Minister Ariel Sharon, Prime Minister Benjamin Netanyahu, HM King Abdullah of Jordan, President Shimon Peres, Palestinian President Mahmoud Abbas, Defense Minister Ehud Barak, Middle East Envoy Tony Blair, Palestinian Prime Minister Salam Fayyad, and Secretaries of State Hillary Clinton, Condoleezza Rice, and Henry Kissinger.
---
PHOTOS FROM THE FORUM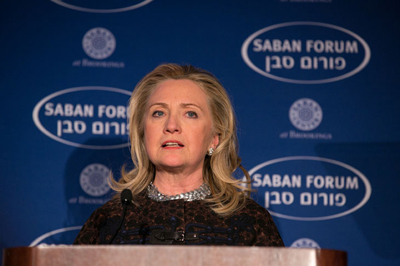 U.S. Secretary of State Hillary Rodham Clinton
Secretary Clinton with Tamara Wittes, Director of the Saban Center
Foreign Minister Avigdor Lieberman