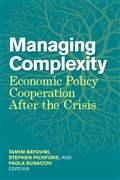 On May 16, the Global Economy and Development program at Brookings will host a panel on "Managing Complexity: Economic Policy Cooperation After the Crisis," a new edited volume published by Brookings Institution Press, which is the result of a joint research project by Chatham House and the International Monetary Fund (IMF).
Moderated by Kemal Dervis, vice president and director at Brookings Global program, the event kicked off with a presentation of the book's findings by Tamim Bayoumi, co-editor of the volume and senior fellow at the Peterson Institute for International Economics (PIIE) while on leave from the IMF, where he most recently served as deputy director of the Strategy, Policy, and Review Department.  
Panelists Fred Bergsten, senior fellow and director emeritus of the PIIE; Heidi Crebo-Rediker, senior fellow at the Council on Foreign Relations; and Vitor Gaspar, director of the IMF's Fiscal Affairs Department offered their perspectives on the experience of economic cooperation since the crisis, and reflected on the shortcomings of international policy cooperation as well as lessons learned.
Managing complexity: Economic policy cooperation after the crisis