Content from the Brookings Institution India Center is now archived. After seven years of an impactful partnership, as of September 11, 2020, Brookings India is now the Centre for Social and Economic Progress, an independent public policy institution based in India.
Brookings India hosted the first Ambassadorial Lecture on "Strengthening India-Afghanistan Strategic Relations in an Uncertain World." The address was delivered by His Excellency Ambassador Shaida Abdali, Afghanistan's Ambassador to India. A summary of his address is below:
Our world is undoubtedly going through significant changes. Changing global dynamics such as the rapid growth of China, a much stronger India, a resurgent Russia, a more active Japan, divisions in the Gulf, a divided Europe, and a much overstretched United States are creating uncertainties. The Asian continent in particular suffers from three major threats: violent extremism, criminal economies, and state sponsorship of terrorism. Afghanistan is perhaps the most adversely affected by these threats. In this context, Afghanistan's bilateral and multilateral relationships are of particular significance.
Indo-Afghan Strategic Partnership:
The Indo-Afghan Strategic relationship was formally established in October 2011 with the signing of the Strategic Partnership Agreement. India is the biggest regional donor to Afghanistan and fifth largest donor globally with over $3 billion in assistance.
India's assistance to infrastructure development has been significant. There are over 200 public and private schools in Afghanistan with over a 1000 scholarships sponsored by India. There are over 16,000 Afghan students in India.
India has provided assistance in the construction of critical infrastructure: around 4000 km of roadways in Afghanistan, most notably the Zaranj-Dilaram highway; the Salma dam and electricity transmission lines; and the Afghan Parliament building;
The Afghanistan National Security Forces (ANSF) took over responsibility from the NATO-led Resolute Support Mission in 2015 and now have a capacity of 352,000 personnel. Over 4000 Afghan officers have been trained in Indian military institutions with an expected increment of 50% in the number of officers being trained in India this year.
The second partnership council meeting between India and Afghanistan will take place in May 2017, led by the foreign ministers of the two countries with the expectations of signing several MoUs.
Regional and International Cooperation:
Afghanistan needs the continued support of the United States and NATO member countries to provide military training and equipment to fight all terrorist groups, most notably the Taliban and the newly-emergent Islamic State.
Afghanistan also needs support from countries of the region in tangible ways including support for the Afghan-led and Afghan-owned peace process and as well as regional initiatives such as the Turkmenistan-Afghanistan-Pakistan- India (TAPI) pipeline, Chabahar Transit Trade Agreement, Turk-Afghan-Tajik Transit Trade, New Silk Road project, and others.
Solutions for a Stable Afghanistan:
There should be no substitute for state-to-state relationships underscoring the importance of bilateral relationships within the region and beyond.
Continuing international support for Afghanistan is critical.
Regional consensus on the long-term stabilization of Afghanistan in support of an Afghan-led and Afghan-owned peace process is required. Prioritising peace and accepting Afghanistan as a point of collaboration over confrontation is important.
There should be no duplicity or selectivity in defining terrorism. The message that terror can have no military victory needs to be conveyed to terrorists as well as to state sponsors of terrorism.
India and Afghanistan need to conduct a strategic review of their bilateral, regional and international partnerships to deal with the changing geo-political dynamics.
Afghanistan, India, and the United States must operationalise their trilateral dialogue for a serious and well-coordinated strategy against terrorism.
In conclusion, the future of Afghanistan and security of the world will depend on a holistic and sincere fight against terrorism both at the regional and the global level. India, in this context, will continue to hold a strategic place in Afghanistan's foreign policy in all areas of cooperation including domestic development and security.
Speaker Profile
Born in Kandahar, Ambassador Shaida Mohammad Abdali became personal secretary to President Hamid Karzai in 2001. He later served as Deputy National Security Advisor and Special Assistant to the President of Afghanistan. In this capacity, he chaired the Deputies Committee Meetings of the National Security Council and was one of the negotiators of the Enduring Strategic Partnership Agreement between Afghanistan and the United States. He was named Afghanistan's Ambassador to India and is concurrently accredited to Nepal, Sri Lanka, Bhutan, and the Maldives.
This report was written by Shruti Godbole. The views are of the author(s), discussant(s), panellist(s).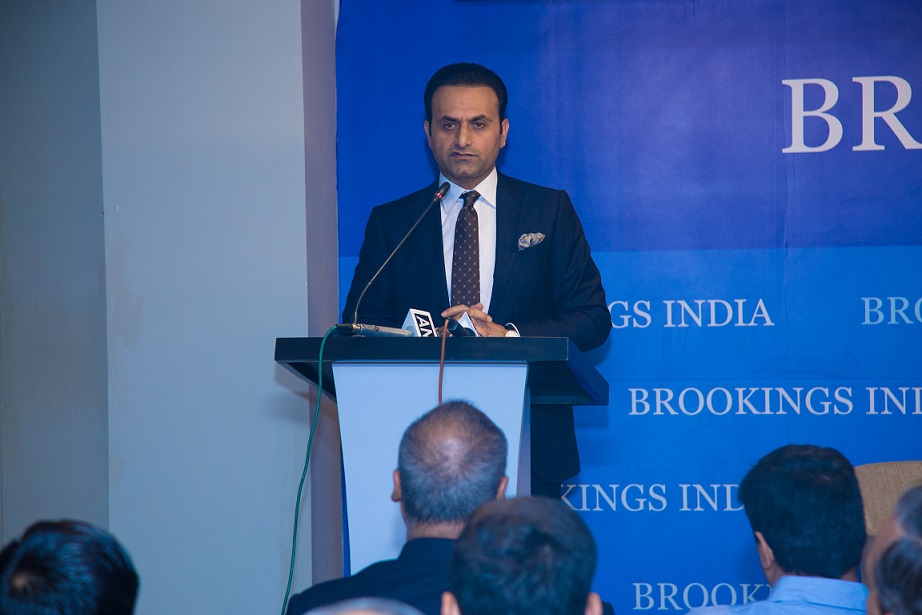 Q&A with Afghan Ambassador Shaida Abdali