Content from the Brookings Institution India Center is now archived. After seven years of an impactful partnership, as of September 11, 2020, Brookings India is now the Centre for Social and Economic Progress, an independent public policy institution based in India.
Brookings India organised a briefing session on the Union Budget 2017 where scholars gave their analyses on topics of their expertise. Brookings India Executive Director Harsha Vardhana Singh spoke about trade and investment, Senior Fellow Shamika Ravi on health and gender dynamics, Fellow Rahul Tongia on implications for the energy sector, while Brookings India Chairman Vikram Singh Mehta moderated the session and also gave closing comments.
Harsha Vardhana Singh, Senior Fellow, Trade and Investment:
Dr. Singh explained how this budget should not be seen outside the aegis of the recent demonetisation of higher currency notes in India which shaved off 0.5% of the Indian economy in terms of GDP. There are elements in the budget which take forward the purpose of demonetisation towards a more monitored economy. Dr. Singh also pointed out some missed opportunities where the government could have made stronger pronouncements in sync with demonetisation.
He mentioned how the budget laid down segments of social importance with an eye on growth with social equity. In this context he also mentioned the Oxfam ranking of India as second-worst on social equality.
The budget laid emphasis on small and medium enterprises (SMEs) and employment, he said.
Shamika Ravi, Senior Fellow, Development Economics:
Dr. Ravi called the budget a plumbing budget focused more over repairing the existing model and making the economy more formal.
She talked about some key aspects like getting rid of the Medical Council of India and restructuring of the University Grants Commission (UGC). The UGC would be remoulded to be accreditation based instead of centralised and also it would follow an outcome based follow up of universities.
On the healthcare sector, Dr. Ravi said that although significant improvements were expected through the budget, women's health was still limited to their reproductive health. She stressed on the need to look beyond female reproductive health and incorporate the required nutritional interventions.
She noted that the Crop Insurance Scheme looked ambitious and rudimentary at the same time and also spoke about the need for governance of public sector banks.
Other points she spoke about were the big push for affordable housing for all sanctioned under the budget. Demonetisation had helped in bringing down prices of high-end houses whereas this budget focused on affordability at all levels. Railway pricing as a function of competition from highways and airways was acknowledged as a good move.
Rahul Tongia, Fellow, Energy and Sustainability:
Dr. Tongia spoke about the importance of making a system-level assessment of entities and institutions.
He commented on rural and village electrification provisions and questioned the definition of electrification and its evolution with time.
The environment and carbon tax, although not present explicitly in the budget, had implicit roots in the Economic Survey of India, he noted.
He noted the missing emphasis on clean energy and innovation in case of what the budget holds for the energy sector in India.
The intertwining nature of kerosene subsidy with electrification and health was also brought out by Dr. Tongia.
Chairman and Senior Fellow Vikram Singh Mehta expressed his surprise at this year's budget not being a populist one even with state elections round the corner, however he said he was disappointed at no specific allocations for research and development and clean energy, etc.
The discussion later shifted to the mention of UBI (Universal Basic Income) in India with Dr. Ravi calling it a way to rationalise subsidies and saying it cannot go hand in hand with the existing state of subsidies in India.
Towards the end, questions were taken from attendees wherein the UDAY scheme, GST, FDI, secondary and tertiary healthcare and administrative reforms were discussed.
The views are of the author(s). Brookings India does not have any institutional views.
Rishabh Trivedi contributed towards this report.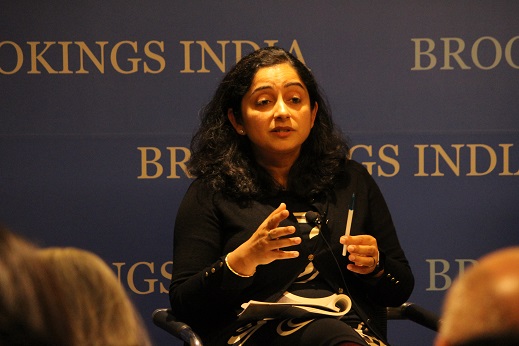 Senior Fellow Shamika Ravi comments on the Union Budget 2017
Brookings India Fellow Rahul on marginal increments for energy in the Budget 2017 announcement
Vikram Singh Mehta on lack of R&D allocation in Budget 2017
Q&A session at the Brookings India Budget Briefing 2017