Human capital and organizational capital are increasingly important as a source of value in many firms. But even as this is happening, organizational forms and employment relationships appear to be changing in ways that reduce loyalty and commitment and encourage mobility on the part of employees. Are these changes consistent in ways that contradict traditional theory and wisdom, or is the corporate sector getting a temporary boost in earnings by restructuring and cutting payrolls; but failing to make necessary new investments in human capital?
The essays in this book provide intriguing new evidence on these questions. The contributors quantify the degree to which job stability is declining, and the costs of job loss to long-term workers; provide historical perspective on today's workplace changes; explore the reasons why work is being reorganized and decisionmaking tasks are being pushed downward; examine the rationale for and effect of equity-based compensation systems, both in old industries and in the newest high-tech sectors; and assess the "state of the art" of measuring and accounting for investments in human capital.
This book is the result of a joint Brookings-MIT conference. In addition to the editors, authors include Eileen Appelbaum, Laurie Bassi, Avner Ben-Ner, Peter Berg, Joseph Blasi, Timothy Bresnahan, Eric Brynjolfsson, Allen Burns, Peter Cappelli, Greg Dow, Lorin Hitt, Douglas Kruse, Baruch Lev, Julia Liebeskind, Jonathon Low, Daniel McMurrer, Louis Putterman, Charles Schultze, and Anthony Siesfeld.
Related Books
Employees and Corporate Governance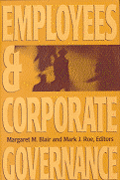 Productivity in the U.S. Services Sector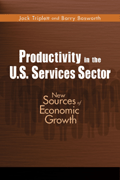 Workforce Development
Productivity in the U.S. Services Sector
Jack E. Triplett, Barry P. Bosworth
September 21, 2004
Labor Markets in Latin America
Workforce Development
Labor Markets in Latin America
Sebastian Edwards, Nora Claudia Lustig
September 1, 1997
Margaret M. Blair is a senior fellow in Economic Studies at the Brookings Institution and author of Ownership and Control: Rethinking Corporate Governance for the Twenty-first Century (Brookings, 1995). Thomas A. Kochan is professor of management and codirector of the Institute for Work and Employment at the Sloan School of Management at the Massachusetts Institute of Technology. The author of The Changing Nature of Work: Implications for Occupational Analysis (National Academy Press, 1999), he is currently serving as president of the Induastral Relations Research Association.