This book surveys press relations with the federal government, examines the way official press offices prepare and conduct briefings, and considers criticisms concerning the government's control of information.
Related Books
The Professor and the President
International News & Foreign Correspondents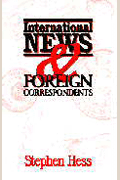 America's Political Dynasties
Stephen Hess is senior fellow emeritus in Governance Studies at the Brookings Institution and Distinguished Research Professor of Media and Public Affairs at George Washington University. He has been engaged in presidential transitions since he was a young speechwriter in the Eisenhower White House. He returned to the White House with President Richard Nixon, helped Jimmy Carter reorganize the Executive Office and advised the presidential transition teams of Ronald Reagan, George H.W. Bush, Bill Clinton, and GeorgeW. Bush. His numerous books include Through Their Eyes: Foreign Correspondents in the United States (Brookings, 2005) and Organizing the Presidency (Brookings, 3rd ed in 2002 with James Pfiffner).