Published twice year, BPEA offers authoritative, in-depth research on economic development for economists, government officials, and members of the financial and business communities. For nearly thirty years, BPEA has been an indispensable source for scholars and policymakers seeking objective analysis of major macroeconomic issues.
To subscribe to BPEA click here
Contents include:
Articles
MARTIN NEIL BAILY and ROBERT J. GORDON
J. BRADFORD DE LONG and LAWRENCE H. SUMMERS
How Does Macroeconomic Policy Affect Output?
GEORGE A. AKERLOF, ANDREW K. ROSE, and JANET L. YELLEN
Job Switching and Job Satisfaction in the U.S. Labor Market
Reports
ALAN J. AUERBACH
Capital Gains Taxation in the Untied States: Realization, Revenue, and Rhetoric
JEFFREY D. SACHS
Global Adjustments to a Shrinking U.S. Trade Deficit
JEREMY BULOW and KENNETH ROGOFF
The Buyback Boondoggle
JEFFREY D. SACHS
Comprehensive Debt Retirement: The Bolivian Example
Related Books
Brookings Papers on Economic Activity 1989: 2, Macroeconomics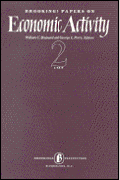 Brookings Papers on Economic Activity 1990:2, Macroeconomics
Workforce Development
Brookings Papers on Economic Activity 1990:2, Macroeconomics
William Brainard, George L. Perry
January 1, 1991
Productivity in the U.S. Services Sector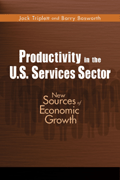 Workforce Development
Productivity in the U.S. Services Sector
Jack E. Triplett, Barry P. Bosworth
September 21, 2004