On June 19, the Brookings Institution was doused with the fountain of youth as young scholars and professionals gathered in the Saul/Zilkha Hall to share their fresh ideas and perspectives on issues concerning the Korean peninsula. Hosted by the Center for East Asia Policy Studies, the Next generation of Korea experts: The young and the brave conference was the first of its kind at Brookings that featured panelists composed entirely of young professionals and graduate students. All the presenters were in their twenties, and the two moderators were in their thirties.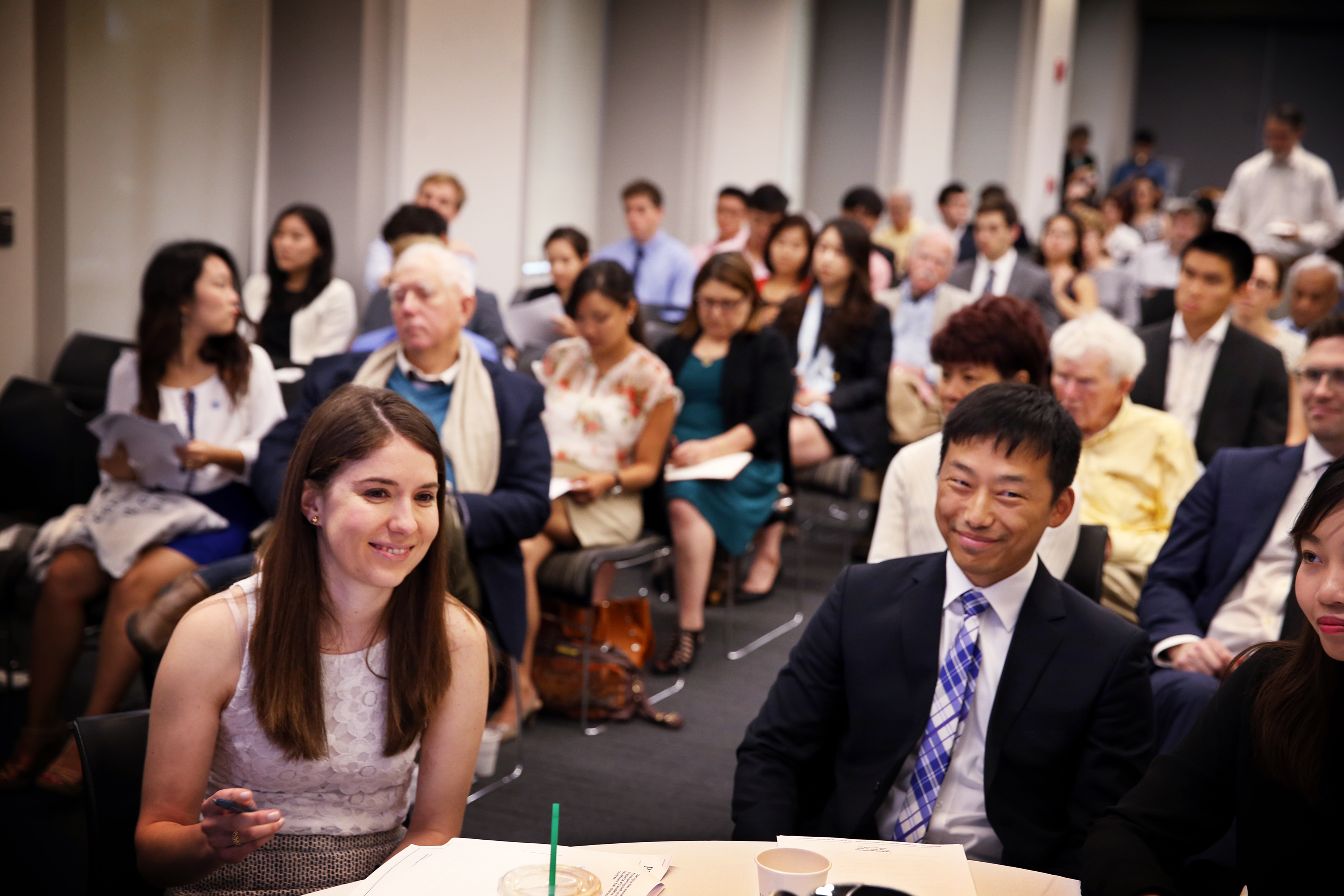 Cristina Atencio (L) and Matthew McGrath(R) getting excited  for the event while audience members fill up the room.

Participants were young, energetic, and highly accomplished. Their résumés spanned experiences in the academy, government, nongovernmental organizations, and volunteer service, and issues as diverse as territorial disputes, refugees, human rights, globalization, multiculturalism, science diplomacy, educational policy, nuclear threats, cyber security, peace and reconciliation, and Korean unification. Participants also had vast travel and inter-cultural experience. Although they were cognizant of their home nation's interests and identity markers, they also saw themselves as global citizens with common concerns.


Katharine H.S. Moon convened the Young & Brave conference. She is the SK-Korea Foundation Chair in Korea studies and senior fellow at Brookings. In her opening remarks, she emphasized the importance of cultivating the next generation of experts since it will be this emerging group who will bear the responsibilities of the U.S.-ROK alliance, Korean unification, conflict resolution and peacemaking in Asia in the coming decades.

Generational perspectives on Korea policy
The opening panel of the conference focused on different generational perspectives and the international environment that shaped these views. They thoughtfully reflected on the question that Katharine Moon posed to each of them: How has the experience of growing up in a post-Cold War era, in contrast to the older generations, shaped your worldview about politics in East Asia and the Korean peninsula? Despite their common generational identity, the speakers had distinct opinions on the major factors that framed their perspective toward the Koreas. But they shared a common intellectual and cultural openness toward international contexts that shape issues in East Asia and multicultural approaches to problem-solving.  
Darcie Draudt of the Council on Foreign Relations emphasized the impact of globalization and the increased flow of people and access to information across borders on how she views the world. In her view, this has led to an increased emphasis on the "human element" of populations rather than nationalities and the possibilities for cooperation based on inter-connections.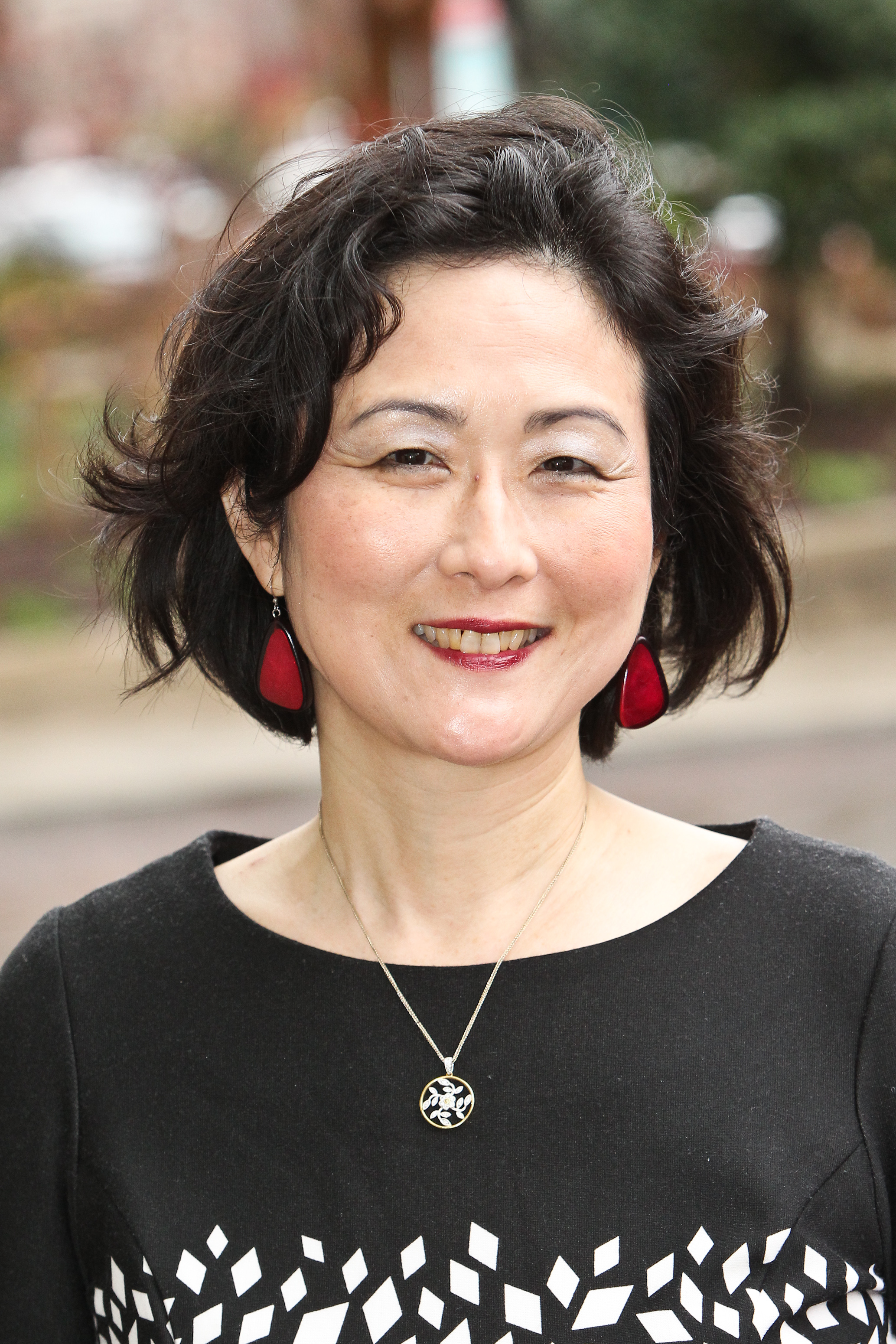 Former Brookings Expert
Visiting Professor of Government -
Harvard University
Professor Emerita of Political Science -
Wellesley College
Senior Research Assistant -
Center for East Asia Policy Studies
While the rest of the world was moving beyond the Cold War, Jin Keol Park of Georgetown University (left), who grew up in South Korea, explained how the Cold War mentality was very much alive for his generation on the peninsula. He recalled a childhood colored by fears of an invasion by North Korea. In his view, it is the remnants of this Cold War mentality that is hampering South Korea's progress toward a more mature and stable democracy. 
When asked about the prospects of democracy in Korea, Matthew McGrath of the School of Advanced International Studies, Johns Hopkins University, mentioned the need for South Korea to move forward on legal reforms such as the National Security Law (NSL). The NSL is widely criticized for limiting the freedom of expression and the freedom of association, as it has been arbitrarily applied to arrest those who hold opposing views against the government. He also raised the future challenge of integrating a North Korean population into the larger constituency, under a unified, democratic Korean peninsula. 
Hyo Won Shin of Yonsei University (left) believes that relative to its economic achievements, South Korea is falling behind in civic awareness of social and economic inequality. According to Hyo Won, a contributing factor to this disparity is the current generation's focus on materialism that stresses pragmatic and instrumental decisions over ethical deliberations. Darcie Draudt wondered how much of this is caused by familial culture versus the larger economic structure.
Old problems, new futures?
Speakers in the second panel focused on a future-oriented approach to understanding and addressing regional and international issues, specifically, what kinds of issues might require their attention in the next few decades (e.g., territorial disputes and cyber security) and how their generation might address problems we confront today (e.g., North Korea's nuclear program). 
In contrast to the disputes between South Korea and Japan, the set of border disputes and historical claims between China and South Korea often gets overlooked. Kent Boydston of the Peterson Institute for International Economics believes unresolved border disputes in the Yanbian region will especially be contentious in the long run. Although this tension may not lead to military confrontation, he cautioned that nationalist sentiments in both countries could fuel serious contention.
Esther Im of the Permanent Mission of the ROK to the United Nations explained that one of the reasons the U.N. is unable to pursue a workable peaceful approach toward Korean unification is because there is no clear consensus among the member states on what a peaceful Korean peninsula would look like. She argued that the United Nations is an ideal mechanism for the United States or South Korea to engage with North Korea, given that the international body was established for such purposes.
Commenting on Scott La Foy's presentation on North Korean cybersecurity threats, moderator Shaun Kim of the U.S. Department of State weighed in on the difficulty of measuring a proportional response to a cyber-attack. Scott believes a multilateral legal framework designed to regulate cyber capabilities is difficult to realize since certain capabilities end up being classified as clandestine capabilities that are highly desirable for nations. Instead, he argued that an individual or collective national cyber defense may be the most realistic and most effective option.
New information, new approaches
The final panel introduced projects and studies that rely on technology and new information flows, either to pursue engagement with North Korean citizens (e.g., science diplomacy) or to infiltrate the official information blackout imposed by Pyongyang and reach common citizens directly. This panel also analyzed the need for domestic changes in both Koreas: political reforms in the North and educational reforms in the South. 
Hyo Won Shin of Yonsei presented her comparative study on Myanmar's political transition as a possible future roadmap for North Korea. Key differences between the two countries, especially in terms of its relations with China, make Myanmar's style of reform an unlikely path for North Korea to follow.  

Jieun Baek of the Kennedy School, Harvard University, introduced her proposed strategy of "fracking" North Korea through the power of information. Similar in concept to hydraulic fracking, Jieun's strategy calls for the U.S. government and other actors to frack North Korea with pressurized bursts of foreign-sourced information and democratic ideas to trigger an internal regime change.



Moderator Nathaniel Kretchun of InterMedia asked Mai Huong Canh of Yonsei University about her analysis of South Korea's education policy regarding international students. Mai Huong criticized the current policy for focusing too much on the number of foreign students to solve the country's oversupply of universities and offered specific policy ideas to improve the quality of education and the well-being of international students. Language barriers and social discrimination are two of the major problems that international students confront that lower the quality of their educational experience.





Cristina Atencio, formerly of CRDF Global, shared details of a U.S.-based civil society project that established a virtual library of science journals and publications to the State Academy of Sciences in North Korea. Through CRDF Global, a nonprofit organization promoting international scientific collaborations, the project provides North Korean scientists free access to more than 150 international outlets for scholarly research publications in the natural sciences. She believes the project will help North Korean scientists who are serious about improving research methods, analysis, and funding advance the standards of scholarship and open up to cooperation with international scientists in the future.



Panelists and audience members get acquainted after the conference.
The conference provided a valuable opportunity for young experts to introduce their research and projects to the D.C. community. Many in the audience found the young presenters' perspectives bold and refreshing and were inspired by their already proven commitment to improving political, economic, and social conditions on the Korean peninsula. It is our hope that the Young and the Brave conference will prompt the creation of more channels to bring different generations of experts together for more creative and constructive approaches toward the Koreas and their region. The next conference will be held in the spring of 2016.
Photo credits: Sharon Farmer/The Brookings Institution.