Technically, all of the Star Wars films occur a long time ago in a galaxy far, far away, but there are countless gadgets featured in the films that human beings in this galaxy can find here on Earth. Here are a handful of gadgets you will see this weekend when the seventh Star Wars film, "The Force Awakens," blasts into theaters.
Drone surveillance
The evil Galactic Empire has long employed drones and machines to do their dirty work. Way back when the empire was just a glint in Darth Sidious' eyes, his merciless apprentice Darth Maul used autonomous drones to search the desert landscape of Tatooine for fugitive Jedi. Later, when Darth Vader tirelessly searched the galaxy for Luke Skywalker and the Rebel Alliance, he sent similar autonomous drones to countless worlds such as the ice planet Hoth.
Sure, the Empire may call them droids, but on the planet Earth these instruments are essentially remote drones you might see flying in cities or around your neighborhood. In the U.S. the use of unmanned drones to aid law enforcement is on the cutting edge of technology and sparks a spirited debate among privacy advocates. Should fear law enforcement as we would a Sith lord and thus burden them with a warrant-based, technology-centric approach to drone surveillance that might curtail the beneficial use of drones?
Gregory McNeal wrote last year in a Brookings report that a property rights-centric approach with limits on surveillance would best appease privacy advocates and law enforcement, enabling drones to protect privacy in ways even manned surveillance can't achieve. By crafting simple, duration based surveillance legislation, law enforcement would only be permitted to surveil a person for a limited amount of time. Additionally, data retention guidelines could limit the amount of time that surveillance would be accessible to law enforcement.
"Legislators should reject alarmist calls that suggest we are on the verge of an Orwellian police state," McNeal writes, as privacy advocates almost always invoke the the novel 1984 when technology makes surveillance more widespread and pervasive.
As McNeal points out, the police state is hardly as nefarious as Darth Vader, so sensible legislation may be enough in this case to keep law enforcement from falling to the dark side.
Holography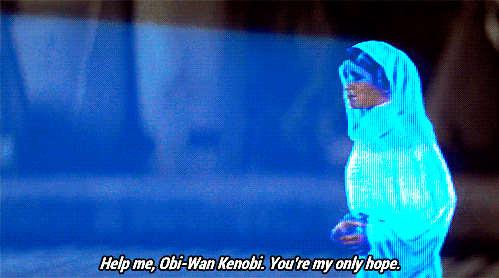 In the first Star Wars film, Princess Leia recorded a short holographic message for Obi-Wan Kenobi asking for his help delivering the Death Star plans to the Rebel Alliance. The droid R2-D2 recorded the message almost as succinctly as many of use record short videos on our cell phone. But when can we expect to send and receive holographic messages ourselves?
Barring some laughable election night hologram shenanigans on CNN, there have been some notable uses of holography in this galaxy. In 2012, the late rapper Tupac Shakur took the stage at the Coachella Festival with contemporaries Snoop Dogg and Dr. Dre. At the 2014 Billboard Music Awards, Michael Jackson performed on stage—five years after his death. These holograms were made possible by artful projections and reflections, creating convincing illusions suitable only for crowded concert halls. The technology is especially popular in South Korea where K-Pop performers regularly "perform" at virtual concerts to adoring fans.
But a bona fide hologram? Researchers at Swinburne University this year used lasers and a specialized graphene mesh to project 3D objects in the air very much like you would see in Star Wars. As TIME Magazine reported, "It's not quite Princess Leia-quality, and researchers say it has a long way to go before commercialization, but it's a step."
BB-8 Droid
Douglas Dillon Chair in Governmental Studies
Web Content & Digital Media Specialist
Since the first teaser for the new Star Wars films, fans have had questions about the new droid character BB-8. Rather than resort to computer animation to bring the droid to life, director J.J. Abrams and Lucasfilm designers sought to produce a live prop that could portray the droid on film.
The filmmakers demoed the droid on stage at Comic Con to the roar of audience applause and delight—"It was the first official confirmation that BB-8 was not a CG creation, but rather, a practical effect."
The use of practical effects in "The Force Awakens" is a return-to-form for the filmmakers who have shunned the special effects and digital artistry of the Star Wars prequel trilogies and instead embraced the kinds of practical effects and puppetry that made the original trilogy so beloved.
The droid BB-8 even has a cousin here on Earth—the robotic ball toy Sphero. Inventors Ian Bernstein and Adam Wilson have adapted their smartphone-controlled spherical toy into a BB-8 toy that performs many of the same practical effects the screen version of BB-8 does in "The Force Awakens."
As the new sequel trilogy continues, filmmakers are sure to wow audiences with amazing technologies—some we may even recognize from planet Earth.