*This post is part of a 

series

on Silicon Valley's political endgame from the Ferenstein Wire.
The Republicans are not the only party experiencing a grassroots ideological coup. Silicon Valley is fueling a new labor movement that demands a completely different role from the federal government. High-skill industries like those in Silicon Valley need the government to act as an investor in citizen-driven innovation, rather than as a protector from whims of capitalism. On many battles with labor unions within the Democratic Party, including free trade, skilled immigration, experimental charter schools, and support for the sharing economy (e.g. Uber and Airbnb), both high-tech workers and independent contractors in the gig economy need the government to support an entrepreneurial approach to public and private markets.
As blue-collar labor unions fade from existence, high-skilled workers have migrated from the Republican Party to the Democrats. This transition of so-called "creative class" worker to the Democratic Party has been long-documented, but many scholars seemed to assume that college-educated, urbanized liberals would be just like their unionized counterparts. They are not.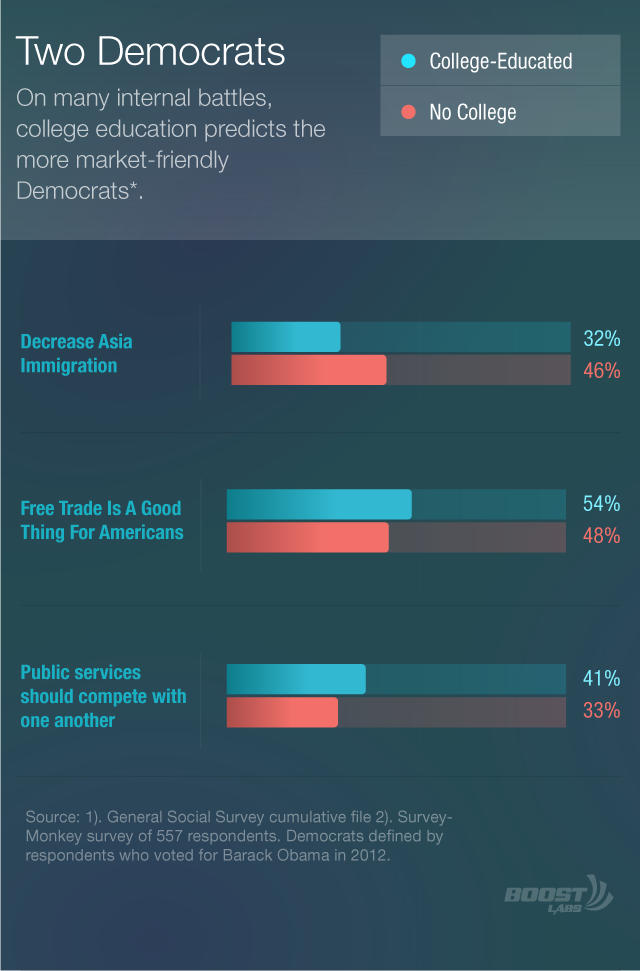 To be sure, this is not an elite movement, but a movement related to 21st century labor. Entrepreneurial workers need a role for government that supports maximum flexibility. They need education, high-skilled immigrants, and free trade to support careers that often leap from job-to-job every few years and don't follow a typical 9-5 schedule.
One way to test this hypothesis is to determine if low-skill entrepreneurial workers have political preferences similar to high-skill tech workers. Fortunately, the rise of independent contractors in the so-called "gig economy" present such an opportunity.
So, with the help of Google's Surveys team, I conducted the first representative political opinion polling of lower-skill independent tech contractors in San Francisco (see methods for details and raw data).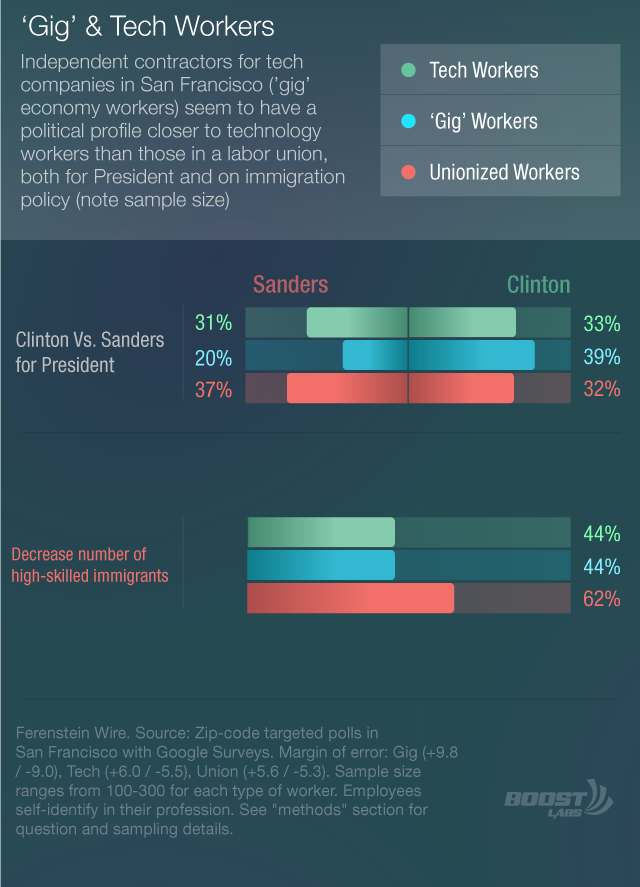 On two key issues, high-skilled immigration and support for Hillary Clinton, gig workers and tech workers seem more similar than labor unionized employees. The gig economy industry is still nascent (so sample sizes are small), but the trend does point toward an entirely new type of liberal and a new class or worker.
Indeed, on every single issue in which labor and tech clash, the Democratic leadership has come to favor innovation. For instance, the White House recently denied a permit for the Keystone XL pipeline project, despite its support from the AFL-CIO. Silicon Valley has a penchant for upending old institutions. The Democratic Party may be next on their disruption to-do list.
*For more stories, click here for a 

summary

of the series