The Internet has created a platform enabling huge increases in productivity and efficiency. Digital trade has driven tremendous growth in the American economy. The Internet provides numerous benefits to small and medium-sized enterprises (SMEs). One study found that SMEs using Ebay to sell goods had a 54 percent survival rate compared with 24 percent for offline businesses. According to the International Trade Commission digital trade is responsible for an increase of U.S. GDP between 3.4 and 4.8 percent and about 2.3 million jobs. New research from Joshua Meltzer indicates that the Internet may be even more important to the trading relationship between the U.S. and Europe than these numbers suggest.
The map below describes Internet traffic on the submarine cables that connect the continents. Lit is a measure of bandwidth that is available and used as a measure of actual data flows. The U.S. sends and receives more traffic to Europe than either Asia or South American by a large margin.
Submarine Cable Bandwidth (in terabits per second)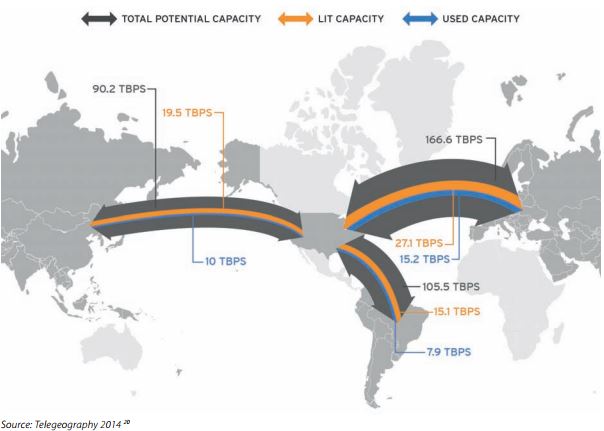 Meltzer argues that a flaw in how the data on trade activity is collected obscures the value of open data flows between the United States and Europe. Some services like research and development, and software design add value to the production of exported goods. Meltzer found that when, "taking into account digitally deliverable services with value added in exports raises total deliverable services by $185.5."
Digitally Deliverable Services Exports, 2012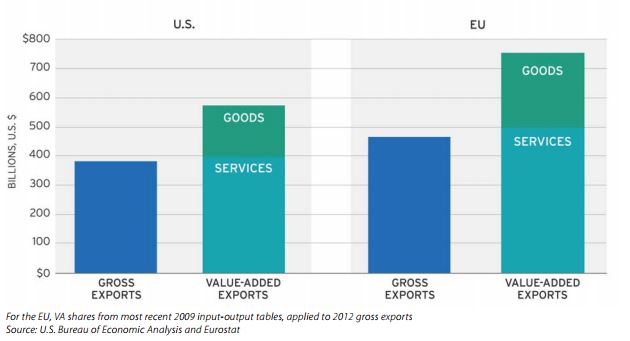 Analysts tend to think about how the Internet has increased the level of trade throughout the world. New data suggests that the Internet provides more value to certain trade partnerships. The U.S. and Europe trade a tremendous amount of digital goods. The Internet also supports billions more in exported services and goods. Policy makers must take the magnitude of the relationship into consideration when negotiating future trade deals. Easing current restriction on data flows between the U.S. and Europe could have even larger than expected benefits for all parties.
Ph.D. student -
Vanderbilt University
Former Research Analyst -
The Brookings Institution