Information and Communications Technologies (ICT) have numerous benefits for their users. ICT makes it easier for firms to grow and for innovators to develop solutions to long standing problems. Over the past ten years the world has undergone a dramatic transformation as more people in the developing and developed world gain access to ICT. Recently the International Telecommunication Union (ITU) released their updated World Telecommunication/ICT Indicators database. The update includes estimates for 2014. These predictions are likely to change, but they offer a view into many worldwide technology trends.
Households with Internet Access at Home
More than three in ten homes in the developing world have Internet access. The ITU projects thirteen percent growth between 2013 and 2014. The percent of homes with at least one Internet connection has more than tripled since 2005. Worldwide forty four percent of homes have an Internet connection.
Mobile Phones are the New Standard
Mobile phones have replaced fixed-line phones as the default technology for communication. The number of fixed-telephone subscriptions has decreased by more than one hundred million since its peak in 2006. While worldwide the number of mobile phones has more than tripled since 2005 many have predicted that 2014 will be the year when the number of mobile phone subscriptions exceeds the number of people. The estimates from ITU suggest we may have to wait another year for that technology milestone.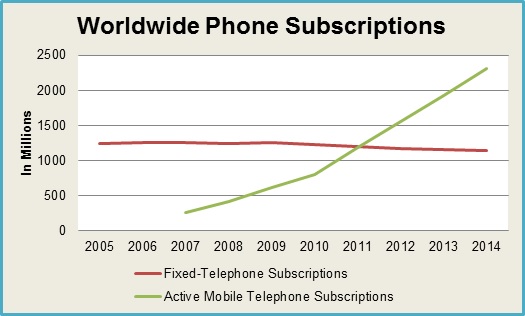 Fixed Broadband Continues its Slow Growth
From 2005 to 2008 fixed broadband adoption grew at a rapid pace. The average rate of growth during those years exceeded 20 percent annually. Recent growth has slowed worldwide particularly in developed countries. According to the latest estimate fixed broadband grew about six percent worldwide with over 711 million subscriptions. In 2013 the number of fixed broadband subscriptions in the developing world exceeded those in the developed world. This suggests that although there is more room to grow in developing countries, the world is approaching a natural limit to fixed broadband penetration.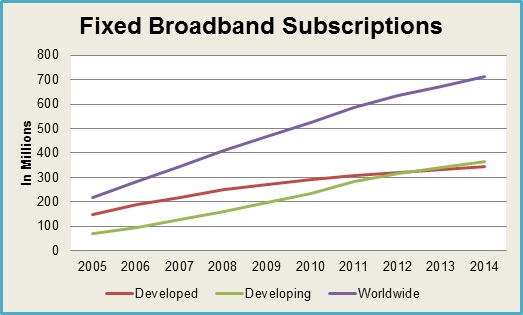 Taken together these graphs suggest the emergence of a new world where people everywhere regardless of their economic circumstances can enjoy the Internet. Deploying new technologies including mobile high-speed internet will be critical to expanding the benefits of Internet access to those in the developing and developed world that lack high speed connections.
We here at TechTank hope to write more about the new data from ITU. Stay tuned for further analysis.
Ph.D. student -
Vanderbilt University
Former Research Analyst -
The Brookings Institution
Douglas Dillon Chair in Governmental Studies