As negotiators make a final push to reach an international climate agreement, India has emerged as a key player in the negotiations. While India was the third-largest CO2 emitter in 2013, the commitments it brought to COP21 were relatively modest; yet, they may be even more ambitious than China's commitments.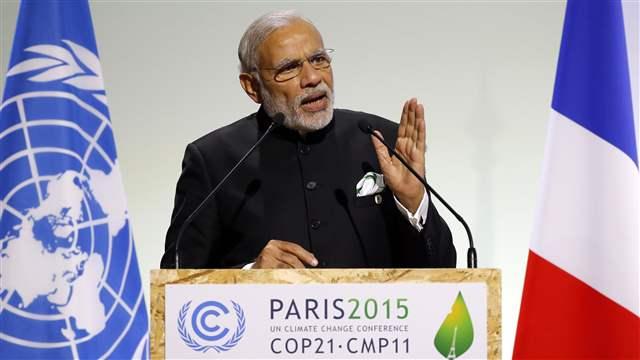 Indian Prime Minister Narendra Modi delivers a speech during the opening session of the World Climate Change Conference 2015 (COP21) at Le Bourget, near Paris, France (REUTERS/Stephane Mahe).

In a new brief, Nonresident Senior Fellow Charles Frank discusses the ambition of India's Intended Nationally Determined Contributions (INDC) in comparison to that of China's emissions reduction goals. He also examines why there is significant potential to increase India's contribution to emissions reduction.

Read the related paper (PDF) »

 
Frank argues that India's emissions goals are less ambitious than they look. Although its goal to reduce emission intensity of GDP by 33-35 percent from the 2005 levels by 2030 seems ambitious, "if one examines the target more closely it does not seem very difficult to achieve."
India's INDC is a good first step in defining its contributions to emission reductions and compares favorably with China's emissions goals, but the potential for even greater contributions by India clearly exists.
However, India's emissions goals are more ambitious than China's, currently the world's largest emitter of greenhouse gases. Frank states that "the reduction in CO2 emissions implied by China's goal of achieving peak emissions by 2030 is very uncertain, because there is no limit on the growth of China's emissions between now and then." Further, he says, "if India's emissions were to peak when India reached the same per capita income (on a purchasing power parity basis) as China is expected to have in 2030, we estimate that the peak will not occur until about 2043."
Given that the INDCs introduced for COP21 are likely insufficient to achieve the goal of limiting a global temperature increase to 2 degrees Celsius, Frank argues—despite India's INDC as a good first step—there is significant potential to improve its emission goals at Paris.

Read



COP21 at Paris: What to expect – The issues, the actors, and the road ahead on climate change



, and the potential for greater emissions reductions from India

The findings, interpretations and conclusions posted on Brookings.edu are solely those of the authors and not of The Brookings Institution, its officers, staff, board, funders, or organizations with which they may have a relationship.