Editors' Note: Timmons Roberts and the students in his Climate and Development Lab at the Institute at Brown for Environment and Society, recently attended the negotiations in Paris.
"Paris is doomed to succeed," said Adil Najam, former negotiator for the Group of 77 developing countries and former chancellor of the Pakistan education system,in the run-up to the major climate negotiations. Now director of the Pardee School of International Affairs at Boston University, Najam prognosticated that an agreement would be reached, but it will be inadequate to address the task at hand.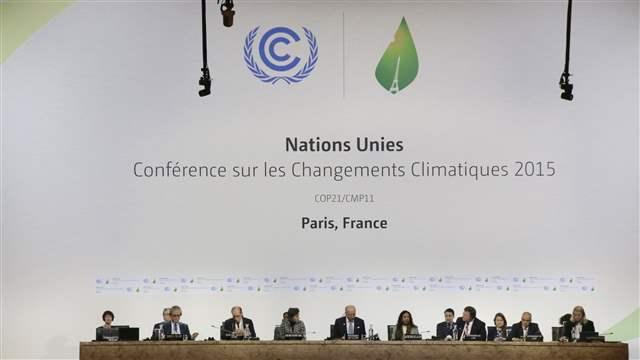 Panel at COP21, the 2015 UN Conference on Climate Change in Paris, France (Photo by Sujay Natson, Brown University)

Just four days from its deadline, we have a full "Draft Paris Outcome," hammered out over four years since the 2011 United Nations Framework Convention on Climate Change (UNFCCC) meeting in Durban, South Africa. The team of negotiators of that draft, led by U.S. State Department official Daniel Reifsnyder and former Algerian foreign affairs ministry staffer Ahmed Djoghlaf, handed over the text to the French leadership and the world's government ministers on Saturday, ahead of their arrival on Sunday at the Bourget conference center northeast of Paris.
The tone and language at the Saturday night handoff was upbeat, with Reifsnyder describing from the dais that "important progress has been made," and that "we managed to bring everyone along, no one was left behind." Echoing the point that the co-chairs sought to maintain inclusiveness throughout the process, Djoghlaf cited the African proverb that "if you want to go swiftly, go alone. But if you want to go far, go together."
Risk of another Copenhagen?
However, the task they handed over for ministers to resolve is massive. The Saturday draft text had 795 brackets in it, meaning areas of disagreement, which still have to be worked out. Eleven more pages of "additional textual suggestions" were passed along. Given that four years of haggling hadn't resolved those disagreements, it is hard to see how they will be magically settled by "political level" decisions of ministers in these few days.
There is grave risk here of a repeat of Copenhagen's mishandled conclusion in 2009, where two bracket-ridden texts were not moving fast enough by the second Wednesday of the two-week negotiation, and five heads of state drafted up a slim "Copenhagen Accord" in a back room and brought it to the rest of the world as a "take it or leave it" proposition.
That accord laid the foundation for the model of addressing climate change we have today. It is a sort of neo-liberal voluntaristic approach that allows nations to decide for themselves what they want to do to address the issue, and report it to the UNFCCC. Those pledges came rolling in this year, and to the surprise of most of us, included nearly every nation on Earth and added up to a significant improvement on "business as usual," the warming we would have reached without them.
Why progress still isn't enough
One current estimate with these pledges is that we're likely headed to 5 degrees Fahrenheit of warming (2.7 degrees Celsius) rather than 6.5 F (3.6 C) without them.  Thousands of scientists settled on 3.6 F (2 C) for an average global level of warming as the maximum level we should not surpass, but there are increasing signs that 2.7 F (1.5 C) is still going to wreak havoc in vulnerable places like Africa and the Arctic, and so we should aim for that. A remarkable development in Paris last week was that the 1.5C target has gotten much broader acceptance than expected.  
Crucially, the current pledges will use up half of the remaining "atmospheric space" or "global carbon budget" left to stay under 2 C by 2025, and 75 percent of the budget by 2030. The U.N. released a synthesis of the pledges, and concluded we were far from the pathway needed to avoid 2 C of warming. The U.S. and Europe used up much of that budget with past emissions, and China is burning through much of the remainder.
The Paris finale is going to be a nail-biter. The future is truly at stake in the next few days, and there are far too many issues still without clear areas of agreement.
We are headed for a crash and we need to mobilize for a truly wartime-level effort to transform our economies away from fossil fuels to efficiency and renewables. Many old tensions have flared up between the global North (wealthy) countries and the G-77 and China group of 134 developing nations in the global South. This divide has bedeviled the negotiations since they began back in 1992 in Rio de Janeiro, and the G-77 has held together more than many expected during the last few months of climate talks. But in both the global North and South there are tensions between vulnerable and "climate hawk" countries on the one hand, and laggard "carboniferous capitalism" oil-and coal-producing countries. That's why Russia, Saudi Arabia, Australia, and a few others repeatedly receive the "Fossil of the Day" award from the global network of environmental organizations, the Climate Action Network.
These tensions are why so many issues are still on the table in the 43-page draft text, just a few days from the end of a four-year process. Some examples of key issues laid on the shoulders of ministers to resolve this week:
Whether we are shooting to stay under 1.5 or 2 degrees C of warming;
Whether we are aiming for "decarbonization" over the course of this century or "net-zero greenhouse gas emissions by 2060-2080," or some much weaker goal;
Whether rapidly developing countries like China, India, and Brazil are expected to make absolute reductions;
Whether the world's nations will make a new set of pledges every five years;
Whether those later pledges will have to always "ratchet up" in ambition, to avoid backsliding and stagnation;
How intrusive monitoring can be of emissions for different types of countries;
What to do with non-compliers;
Whether trade tariffs can be levied against nations who pollute more;
Whether there should be a mechanism to address the losses and irreparable damages caused by climate change, and what shape that mechanism should take; and,
Whether developing countries in a position to do so should be expected to join the developed countries in contributing funding to developing nations for their climate actions.
All that is still in brackets, with just a few days to resolve them all. Upon reflecting upon this list, my prediction is that big sections of text will simply be dropped from the agreement, left for resolution in the next few years.

Reuters/Jacky Naegelen – A mug with the slogan "below 2 degrees Celsius, together we will make it" distributed at the German pavilion during the World Climate Change Conference 2015 (COP21) at Le Bourget, near Paris, France, December 7, 2015

Promise still prevails
Still, Paris is doomed to succeed, as Najam put it. As lead French negotiator Laurent Fabius put it Saturday in the vast Seine negotiating plenary hall, "this is something special—this is not something we can postpone… We must succeed, and we must succeed here."
The Paris finale is going to be a nail-biter. The future is truly at stake in the next few days, and there are far too many issues still without clear areas of agreement.
The findings, interpretations and conclusions posted on Brookings.edu are solely those of the authors and not of The Brookings Institution, its officers, staff, board, funders, or organizations with which they may have a relationship.