It's been another tumultuous year in the Middle East, marked by historic breakthroughs and bouts of brutal violence. Here's what Brookings experts had to say about the biggest regional stories of 2015:
Deal or no deal: The JCPOA, its regional effects, and the U.S. response
A week before the signing of a historic nuclear accord with Iran, Suzanne Maloney explored five core issues at stake: the timeline for nuclear "breakout," easing economic sanctions, regional implications, Iran's evolution, and the effects on U.S. domestic politics. Even after the deal was signed and as "Implementation Day" approaches, these issues remain flashpoints for the debate over U.S. policy toward Tehran. 
After the deal was signed, Shadi Hamid wondered whether it was all worth it. Washington's need to garner support for the agreement meant that it was less effective in supporting solutions to conflicts in Yemen, Syria, and elsewhere. Amid calls from some corners to abandon the deal, Robert Einhorn explained the dire consequences of rejecting it, encouraging efforts to strengthen the deal instead. He offered an array of steps that the United States and its allies could undertake to address many of the critics' concerns.
The deal's implications cascaded well beyond Iran itself. Tamara Cofman Wittes emphasized that the Iran deal alone won't stabilize the Middle East and that Iran's regional troublemaking will likely increase. She challenged Arab states to focus their response on helping to end the region's civil wars and strengthening their own societies, as these efforts would limit Iranian meddling. Broadening the scope, Tanvi Madan wrote that despite the complications of Indian-Iranian relations, the deal will likely reinforce India's longstanding preference for engagement over isolation in dealing with Iran.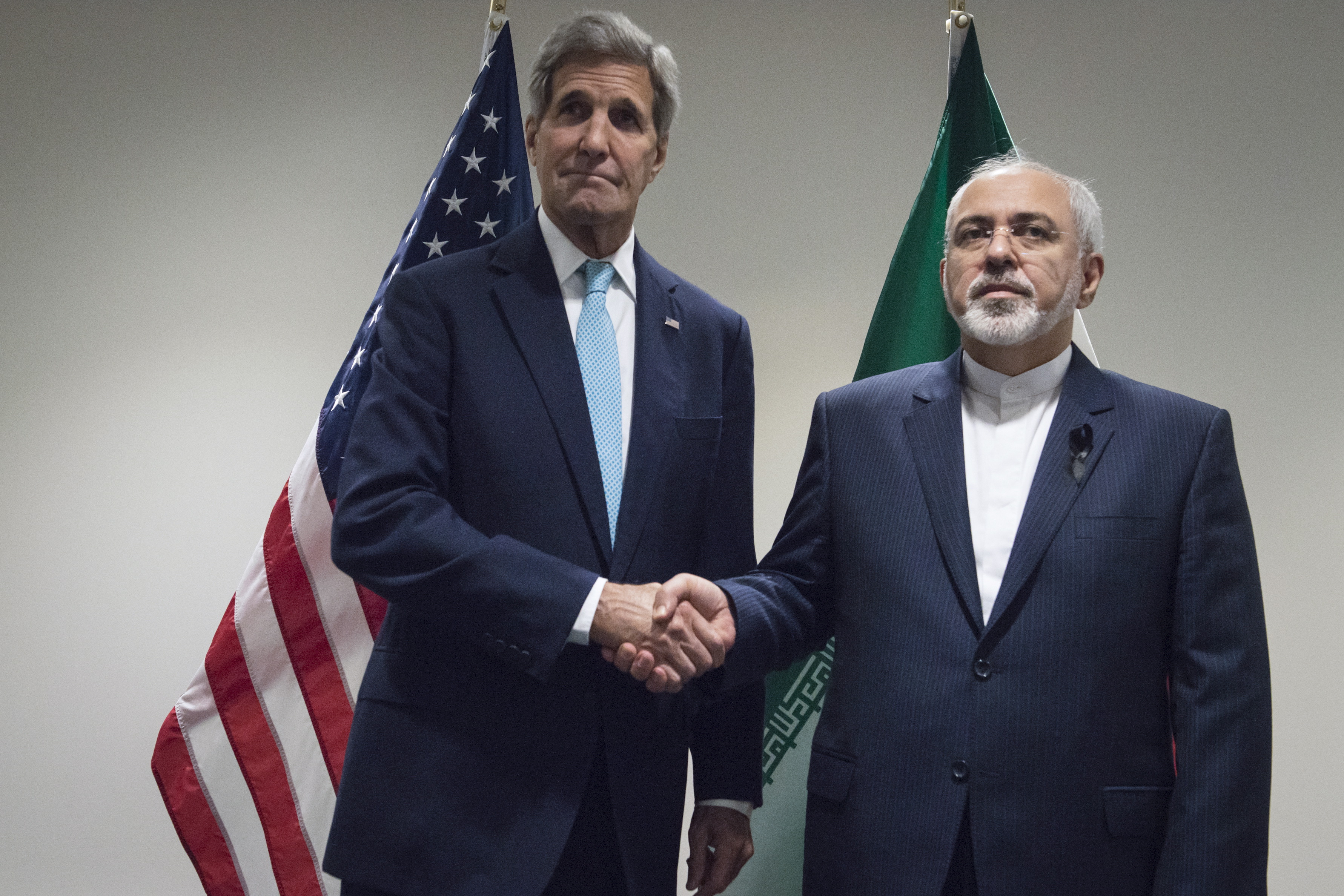 U.S. Secretary of State John Kerry meets with Mohammad Javad Zarif, Minister of Foreign Affairs of Iran, at the United Nations in New York. Credit: Reuters/Stephanie Keith.

ISIS/ISIL/IS/Daesh: Fighting a force we can't identify
As the brutality of the Islamic States group increasingly engulfed the headlines, Will McCants offered a uniquely informed perspective on its leader Abu Bakr al-Baghdadi and explained the basics of the arguments about ISIS. He and Hamid also moderated a series of discussions among experts on less theatrical ISIS-related issues: Islam and politics, the extent to which ISIS is or isn't Islamic, ISIS governance, and ISIS propaganda. 
After the Paris attacks in November, Hamid responded to claims that ISIS has nothing to do with Islam, arguing that to understand ISIS we must understand the group's religious motivations. Dan Byman suggested that ISIS may regret shifting its focus from local and regional efforts to the global arena. By doing so, ISIS provokes new challenges: commanding and controlling a global network, defining priorities and allocating resources accordingly, and confronting even more Western forces. Then again, perhaps ISIS is aware of the consequences of this shift: As Bruce Riedel suggested, the Paris attacks were likely modeled on the 2008 Mumbai attacks. Terrorists and counter-terrorists study Mumbai, and although a few Mumbai-style attacks have been thwarted in the past seven years, counter-terrorism experts still have their work cut out for them. 
Two Salmans and a war to the south
Early on in the Saudi-led venture into Yemen, Ken Pollack warned that intervention in civil wars on behalf of the losing side rarely produces settlement and instead prolongs conflict. As the war dragged on and ceasefires were broken, Bruce Riedel wrote that Saudi rhetoric was becoming more extreme and the stakes were rising, especially for defense minister Prince Salman. And Sultan Barakat called for a clearer reconstruction and development vision for the country that can help stabilize it in the long term. 
In September, the Hajj tragedy posed another challenge to the Kingdom. As Riedel wrote, the collapse of a crane in Mecca and the Hajj stampede challenged King Salman's prestige and legitimacy, which largely depends on the Saudi claim to be the Custodian of the Two Holy Mosques. 

A construction crane that crashed in the Grand Mosque in Mecca, Saudi Arabia. Credit: Reuters/Mohamed Al Hwaity.

Research Assistant and Project Coordinator -
Center for Middle East Policy, Brookings Institution
Overall, Saudi Arabia's foreign policy, which in the past avoided the international spotlight, became much more assertive this year. As Riedel wrote, the country is in some ways both the problem and solution to global jihad. Many major funders of terrorist groups are Saudi; and at the same time, a more concerted and transparent dialogue between Washington and Riyadh is important to the fight against global jihad. 
Troubled waters: Syrian refugees and Western reactions
As Russia launched its offensive into northwestern Syria, Charles Lister argued that Syrians are fleeing primarily from Bashar Assad's forces, not from ISIS or al-Qaida. Lister notes that American and European policymakers no longer insist that Assad must go, and they simultaneously ignore the (not-so-divided) armed opposition. 
Responding to reports of public concerns that Syrian refugees might pose a terrorism threat, Dan Byman wrote that fears are exaggerated, at least for now. But if European countries fail to integrate refugees into their societies, relations between Muslim and non-Muslim communities could become dangerously tense. 

Syrians try to cross the border from the Syrian town of Ras al-Ain to the Turkish border town of Ceylanpinar after an air strike December 3, 2012. Credit: Reuters/Laszlo Balogh.

Across the Atlantic, results of a survey taken in September showed no consensus on whether the United States should accept refugees. However as William Galston wrote, Americans display broader agreement regarding humanitarian obligations: the United States should be doing more to respond to the crisis. In a November poll (before the Paris attacks), Shibley Telhami found that views of Muslims and Islam are largely divided along party lines. Overall, 61 percent of Americans express an unfavorable view of Islam, but 53 percent express favorable views of Muslims. 
While attention was diverted: the Israeli-Palestinian conflict and the future of Tunisia 
Although tensions continued to brew among Israelis and Palestinians, this conflict tended to fall off the front pages of American newspapers this year. Secretary of State John Kerry's remarks at the 2015 Saban Forum effectively acknowledged that the United States now places the onus for progress toward peace onto the Israelis and Palestinians. 
To highlight the dangerous dearth of creative problem-solving, Natan Sachs and Khaled Elgindy kicked off the "Debating Israeli-Palestinian Futures" blog post series. Elgindy argued that the Oslo framework has failed and suggested that an entirely new framework may be necessary to deliver peace. In Sachs's opinion, today's main policy challenge is balancing active conflict management with modest goals, all while ensuring that the door to conflict resolution remains open. 
One bright spot in the region can still be found—in Tunisia. Earlier in the year, as part of a series of reports from the field, Shadi Hamid wrote about the ongoing tension between secular and Islamist forces in the country as it undergoes its political transition. When President Caid Essebsi met with President Obama in Washington in May, Wittes wrote that both the United States and Europe should provide more robust support to Tunisia. In October, when the National Dialogue Quartet won the Nobel Peace Prize, Sarah Yerkes encouraged Tunisia's civil society and government to capitalize on the "Nobel moment" by resisting crackdowns and reminding the world of Tunisia's relevance and continued need for support, respectively. 
For a run-down of some of the major foreign policy developments elsewhere in the world, check out our sister blog, Order from Chaos. To a more peaceful new year!