Successes and challenges
The small middle-income countries (SMICs) in Africa represent a successful group that has experienced solid economic growth and sustained improvements across a broad range of development indicators. Recently, a moderation in growth has slowed the rise of their income towards advanced-economy levels. This has raised concerns that some of the countries may be caught in the so-called "middle-income trap." The growth slowdown reflects both the weaker global conditions and domestic constraints. These countries thus need to adjust their policies to preserve stability, while at the same time advance on the next generation of structural reforms that will set the basis for long-term growth and a transition to advanced-economy status.
Sub-Saharan African SMICs: Growth and Stalled Convergence
GDP per capita Convergence to OECD average income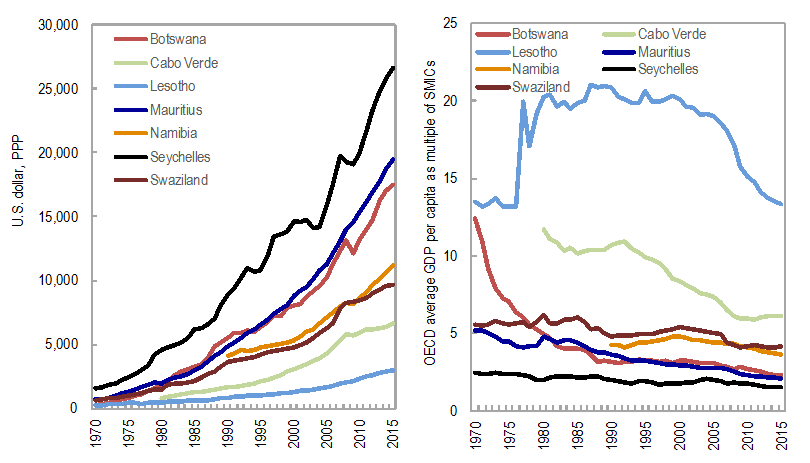 Source: IMF, World Economic Outlook database.


Before the global financial crisis, growth in these countries was aided by high demand for their exports from advanced economies and emerging markets. The legacy of the crisis—a slowdown in global growth, FDI, and trade—is lasting longer than expected and having spillovers on the growth potential of these countries. More recently, commodity exporters have been hit by declining exports and a rising cost of external finance. Closer to home, countries like Botswana, Lesotho, Namibia, and Swaziland are also heavily exposed to the slowdown in the South African economy from trade channels and the decline in revenues from the customs union.
Notwithstanding the differences—location, land size, structure of their economy—these countries face some common domestic challenges: diversifying their economic activities, creating jobs, building more infrastructure, furthering human development, and making growth more inclusive. Policies need to focus in five areas:
Diversifying economic activities and exports to ensure growth is broad based. The recent downturn in commodity prices has further emphasized that an economy is more resilient if the growth comes from a variety of sources.
Unemployment, particularly rising youth unemployment, is a big concern. Large informal sectors with low productivity levels contribute to underemployment while lack of education and job training worsen skills mismatches. Unemployment creates political and social pressures leading to short-term solutions that are unsustainable or undesirable in the longer term. For instance, pressures for job creation in the public sector result in an inflated wage bill and crowd out other priority spending.
Infrastructure deficiencies hinder the development of the private sector through a high cost of doing business. Countries should add infrastructure, but also make better use of what is available. With many countries facing binding budget constraints and significant investment needs, increasing the efficiency of existing infrastructure is more important than ever.
Human development indices have improved, but more can be done. Life expectancy has improved in several countries, but further progress is needed in others. There is also room for progress in secondary and tertiary education. Building human capital can also help with youth unemployment.
Inclusive growth is one of the key challenges of the 21st century. While poverty rates have fallen, efforts are still needed in this area. Also, inequality remains unacceptably high in several countries. If unchanged, this will lead to social pressures and hurt growth.
Reform needs: Moving to the next level
Faced with a decline in exports demand and the overall resource envelope, more expensive costs of external financing, and domestic constraints, the challenge SMICs face in transitioning to advanced economies is more pronounced. Recapturing the earlier growth momentum will require governments to rethink their sources of growth and accompanying policies.
Crucially, countries need to implement previously delayed structural reforms to enhance their competitiveness and resilience. Reform needs vary according to the stage of economic development: What got countries from low-income to middle-income will not necessarily take them to high-income. The reform efforts can be grouped in three broad themes:
Creating fiscal space to balance the constrained resource envelope with significant spending needs and strengthening public financial management to improve the value for money and reduce fiscal risks;
Furthering private sector development to diversify the sources of growth and reduce reliance on the public sector;
Fostering inclusive growth, including by upgrading human capital to aid job creation.
Given multiple reform needs, countries need to prioritize and sequence reforms to maximize payoffs. The pace of reforms matters as much as the type of reforms. Similarly, there are benefits in implementing certain reforms simultaneously or in "waves." For instance, there are synergies between labor and product markets reforms.
"Africa on the Move: Unlocking the Potential of Small Middle-Income States," offers a number of policy options to address these challenges and realize future opportunities through the analysis of macroeconomic and structural issues. The areas covered in the book include the macroeconomic vulnerability faced by these countries; how to enhance their resilience to shocks; an assessment of how labor market outcomes can be improved; structural policies and institutional reforms that could boost productivity growth, and financial inclusion policies.
While the reform diagnostics are fairly straightforward, navigating the political economy constraints to reforms represents a thornier challenge. Political economy constraints are often the main reason reforms are delayed. For instance, labor market reform in Mauritius was initially opposed by unions concerned about the interest of their members. Eventually, negotiations between the government, employers, and unions resulted in a package that protected workers through an unemployment insurance scheme and support for job search and training. Peer learning may offer scope to share ideas on navigating the political economy to push forward the reform agenda to enable the middle-income countries to transition to advanced-economy status.

Note:

This blog reflects the views of the author only and does not reflect the views of the Africa Growth Initiative.