Content from the Brookings Doha Center is now archived. In September 2021, after 14 years of impactful partnership, Brookings and the Brookings Doha Center announced that they were ending their affiliation. The Brookings Doha Center is now the Middle East Council on Global Affairs, a separate public policy institution based in Qatar.
Earlier this week, a satirical Facebook post announced that the Egyptian Army engineers have developed an Egyptian dollar to combat the continued rise of the U.S. dollar. The new and improved $100 note features Egyptian President Abdel-Fattah el-Sissi's photo instead of Benjamin Franklin's.
Another post shows a video of Karam, a simple man from upper Egypt, revealing his secret to getting a favorable exchange rate for converting Egyptian pounds to dollars. Karam simply lays the Egyptian pound notes out, covers them with his scarf, and sings nationalistic songs to them—afterwards, he reveals a pile of fresh $1 notes. The video has since made it to mainstream media, with a news presenter sarcastically suggesting that Karam be appointed minister of finance.
These posts—just two recent examples of many—reflect the Egyptians' pessimism about worsening economic conditions. With the resurgent authoritarianism under Sissi, it seems now the only way they can respond is with satire.
Big promises meet reality
In a classic authoritarian bargain, President Sissi came to power two years ago promising security, stability, and economic prosperity in exchange for near-total political control. Now, that bargain is in the process of breaking down, since he's failed to deliver on all three fronts.
The ISIS-inspired insurgency in the Sinai Peninsula continues to fester, and since 2013, terror attacks have struck several Egyptian cities. The downing of the Russian jet in the Sinai Peninsula has brought down tourist arrivals. The murder of Italian PhD student Giulio Regenihas delivered a blow to Egypt's relations with Italy and the EU. Protests erupted when the government suddenly transferred the sovereignty of two islands to Saudi Arabia this April. The government responded by locking people up, and many remain in jail to date on the charge of "spreading rumors about the disputed Red Sea islands Tiran and Sanafir." In addition, incidents of sectarian violence continue to flare up. To many, Egypt seems to be moving backward, not forward.
On the economic front, too, Sissi has over-promised and under-delivered. The Egyptian pound continues to lose value, and unemployment remains high. Since Sissi came to power, overall unemployment has fallen slightly from 13.3 percent to 12.7 percent in the first quarter of 2016—but youth unemployment remains high, at 31.3 percent. In a new policy published yesterday titled "Educated but Unemployed: The Challenge Facing Egypt's Youth," I argue that if the Egyptian government does not deal with the specific problem of youth unemployment soon, it will likely face instability—and perhaps another uprising—in the years to come.
Hyper-nationalism, anyone?
In spite of this situation, the Sissi government continues to obsess over ultra-nationalistic and grandiose projects that will create desperately needed jobs in the short term—but likely not enough.
Egypt embarked on a major project to widen the Suez Canal, for example. The head of the Suez Canal Authority once predicted that the larger canal would generate $100 billion in one year. Egypt spent $8 billion on the project, and Sissi (dressed in full military regalia) opened it last year with a spectacle involving cruising in King Farouk's yacht, al Mahrousa, in front of international dignitaries. A year later, the number of container ships passing through the canal is down by 3 percent, due to lower oil prices and preferences for the cheaper (but longer) route around the Cape of Good Hope.
The government also announced flashy plans to build a new capital, adjacent to Cairo, at the Sharm el Shiekh investment conference in 2015. One year later, the project has stalled over disagreements between the government and one of the main Emirati developers. There's considerable debate over whether the new capital is even needed, or whether Egypt would be better served by improving Cairo's existing infrastructure and directing resources to education and health care.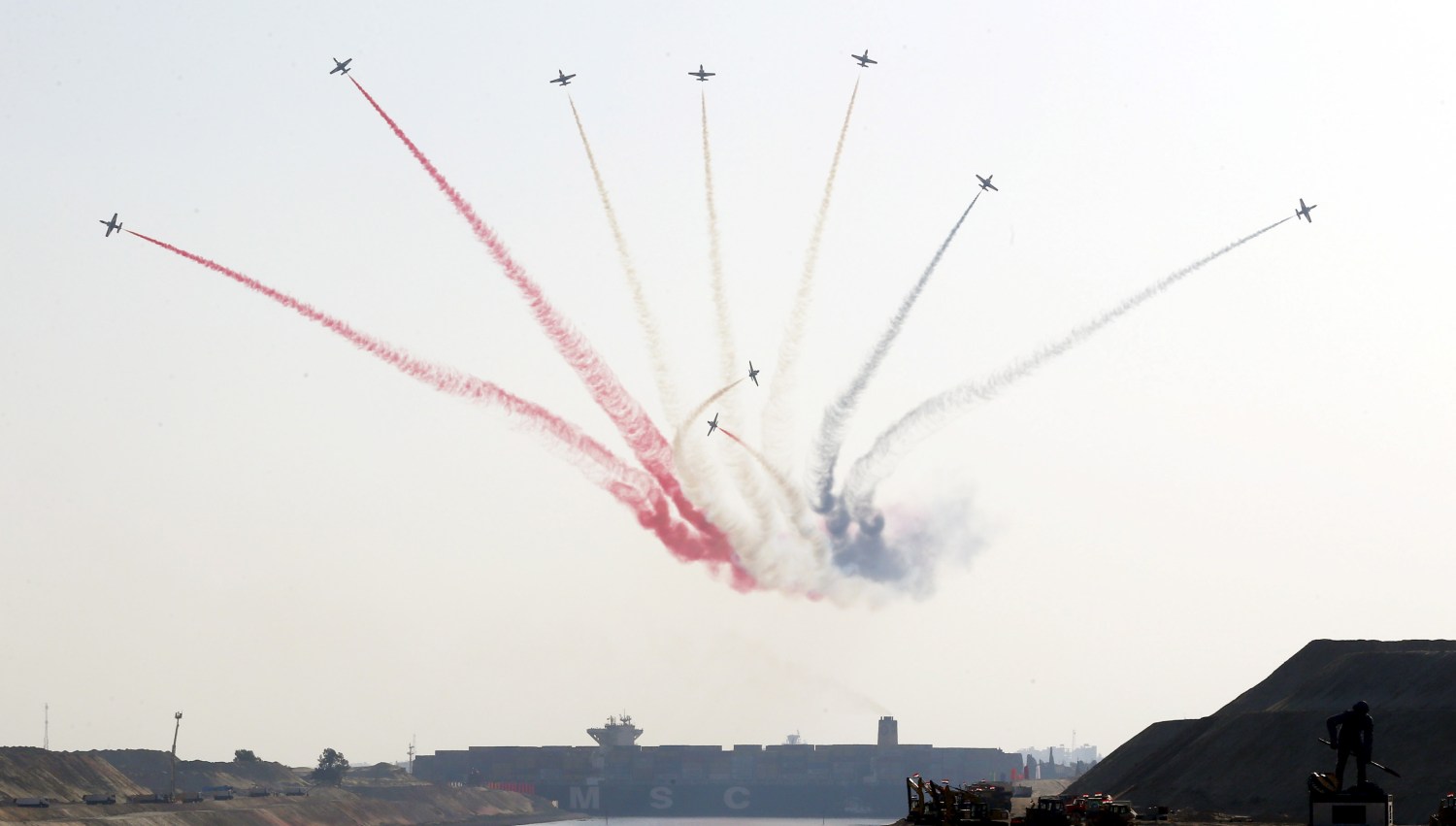 Egyptian air force planes parade in front of a cargo container ship crossing the new section of the Suez Canal after the opening ceremony of the new Suez Canal, in Ismailia, Egypt, August 6, 2015. Egypt staged a show of international support on Thursday as it inaugurated a major extension of the Suez Canal which President Abdel Fattah al-Sisi hopes will power an economic turnaround in the Arab world's most populous country. REUTERS/Amr Abdallah Dalsh REUTERS/Amr Abdallah Dalsh - RTX1NCNT
The joblessness problem
As these political spectacles continue to unfold, the problem of youth unemployment continues to fester. The policy brief analyses some of the root causes of the youth unemployment problem in Egypt. In particular, it sheds light on ongoing problems in the Egyptian higher education system: although public universities churn out thousands of graduates every year, many are unlikely to find employment in their respective fields.
The brief also highlights the growing youth bulge. Demographic pressures mean that the Egyptian labor market is increasingly unable to cope with the number of new job seekers. The size of the youth population (ages 15 to 29) has increased from 13.3 million in 1988 to 17.4 million in 1998 and 22.2 million in 2006.
In the brief, I make four key policy recommendations: reform the higher education sector and its funding model; invest further in vocational training; increase the emphasis on entrepreneurship; and take steps to increase the participation of women in the work force.
There is no silver bullet for dealing with youth unemployment, in Egypt or elsewhere. For these recommendations to have a chance at succeeding, they must be implemented within the context of an overall economic development policy that puts job creation at its center. Some policy changes may yield results at a faster pace, while others—such as reform of the tertiary sector—will take years.
The important step, now, is for the Egyptian government to acknowledge the urgency of the challenges it faces. If youth unemployment in Egypt is not addressed head-on (and soon), the government might as well start printing Sissi dollars and appoint Karam as minister of finance, as it seems nothing else is really working.