As Congress continues to kick the can down the road on repairing our nation's infrastructure, many states and metropolitan areas remain focused on developing sustainable long-term solutions to boost their economies. Across the public and private sector, leaders have partnered to invest in our roads, ports and other key infrastructure systems, aiming to provide greater financial certainty for future projects and put more people back to work.
Policymakers at the state level, in particular, are grappling with a series of infrastructure challenges given the looming shortfall in the Highway Trust Fund. Without reliable federal support during the height of the summer construction season, lawmakers from Maryland to New Hampshire have recently raised their gas taxes to pay for needed improvements, private groups have lined up in Pennsylvania to fund hundreds of bridge upgrades, and voters in Oregon and elsewhere have supported a variety of transportation ballot measures.  
Since more than 14.2 million infrastructure jobs are at stake in these policy discussions—the majority of which last for years beyond construction—it's easy to see why states are acting with a sense of urgency.
Total Infrastructure Employment By State, 2012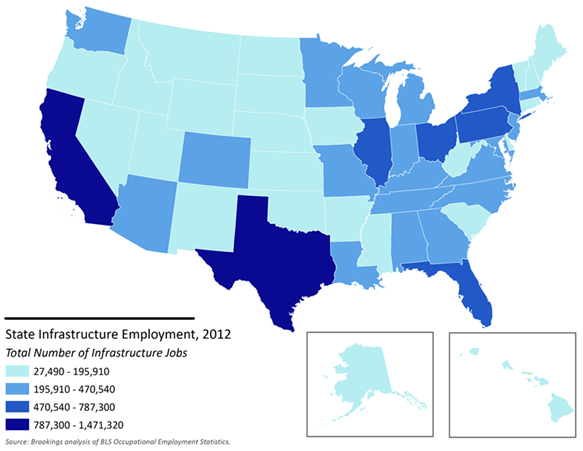 Combined, California and Texas have nearly 2.7 million infrastructure jobs, which exceeds the total for the bottom 27 states put together. Drawing from the strength of their extensive trade and logistics facilities, these two states employ over 700,000 material movers and truck drivers alone, in addition to tens of thousands of cargo agents, dispatchers, and distribution managers. New York (787,300), Florida (723,230), and Illinois (661,010) round out the top five states and boast similarly high levels of infrastructure employment across multiple industries.
Anchored by their sizable urban populations, states such as North Carolina (420,590) and New Jersey (420,490) also contain a number of infrastructure jobs linked to transit, aviation and intercity passenger rail. Bus drivers, aircraft mechanics and railroad conductors rank among the largest infrastructure occupations in these states, promoting mobility and connectivity across different metropolitan areas.
Share of Infrastructure Employment By State, 2012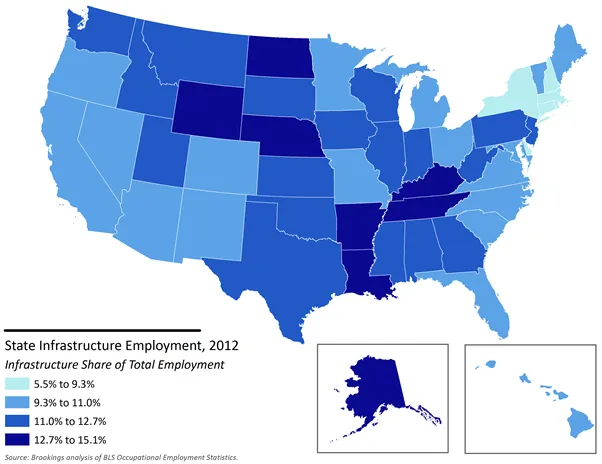 However, even states with lower overall employment still rely extensively on infrastructure jobs to drive their economic growth. When considering the infrastructure share of their total employment, for instance, several states exceed the national average (11.0 percent), led by Alaska (15.1 percent), Wyoming (14.8 percent), North Dakota (14.4 percent), Tennessee (13.3 percent), and Louisiana (13.2 percent). Beyond logistics, these states often derive a large portion of jobs from their widespread energy infrastructure, including the need for thousands of operators, plumbers, and electricians to maintain their power plants, pipelines and transmission facilities.
While federal policymakers get ready for their August recess, states are moving ahead to address their infrastructure challenges head-on. By doing so, they're not only investing in our most fundamental physical assets, but they're keeping millions of workers on the job.