Children born into low-income families face multiple barriers to upward mobility: not just a lack of money, but a range of overlapping social, educational, economic and familial disadvantages. Sometimes these problems can seem intractable. But in fact, targeted, high-quality interventions can break down some of the obstacles faced by low-income children, as our new CCF policy brief shows. A single intervention at one point in time will likely only have a modest effect. But intervening at multiple points can have large impacts on class and race gaps in child outcomes and improve social mobility quite dramatically. 
Helping Poor Kids Become Middle Class by Middle Age
In the brief, we estimate the cumulative effects for low income children of participating in proven, effective programs, ranging from parenting education during early childhood to high school dropout prevention efforts in adolescence. (See the paper, which draws on a representative dataset from our Social Genome Model, for more information on the programs).
Successive interventions could reduce the gap in the proportion of more and less advantaged children who reach one of our key benchmarks, being middle class by middle age, by 70 percent:
Boosting Intergenerational Mobility
For children born in the bottom income quintile, this package of interventions almost doubles the likelihood of reaching the top quintile by adulthood. In fact, post-intervention rates of mobility look very close to what one might expect in a "perfect" meritocracy for those born in the bottom income quintile: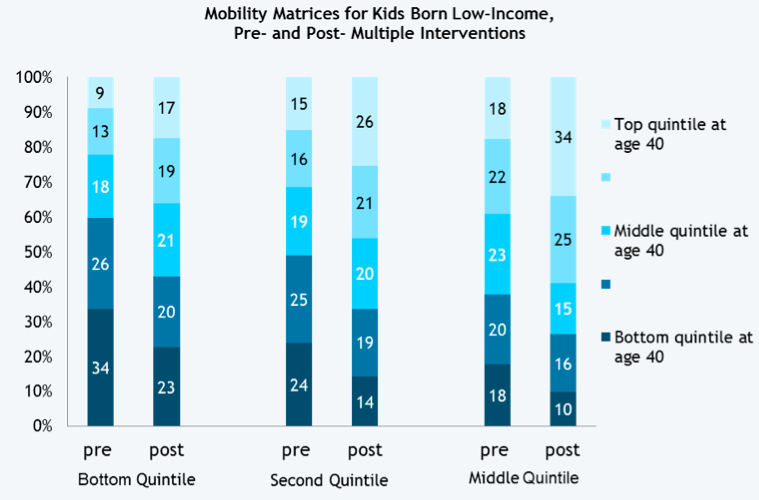 Early Childhood is Just the Beginning
The key message of the paper is that intervening once in a child's lifetime isn't enough. Early childhood interventions, such as high quality Pre-K, are the policy-du-jour, and given how early gaps in child outcomes emerge, intervening early is important. But intervening when a child is young will not close the income gap – we need to combine early childhood interventions with interventions throughout the children's lives if we want to close the growing class divide in opportunity.
The good news is that we know quite a lot about how to do this. The bad news is that implementing such efforts may prove difficult, given both a lack of political will and the administrative difficulties of taking these programs to scale.