Last week we released new research defining the U.S. "advanced industries" sector and showing how heavily the future prosperity of U.S. regions and the nation depends on this list of 50 R&D- and STEM-worker intensive industries. These industries—which range from automotive and aerospace manufacturing to energy activities to digital services like computer system design and software—play an outsized role in powering regional and national economic success. Their vitality and expansion are a prerequisite for any future inclusive growth.
And yet, only a limited number of U.S. metro areas retain truly dense and diverse advanced industry bases, however. The table below shows the 20 large metro areas where advanced industries employ the biggest share of the workforce.
What can we say about this list? Thirteen of the top 20 metro areas are located west of the Mississippi. The preponderance of younger, largely Western metro areas in the top rankings suggests that advanced industries—with their large economic multipliers, significant knowledge spillovers and long supply chains—have helped pull the country's economic gravity westward. Add in the Southeastern entries and only three of the country's densest concentrations of advanced industry activity—Boston, Bridgeport, and Detroit—can be found in the traditional industrial heartlands of the Northeast, Mid-Atlantic and Midwest. Relatively few metro areas in this part of the country, in other words, have fully reinvented themselves for the next era of industrial growth.  
At the same time, many of the nation's top advanced industry centers are also the country's traditional knowledge hubs, home to large pools of highly-skilled workers and strong research universities. Boston, Washington, Raleigh, Austin, Denver, Seattle, San Francisco, San Jose, and San Diego fall into this category—all are metro areas with reputations for science and technology prowess and large pools of skilled STEM workers. 
Of the remaining metropolitan areas in the top 20, Wichita and Palm Bay are modest-sized metro areas with formidable specializations in particular industries: Wichita in aerospace products and parts manufacturing, and Palm Bay in assorted aerospace and defense activities. These locations are in that sense outliers. The strong performance of Utah's three major metro areas attests to the success of the Beehive State's sustained push to build a diversified high-tech economy. Bridgeport, Detroit, Dallas, and Houston, for their parts, are important business centers that retain sizeable manufacturing bases—combining strengths in core manufacturing or energy specialties with advanced services abilities in management consulting, computer systems design, or telecommunications.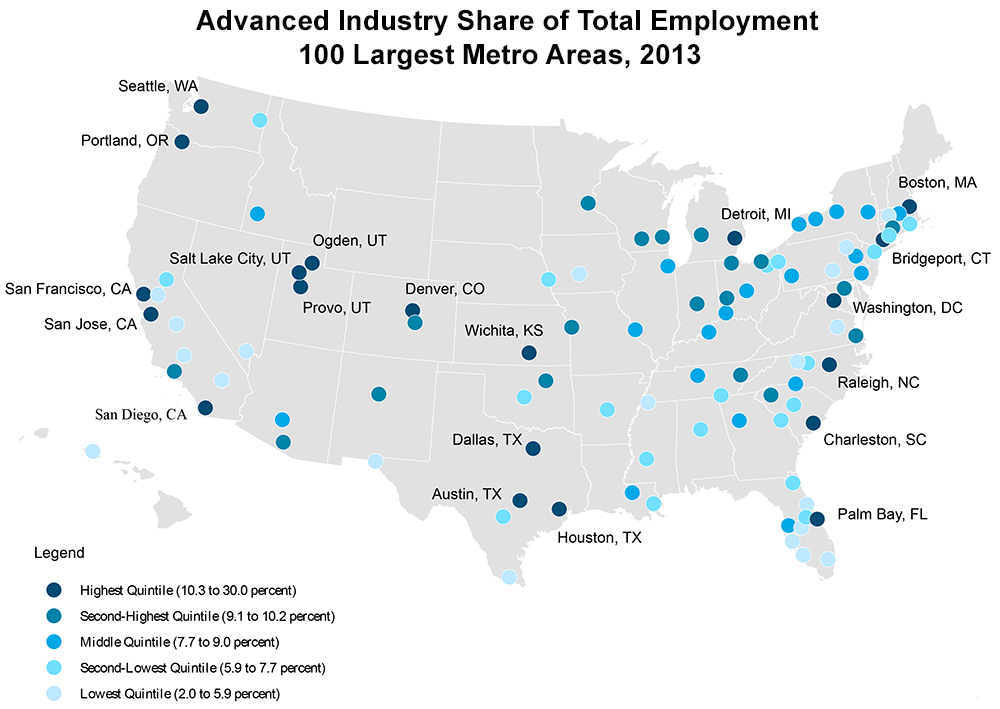 For all of the promise of these clusters, though, advanced industry activity is far from evenly distributed across the country. The sector constitutes only a minor portion of the local employment base in too many major metro areas. The sector is nearly altogether absent in the metro areas of California's Central Valley, the Deep South and most of Florida. Many Great Lakes metro areas still retain solid inventories of advanced enterprise, but most metro areas in the Southeast—despite the steady expansion of the region's advanced industry base over past decades—remain thinly supplied with these critical engines of prosperity. That is a problem for their future prosperity.
To learn more about the advanced industry sector in each major U.S. metro area, visit our interactive feature here.