Inflation-adjusted spending on health services increased 4.1 percent in 2014, after having increased just 1.9 percent in 2013, according to the most recent release of the Census Bureau's Quarterly Services Survey (QSS). Spending stepped across a wide variety of categories, including hospitals, nursing homes, home health, and physician and other clinical services. Spending on pharmaceuticals and other medical goods rose even more sharply, rising over 9 percent in 2014, according to data released by the Bureau of Economic Analysis in February.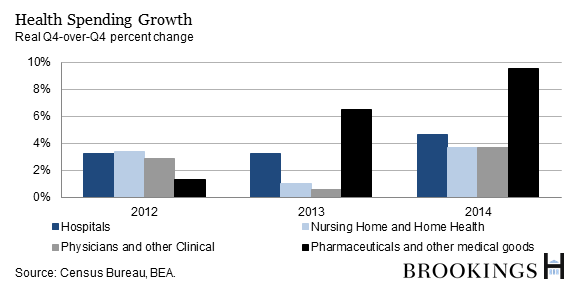 The pickup in health spending in 2014 is consistent with the view that much of the slowdown in health spending over the past years is attributable to two factors:  
 the lagged effects of the Great Recession, and
the surge in the use of generic drugs as many commonly used drugs came off patent (the "patent cliff"). 
Under this view, a pickup in health spending was to be expected as the economic recovery strengthened and as new and expensive drugs (like Sovaldi, the new hepatitis C drug) entered the market. On the other hand, the pickup in health spending growth in 2014 may be temporary.  Health spending growth tends to be volatile, as can be seen below, so one can't make too much of year-to-year gyrations. In addition, health spending growth in 2014 was likely boosted by the one-time increase in demand for health services by those newly insured under the ACA.
It is too soon to know whether health spending growth will continue to increase, and, if so, by how much. The answer to that question has broad implications for the economy and, particularly, for the federal budget.  For example, largely in response to slow national health spending growth through 2013, CBO recently lowered the expected costs of the ACA's health insurance coverage provisions by 10 percent. If spending growth rises sharply in years ahead, so too will those estimates.