If House Republicans had gotten their way earlier this summer, the food stamp program, which currently serves more than 47 million Americans, would have been cut by $20.5 billion. Under those cuts, as many as 5.1 million people—mostly living below the federal poverty line—could lose their benefits. Though that legislation failed in June, yesterday House Republicans announced a bill that doubles down on those cuts by slashing a proposed $40 billion from the program.
Even if these big cuts don't become law, the Center on Budget and Policy Priorities notes that every household currently receiving food stamps (now known as the Supplemental Nutrition Assistance Program, or SNAP) is scheduled to see a drop in benefit levels as of November 1, 2013, as provisions from the 2009 Recovery Act that boosted assistance expire. CBPP estimates that these cuts alone would be the equivalent of taking away 21 meals per month for a family of four, increasing food insecurity and economic hardship for millions of families across the country.
The political geography of this problem, like poverty, has shifted decidedly toward suburbs over the last several years. In the wake of the Great Recession, food stamp receipt increased steeply across the nation's largest metro areas, with the fastest pace of growth taking place in suburbia. Between 2007 and 2011, the number of suburban households receiving food stamps more than doubled, while food stamp receipt in cities rose by over two-thirds.
Many of the regions that saw the steepest increases in food stamp receipt were Sun Belt metro areas hit hardest by the collapse of the housing market and recession that followed, including metro areas like Modesto, Tampa, and Riverside, where the number of suburban households receiving SNAP benefits more than tripled, as well as regions like Cape Coral, Las Vegas, and Atlanta, where suburban SNAP receipt more than doubled.
Amid these rapid increases in food stamp receipt, the balance of SNAP households within the nation's largest metro areas tipped toward the suburbs. In 2007, roughly half of SNAP households were located in the suburbs, but by 2011 that share had risen to 55 percent.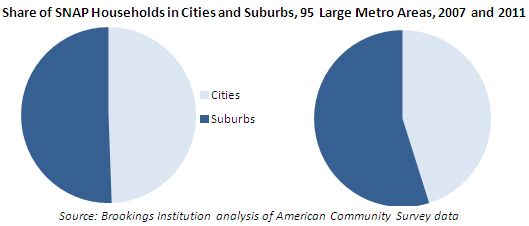 In an era where the challenges of poverty are increasingly shared across urban and suburban boundaries, many policy responses have often failed to keep pace. Yet, by its design, SNAP has been responsive to changes in need through the ups and downs of economic cycles, playing a critical role in alleviating poverty. Now, the expected and proposed cuts to the SNAP program stand to weaken this anti-poverty tool, with wide-reaching implications for the food security, economic stability, and health outcomes of millions of families still struggling with the aftereffects of the Great Recession.