The 2016 Nuclear Security Summit (NSS) is being held March 31 and April 1 in Washington, D.C. The fourth and final in a series of summits that aims to enhance the security and control of fissile materials—in particular, highly enriched uranium and plutonium—this year's meeting will unveil action plans for the five main international organizations and initiatives working to secure nuclear and radiological materials.
Backstory
The first NSS was held in Washington in 2010, at the initiative of President Obama. Forty-seven participating states, most represented by their leaders, committed to safeguarding nuclear materials by reducing the use of highly enriched uranium (HEU), enhancing security at facilities that held fissile materials, increasing state membership in international institutions and instruments such as the Amendment to the Convention on the Physical Protection of Nuclear Material (CPPNM), and other goals. The 2012 NSS in Seoul and 2014 NSS in The Hague saw participants pledge to enhance their state's nuclear security while engaging in bilateral or multilateral mechanisms to enhance security worldwide. One such mechanism was "gift basket diplomacy," where groups of participants signed onto political commitments relating to a specific aspect of nuclear security, such as countering nuclear smuggling or enhancing nuclear forensics.
The NSS process has yielded impressive results thus far, including the complete removal of HEU from 12 countries, the shutdown or conversion to low enriched uranium (LEU) fuel use of 24 research reactors and isotope production facilities that had previously used HEU, and the upgrade of security at 32 buildings that store fissile materials.
What to expect in 2016
NSS participants will reveal progress made on previous commitments, join existing gift baskets, and announce new gift baskets and other bilateral or multilateral commitments. Additionally, a final consensus document, perhaps in the form of a communiqué, will be presented to emphasize summit achievements and outline further steps required to secure vulnerable nuclear materials.
This NSS will be unique because it will provide the venue to unveil action plans for each of the five main international organizations and initiatives working to secure nuclear and radiological materials. These are the International Atomic Energy Agency (IAEA), United Nations (U.N.), INTERPOL, Global Initiative to Combat Nuclear Terrorism (GICNT), and Global Partnership Against the Spread of Weapons and Materials of Mass Destruction (Global Partnership).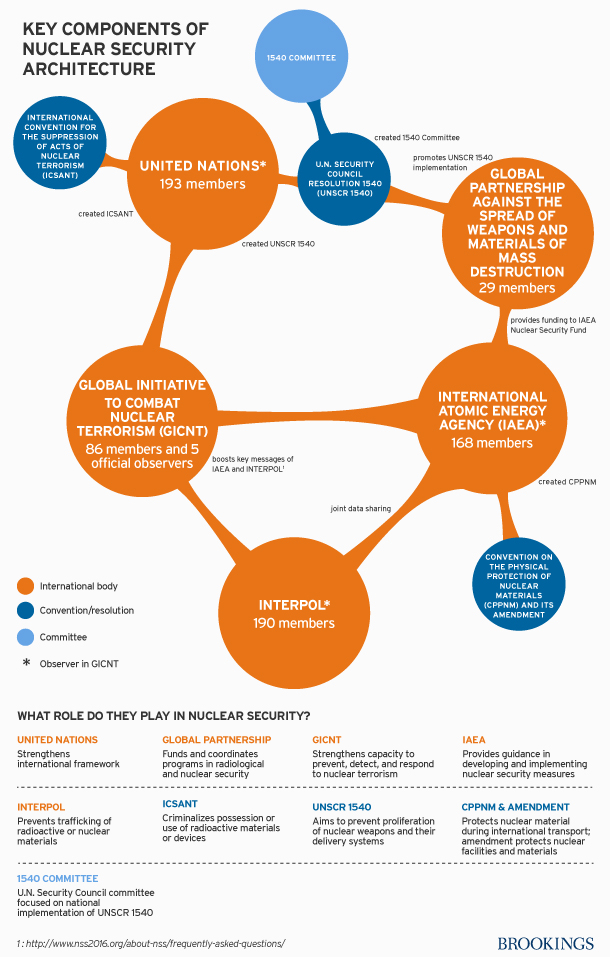 Each action plan "will outline goals that Summit nations will pursue within the key institutions and initiatives." Following the NSS, "infusion of the Action Plans will occur through the decision-making processes of each institution, and will rely on the ability to attract support from members outside the Summit process."
IAEA action plan
The IAEA plays a key role in securing materials by preparing and providing "guidance in developing and implementing effective nuclear security measures." One critical piece of this guidance is the Amendment to the CPPNM, which legally binds states to protect nuclear facilities and materials in peaceful domestic use, storage, and transport. Its entry into force was a primary goal of the 2010 NSS and summit momentum has increased state ratification (only nine ratifications are now needed). The action plan will also likely call for the IAEA to encourage more states to subscribe to the 2014 joint statement on "Strengthening nuclear security implementation" and to continue leading the development of Nuclear Security Centers of Excellence. Lastly, the IAEA's International Conference on Nuclear Security, taking place this December, and the CPPNM review conference mechanisms have been mentioned as potential fora for continued dialogue on the state of global nuclear security after 2016.
U.N. action plan
The U.N. has played a role in strengthening the international framework for nuclear security by formulating the International Convention for the Suppression of Acts of Nuclear Terrorism (ICSANT). Additionally, U.N. Security Council Resolution 1540 (UNSCR 1540) obligates all U.N. member states to have and enforce appropriate and effective measures against the proliferation of nuclear, chemical, and biological weapons and their delivery systems. The 1540 Committee was created by the resolution to assist countries with national implementation of the resolution. The action plan could intensify existing 1540 Committee efforts, since numerous states need additional implementation support, according to the U.N. Security Council. The 1540 Committee can become an important forum for continued discourse.
INTERPOL action plan
INTERPOL participates in the effort to secure nuclear materials through information sharing, capacity building, and operational and investigative support to counter nuclear smuggling and to help states prepare for an incident involving dangerous materials. The action plan could focus on enhancing and expanding existing activities, such as training courses and table-top exercises on preventing and responding to nuclear or radiological incidents, and the Operation Fail Safe initiative. Operation Fail Safe is a proactive information-sharing tool that tracks individuals involved in smuggling radioactive or nuclear materials. In addition, INTERPOL hosted its inaugural global nuclear smuggling conference in January 2016, which could become a regular forum on countering nuclear smuggling.
GICNT action plan
The 86-member GICNT partnership directs multilateral activities to avert, identify, and respond to nuclear terrorism. It has three working groups focused on nuclear detection, nuclear forensics, and nuclear and radiological incident response and mitigation. GICNT's action plan could discuss increasing the partnership's activities to transfer knowledge, expertise, and guidance to detection experts; assist states in developing their own nuclear forensics capabilities; and provide best practices and techniques to handle radiological and nuclear crises. The 2016 NSS identified GICNT as "well-positioned to uplift the key messages of other nuclear security organizations," because of its large membership base.
Global Partnership action plan
The Global Partnership consists of 29 states who fund and coordinate programs aimed at increasing radiological and nuclear security. The Arms Control Association reported that its action plan would focus on continuing exercises, activities, and programs whose objectives include reducing insider threats, enhancing radioactive material security, and countering nuclear smuggling. In addition, the action plan will likely discuss its role in deepening implementation of UNSCR 1540 (member states have been funding equipment, expertise, and training) and financing the IAEA Nuclear Security Fund (which has already received over $30 million from the partnership).
A farewell to summits
The Obama administration stated last August that the United States "seeks a strengthened global nuclear security architecture that is comprehensive, is based on international standards, builds confidence in nations' nuclear security implementation, and results in declining global stocks of nuclear weapons-usable material." Collectively, these five action plans attempt to stitch together this nuclear security architecture with the aim that they will ensure action continues beyond 2016. Hopefully, this summit will infuse those plans and the existing global nuclear security architecture with sufficient high-level political backing to sustain their critical work in the absence of future summits.
Graphic courtesy of Rachel Slattery.