Article
Enhancing Homeland Security: Organizational Options
The September 11 attacks in New York and Washington demonstrated that the U.S. government was not well organized to deal with the new threat of catastrophic terrorism. A large number of agencies spread out across different layers of government have a critical role to play in preventing, preparing for, and responding to a terrorist attack. Although the activities of some of these agencies were well coordinated in the immediate aftermath of the attacks, the interaction among others proved to be woefully inadequate. Critical intelligence and other information was not shared with those who had a need to know. Differing priorities among agencies responsible for parts of the U.S. response effort created inefficiencies and needless delays. And many of the people who needed to work together did not know their counterparts in different agencies and often had little idea about how to get in touch with them.
Faced with this organizational dysfunction, President Bush moved rapidly to address the most immediate difficulty—the absence of adequate coordination among widely dispersed agencies and competencies within the federal government involved in securing the American homeland. Nine days after the attack, Bush addressed this problem directly by announcing the appointment of Pennsylvania governor Tom Ridge as the director of a newly created Office of Homeland Security (OHS). On October 8, 2001, Ridge assumed his new position, armed with a newly-minted Executive Order setting forth his powers and responsibilities.
Ridge's office and efforts were modeled on the National Security Council and its adviser and staff, which for 50 years had worked to coordinate efforts among the key foreign and defense policy agencies to formulate and implement the country's national security policy. A Homeland Security Council (HSC) would bring the top U.S. officials involved in the defensive effort together with the president and vice president on a regular basis, and also provide a basis for Ridge to integrate and coordinate the government-wide homeland security effort.
Professor and director of the Program on International Security and Economic Policy at the School of Public Affairs, University of Maryland.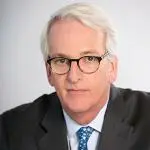 Former Brookings Expert
President -
Chicago Council on Global Affairs
Former U.S. Ambassador to NATO