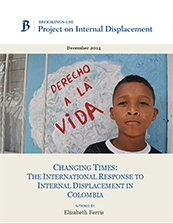 Colombia is a country of paradoxes; while the number of internally displaced persons (IDPs) has increased from 2 million in 2004 to over 6 million in 2014 (and currently ranks second only to Syria in the scale of displacement), the government has taken impressive steps not only to address the needs of IDPs but to bring an end to the long conflict with guerrilla groups. The government has developed perhaps the world's most comprehensive legal system for IDPs, the constitutional court has played an impressively assertive role in protecting IDPs and civil society organizations in Colombia are among the world's strongest. However, there are parts of the country, including parts of major urban centers, that are inaccessible to humanitarian actors and to the state. Criminal gangs, paramilitaries, narcotráfico groups, cartels, guerrillas, and other non-state actors have become the major drivers of displacement and present particular challenges to humanitarian actors. Displacement within cities, for example, is increasing as a result of violence committed by gangs and other non-state actors.
Colombia presents a paradox for the international community as well. International humanitarian agencies have been present in Colombia for decades where they have ambitious programs and deploy hundreds of staff. But, unlike other cases of massive displacement where the role of the international community is to provide assistance to IDPs – and often to substitute for the state – Colombia has a strong state and the role of the internationals is to support the government. On a conceptual level, the relationship between international actors and a strong state is difficult with an inherent tension between supporting the government and carrying out independent humanitarian work. The government presently spends about USD 1 billion per year, dwarfing international annual contributions of around USD 60 million.
The case study concluded that overall IDPs are better off in Colombia than they were ten years ago—but this is largely due to a major court decision in 2004 which compelled a more robust state response. IDPs are now formally recognized by law as victims of the armed conflict and entitled to reparations. In the process of developing policies for victims, however, the particular vulnerabilities associated with internal displacement are becoming less visible.
Humanitarian reform and clusters may have improved coordination by international actors in some areas (although existing sectoral coordination generally functioned well back in 2004). Except for the World Food Program and a fairly limited International Committee for the Red Cross assistance program, international humanitarian agencies do not provide direct assistance to IDPs.
While IDPs are better off in terms of assistance, there are still major shortcomings in prevention, protection and solutions. Solutions depend on security (which is becoming more complex with the proliferation of armed actors) and often complex processes around land and tenure in either the home community or in communities where IDPs live. While national laws, policies and institutions are well-developed, there is a universally-acknowledged gap at the municipal/provincial level where lack of political will, financial resources, management capacity and, in some cases, corruption, limit the implementation of these laws and policies. It is also likely that issues around security sector reform will have a major impact on solutions for IDPs – an area in which humanitarian actors have been only marginally involved. While all attention – by government, international actors, civil society, IDPs/victims – is now focused on the peace process, violence may actually increase – at least in the short term – after the signing of the peace agreement. The Colombian government understandably wants to close the displacement file and is committing significant resources to support victims, including IDPs, to find solutions. 
Recommendations:
International and Colombian humanitarian and development actors should engage more intentionally with the military/police and broader issues of security sector reform to ensure that such efforts support solutions to displacement.
Both international and Colombian humanitarian and development actors should prioritize engagement with municipal authorities in supporting solutions to displacement and consider solutions other than return.
In light of the landmark law on restitution of land, the government's Unidad de Víctimas (perhaps in association with an international agency) should devote attention to assessing the relationship between victimhood, displacement, and vulnerability to ensure that programs established to assist victims address the particular needs of displaced and other vulnerable groups.
Both international and Colombian development agencies should review current development plans, policies and strategies not only through a 'post-conflict' lens but also from the perspective of their ability to support solutions to displacement.
The international community should review the present weaknesses in the protection and early recovery clusters and, if they are found not to add value to existing coordination mechanisms, consider finding alternatives.
The international community should use existing strategic planning processes to discuss the role of international actors in both supporting and maintaining an independent critical perspective vis à vis the government.