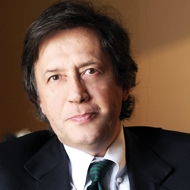 Fritz Stern Chair on Germany and trans-Atlantic Relations
[The current steps by the German government to cut energy dependence from Russia, and overturning policies against supplying weapons to conflict zones] is a disruption that is going to take years and that is already forcing change, and it is going to continue to force change. The problem with implementing change is that the German system is designed to prevent disruptive change.

I don't think it's a problem for [Germany] to become a hard power when we're seeing what the Russians are doing in Ukraine. [So far, the changes under way in Germany have] been nothing short of astonishing.