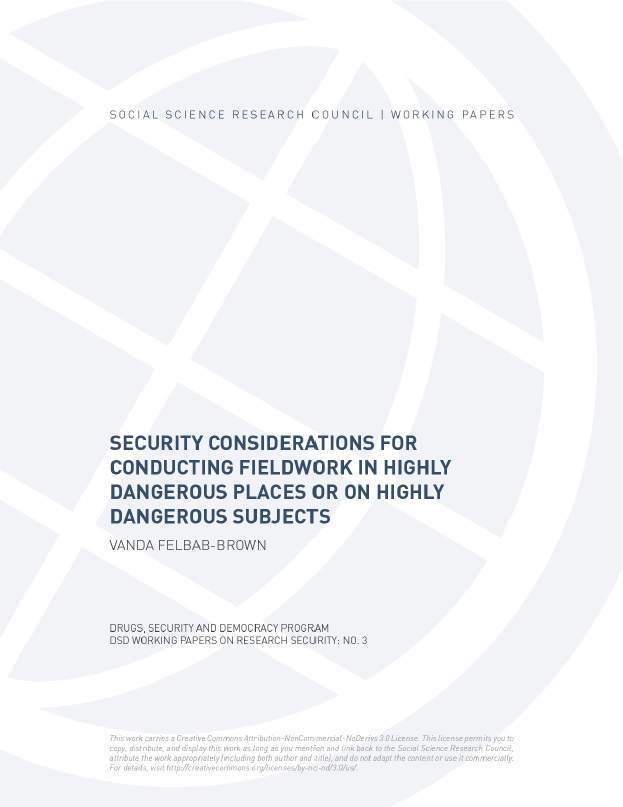 Having conducted first-person research on organized crime, insurgencies, illicit economies and other risky topics in some of the most dangerous parts of the world, Vanda Felbab-Brown's new paper on how to conduct fieldwork in such circumstances offers unique perspectives. The analysis and advice are presented in "Security Considerations for Conducting Fieldwork in Highly Dangerous Places Or On Highly Dangerous Subjects", published in May 2014 by the Social Science Research Council's (SSRC) Drugs, Security, and Democracy Program. Felbab-Brown's paper, Working Paper on Research Security No. 3, is a part of SSRC's fieldwork series. While readily acknowledging that interviewing criminals, militants and intelligence and security actors can get one arrested, kidnapped or killed, Felbab-Brown presents a set of fieldwork guidelines and personal anecdotes that illustrate possible approaches for researchers as they confront the very real security threats inherent to their line of work.
Felbab-Brown argues that conducting both secure and effective research that minimizes threats to the external and internal validity of causal claims and policy assessment demands extensive preparation and the ability to stay calm under pressure, while also knowing how to turn adrenaline into one's advantage, engage in quick, on-the-spot reasoning and make continual judgments about the fluid security situation in which one is working. She emphasizes the importance of specific logistical and security preparation—which can easily equal the time to be spent in the field—and advises that multiple research trips are usually necessary for establishing a set of contacts that can eventually serve as a gateway to certain regions, interlocutors and interviewees.
For Felbab-Brown, an important component of conducting her research involves learning about the local context and making considered decisions about levels of acceptable risk. While some researchers in her field think about carrying firearms for protection or offer payments to sources, Felbab-Brown details why such actions can be dangerous: "Your safety as a researcher comes from sound judgment, good safety procedures, and maintaining a low profile, not the extent of your firepower." At the same time, Felbab-Brown offers an unsentimental perspective on the manner in which one must think when conducting dangerous fieldwork: "In places such as Afghanistan or Somalia, for instance, I will wear Merrels or hiking boots with my burqa or abaya, hijab, and niqab, even though the shoes make clear I am not a local and increase the chances of kidnapping. But I make the judgment that if the risks of kidnapping are high anyway, it is much better to be abducted in comfortable shoes, in the event I will be forced to trek across the Hindu Kush."
Felbab-Brown's paper provides relevant observations beyond broad safety concerns, drawing on her experiences as a female researcher working in contexts where gender norms can further exacerbate security threats. She discusses practical concerns such as procuring money and which supplies to bring, establishing security monitors and operational security before and during the interview phase and working with fixers, interpreters and drivers. She also covers inter-personal and moral questions, such as how to interact with local interlocutors and the best ways to create trust, enhance access and interact with locals, and which information to disclose and which not.
The full list of elements discussed in the paper for establishing security while conducting highly dangerous fieldwork includes: preparation before entering dangerous areas; planning one's exit; essential supplies (money and critical documents, means of communication, food and other vital supplies); keeping a low profile or choosing to stand out; the place of gender in research practice; working with fixers, interpreters and drivers; misrepresentation and the disclosure of information about one's interlocutors; operational security during the interview phase (in relation to situational awareness, and also trust and access); what to do when problems do happen; and the maintenance of security after return to a safer place or home.
Finally, when problems do indeed happen, Felbab-Brown details critical considerations for dealing constructively with those 'worst-case' scenarios, such as a kidnapping or finding oneself in the middle of a firefight. Indeed, she even advises on ways not just to survive the dangerous moments, but to turn them to the researcher's advantage: "A town siege by striking cocaleros that prevents the researcher from leaving for several days may yield interviews that were undreamt of during the research design phase."
This type of adaptability is ultimately a key component of Felbab-Brown's advice. Given the uncertainty and hidden nature of much research involving dangerous activities and people, Felbab-Brown cautions that: "New leads to interesting interviewees and fascinating new strands of research and hypotheses will arise on the spot. Good research will be designed flexibly enough—including from a security perspective—to allow pursuing those new lines of inquiry."
Author
[Stabilization is] difficult to do in Iraq and especially Syria because no one wants the U.S. to put lots of forces on the ground to be doing that and locals will struggle to do it well.