Report
Rising in Rhythm: Penang's Cities, People and Economy
Cycles of development
Shih Chung Branch School, along Northam Road (Jalan Sultan Ahmad Shah) in George Town, Penang, was a magnificent colonial-era building in the heart of town. It is now abandoned. Its roof and some internal walls have collapsed. Vegetation is growing wildly among the ruins. Shih Chung is a grim reminder of the state's changing fortunes.
Once the "Pearl of the Orient", present day Penang is home to many dilapidated buildings. But efforts are under way to reverse this cycle. In July 2008, the historic port cities in the Straits of Malacca — George Town and Melaka — were listed by the United Nations Educational, Scientific and Cultural Organisation (UNESCO) as World Heritage Sites for their living culture, history, architecture and multiculturalism. With this, projects to restore the cities are being actively developed.
The Penang Free School, founded in 1816, was the first English school in Southeast Asia. Convent Light Street (founded 1852), the oldest girls' school in Malaysia, and Chung Ling High School (1917), one of the first formal Chinese schools in the region, were also founded in Penang. The state's long history of formal learning has continued to this day. It is now home to Universiti Sains Malaysia (USM), one of the largest universities in Malaysia and a multitude of research institutes.
Authors
Senior Vice President and Head of the Khazanah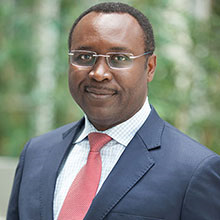 Chief Economist for Africa -
The World Bank
More
"We're at a stage of growth in our country and around the world where cities are the vanguard of problem solving," said Katz. "The federal government, when it functions, is a health insurance company with an army."
"The 21st century has revalued these small geographies. That's what the 21st century demands," Katz said, noting that these days, "[w]e aren't innovating in isolated business parks" in the suburbs.