Past Event
Women in a Changing Middle East: An Address by Under Secretary of State Tara Sonenshine
Past Event
Women in a Changing Middle East: An Address by Under Secretary of State Tara Sonenshine
Women in a Changing Middle East: An Address by Under Secretary of State Tara Sonenshine
Click here to watch the event online at cspan.org.
As Arab citizens struggle to rewrite the rules defining their societies, the role and status of Arab women is a sharp focus of debate. Arab women have been at the forefront of change, but have also faced unprecedented challenges. How central is women's empowerment to the success of Arab societies, and how important are women's rights in the struggle for democracy? What is the U.S. doing to help Arab women (and men) to advance women and girls in their societies?

On April 4, the Saban Center for Middle East Policy at Brookings hosted Under Secretary of State for Public Diplomacy and Public Affairs Tara Sonenshine for an address on women in the Middle East. Senior Fellow Tamara Cofman Wittes, director of the Saban Center for Middle East Policy, will provide introductory remarks and moderate a discussion with Under Secretary Sonenshine after her remarks.
Agenda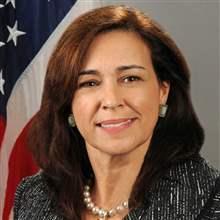 Coordinator for Global Partnerships, Planet Forward -
The George Washington University
Fmr. Under Secretary of State for Public Diplomacy and Public Affairs -
U.S. Department of State
More Information
Contact
Brookings Office Of Communications
202.797.6105