Content from the Brookings-Tsinghua Public Policy Center is now archived. Since October 1, 2020, Brookings has maintained a limited partnership with Tsinghua University School of Public Policy and Management that is intended to facilitate jointly organized dialogues, meetings, and/or events.
China's meteoric rise lifted its economy but damaged its environment, and it has new aspirations to leadership on the global stage. Africa has enormous natural capital and is hungry for development. How can they collaborate? Their interests may intersect within a model of development that invests in natural capital instead of prizing only extraction.
On July 11th, the Brookings Tsinghua-Center, in collaboration with GreenPoint Group and School of Public Policy and Management at Tsinghua University, hosted the panel Sustainability within the China-Africa Relationship: Governance, Investment, and Natural Capital. The panel was moderated by SMPP Associate Professor and IMPA director Zheng Zhenqing, and featured Mr. Peter Seligmann, chairman and CEO of Conservation International; Professor Qi Ye, director of the Brookings Tsinghua-Center; Honorable Minister Anyaa Vohiri of the Environmental Protection Agency of Liberia; Professor Pang Xun, expert on official direct assistance and the politics of aid; and Mr. Rule Jimmy Opelo, Permanent Deputy Secretary of the Ministry of Environment, Wildlife and Tourism of Botswana.
Professor and Dean of School of Public Policy and Management Xue Lan gave the opening remarks, highlighting that both China and Africa face the challenge of balancing development and sustainability. Minister Vohiri then presented on the challenges and great potential of Africa's vast, untapped renewable energy resources before Professor Zheng opened the panel. Framing China and Africa as global partners with the common aspiration of growing sustainable, the panelists discussed the need for developing economies to recognize that the health of their environment is inseparable from the health of their economies.
Questions concerning the UN's Sustainable Development Goals and Millennium Development goals presented conservation as a global issue requiring global governance. Mr. Seligmann forwarded the idea that sustainable development as enlightened self-interest has entered mainstream thought, asserting that the challenge now lies in crafting region-specific policies and plans of implementation. The importance of cooperation surfaced as a common theme. Mr. Opelo examined the possibilities of South-South cooperation, and Professor Qi provided a history for the emergence of natural capital as a concept before underlining the need for government to collaborate with civil society and the private sector.
The highlighted benefits of Sino-African cooperation ranged from the greater political freedom afforded to aid recipient countries when there is donor competition to Africa's potential "leapfrog" development to a green economy if it obtains sufficient investment. Professor Qi spoke of the lessons provided by China's evolution from a parochial developing country into the world's leader in sustainable development. Professor Pang emphasized the benefits both to China and to African countries when the influence of conditional aid from the United States is diluted by Chinese competition. Minister Vohiri and Mr. Opelo discussed the challenges of balancing conservation enforcement with the provision of basic needs, concluding that China's capital and knowledge could help Africa develop its economy in a sustainable direction. The panelists closed by addressing questions from the audience that problematical transparency problems with China's current model of development in Africa, the sustainability of green energy subsidies, the threats of mining and poaching, and Africa's role in addressing a global environmental crisis to which it largely did not contribute.
Xue Lan gave the opening remarks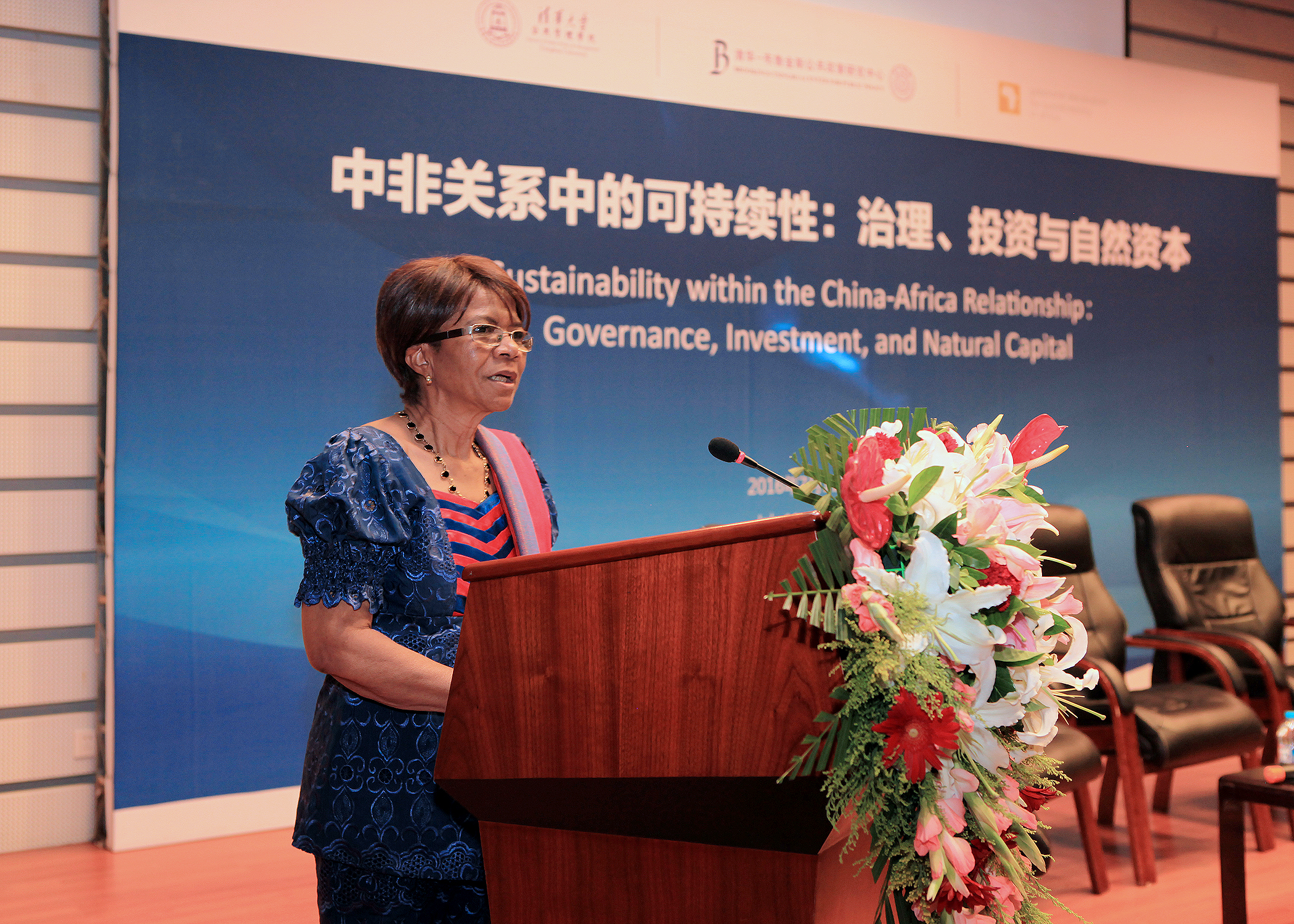 Minister Vohiri delivered keynote remarks