The Rubenstein Fellowship program, originally announced in 2017, is supported by a generous gift from Brookings Trustee David M. Rubenstein, co-founder and co-chief executive officer of the Carlyle Group, and is part of Brookings's commitment to advancing diversity in its scholarly community. These two-year fellowships are awarded to 10 outstanding early- and mid-career scholars, placed across five research programs at the Brookings Institution to study a wide range of local, national, and global policy issues.
Read the full announcement about the 2021 class »
Learn more about the 2019 class »
Learn more about the 2017 class »
 
The 2021 CLASS
---
Anton Korinek, Economic Studies
Anton Korinek is a professor in the Department of Economics and the Darden School of Business of the University of Virginia, as well as a research associate at the National Bureau of Economic Research (NBER), a research fellow at the Center for Economic and Policy Research, a research affiliate at the Oxford Future of Humanity Institute's Centre for the Governance of AI, and a senior advisor at the Partnership on AI. His current research analyzes how advances in artificial intelligence (AI) affect our economy and society. He analyzes how to steer progress in AI to lead to shared prosperity and how to prepare our society for the transformative potential of AI in the future. He is also an editor of the Oxford Handbook of AI Governance Previously, he conducted research on policy measures to prevent financial crises and developed an influential framework for capital flow regulation in emerging economies. Professor Korinek studied economics, math, and law at the University of Vienna in Austria, where he worked in the finance and IT sectors in the late 1990s. He obtained his Ph.D. in economics from Columbia University in 2007. Prior to his current position, he worked at Johns Hopkins and at the University of Maryland and was a visiting scholar at Harvard, the Bank for International Settlements, the IMF, the World Bank, and several central banks.
Belinda Archibong, Global Economy and Development
Belinda Archibong is an assistant professor of economics at Barnard College, Columbia University. Her research areas include development economics, political economy, economic history, and environmental economics with an Africa regional focus. Her research investigates the role of historical institutions and the environment in inequality of access to public services and the development of human capital. In current research she studies the effects of epidemics on gender gaps in human capital investment, the economics of epidemics and vaccination, and the impacts of air pollution from gas flaring on human capital outcomes with a focus on how institutions mitigate or exacerbate the impacts of climate change and environment on inequalities around gender and marginalized groups. Other works study the economics of prisons, the effects of protests on taxation and gender gaps in political participation, and the drivers of gender gaps in labor markets in African countries. Dr. Archibong is a faculty affiliate at Columbia University's Center for Development Economics and Policy, The Earth Institute at Columbia University, the Institute of African Studies, the Institute for Research in African-American Studies, the Columbia Population Research Center, and the Center for Environmental Economics and Policy. She received a B.A. in Economics/Philosophy and a Ph.D. in Sustainable Development from Columbia University.
Carlos Martín, Metropolitan Policy Program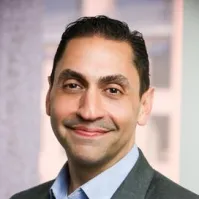 Carlos Martín (he/él) studies the policies and practices shaping the physical quality of our built environment. Trained as an architect, civil engineer, and historian of technology, Carlos connects the bricks-and-mortar of housing and communities to their social and economic outcomes. His publication record includes work in disaster mitigation and recovery; climate policy for housing and city governance; housing links to regional infrastructure; substandard housing; residential energy and water programs; and the home construction industry, workforce, and regulations. He has advised policymakers in multilateral development organizations, the U.S. executive and legislative branches, and state and local governments along with the civil sector. Carlos comes to Brookings from the Urban Institute, where he was a senior fellow in the Metropolitan Housing and Communities Policy Center and led Urban's work on the built and natural environments. Previously, he was also assistant staff vice president for construction codes and standards at the National Association of Home Builders, SRP Professor for Energy and the Environment at Arizona State University, and coordinator for the U.S. Department of Housing and Urban Development's Partnership for Advancing Technology in Housing. Dr. Martín received his BSAD in architecture from Massachusetts Institute of Technology and M.Eng. and Ph.D. degrees in civil and environmental engineering from Stanford University.
Danielle Resnick, Global Economy and Development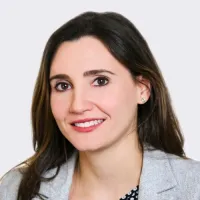 Danielle Resnick is a political scientist whose research focuses on the political economy of development, with a regional specialization in sub-Saharan Africa. She previously was a senior research fellow and governance theme leader at the International Food Policy Research Institute and a research fellow at the United Nations University World Institute for Development Economics Research. She has lived, conducted fieldwork, and engaged in policy outreach in multiple countries, including Botswana, Burkina Faso, Ghana, Malawi, Nepal, Nigeria, Senegal, South Africa, and Zambia. Dr. Resnick currently serves on the editorial boards of Populism and Regional and Federal Studies, and she has previously consulted for the Bertelsmann Foundation, Global Alliance on Improved Nutrition, the Global Panel on Agriculture and Food Systems for Nutrition, Oxford Analytica, Partnership for African Social and Governance Research, and the World Bank. Her research has been funded by USAID, the International Growth Centre, and the Social Science Research Council, among others. She received her Ph.D. in government from Cornell University, M.Sc. in development studies from the London School of Economics, and a B.S. in international affairs from Georgetown University's School of Foreign Service.
Gabriel R. Sanchez, Governance Studies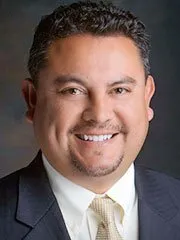 Gabriel R. Sanchez is a professor of political science, and the founding Robert Wood Johnson Foundation Endowed Chair in Health Policy at the University of New Mexico. Dr. Sanchez is also the director of the UNM Center for Social Policy and a founding member of the UNM Native American Budget and Policy Institute. Sanchez is also the vice president of research for BSPResearch, and a nonresident senior fellow in Governance Studies at the Brookings Institution. A leading expert on Latino and New Mexico politics and policy, he regularly provides political commentary to several state, national, and international media outlets including the New York Times, CNN, Los Angeles Times, and the Economist. Dr. Sanchez is a nationally recognized expert in survey research and the utilization of rigorous research to inform public policy decisions at the federal, state, and local levels. Dr. Sanchez has been on the faculty at UNM since 2005, is a native New Mexican, and a graduate of St. Pius X High School in Albuquerque.  Sanchez received his Ph.D. in Political Science from the University of Arizona.
Keon L. Gilbert, Governance Studies
Keon L. Gilbert is associate professor in the Department of Behavioral Science & Health Education at the College for Public Health and Social Justice at Saint Louis University. He also is a co-founding director of the Institute for Healing Justice and Equity, a center focused on eliminating disparities in health caused by systemic oppression. Prior to joining Saint Louis University, Dr. Gilbert completed his doctoral studies at the University of Pittsburgh and was a W.K. Kellogg Foundation Health Scholar at the University of North Carolina at Chapel Hill. His research portfolio includes mixed methods approaches to answer research questions regarding the intersections of race, class, gender, and place. His work has also involved understanding the role of social and health care policies on health outcomes; access and use of health care and social services; understanding the role of place on the development of Black males; the role of racial equity tools to influence local and county policy change; and understanding how the COVID-19 pandemic will continue to shape health behaviors, access and use of health and social services, and health policies.
Patricia M. Kim, Foreign Policy
Patricia M. Kim is an expert on Chinese foreign policy, U.S.-China relations, and East Asian security issues. She is a senior policy analyst on China at the U.S. Institute of Peace where she directs a project on U.S.-China Strategic Stability. She is also a global fellow at the Wilson Center and a visiting scholar at Columbia University's School of International and Public Affairs. Her research portfolio includes projects on U.S.-China strategic competition and risk reduction, U.S. alliances in East Asia, and regional security dynamics on the Korean Peninsula. Previously, Dr. Kim was Stanton Nuclear Security Fellow at the Council on Foreign Relations, International Security Program Research Fellow at the Harvard Kennedy School of Government's Belfer Center for Science and International Affairs, and Postdoctoral Fellow at the Princeton-Harvard China and the World Program at Princeton University. She received her doctoral degree from the Department of Politics at Princeton University.
Tara Watson, Economic Studies
Tara Watson is an economist focused on U.S. social policy, with interests in the safety net, health, and immigration. She is professor of economics at Williams College, a research associate of the National Bureau of Economic Research (NBER), and a co-editor of the Journal of Human Resources. In 2015-16, Watson served as deputy assistant secretary for microeconomic analysis in the U.S. Treasury Department's Office of Economic Policy. She was previously a Robert Wood Johnson Scholar in Health Policy Research at the University of Michigan, a visiting scholar at the Federal Reserve Bank of Boston, and a research associate at the Princeton Center for Research on Child Wellbeing. Dr. Watson earned her Ph.D. in economics from Harvard University in 2003. Her 2021 book, The Border Within: The Economics of Immigration in an Age of Fear, written with journalist Kalee Thompson, is forthcoming from University of Chicago Press.
Tonantzin Carmona, Metropolitan Policy Program
Tonantzin Carmona has committed her professional career to designing and implementing inclusive policy solutions that prioritize the needs of populations not often centered in public policy. Her research interests include public finance, race and ethnicity, economic inequality, and immigrant integration at the state and local levels. She spearheaded innovative, citywide policy initiatives when she served as the chief of policy for the Chicago City Clerk and as the director of the Office of New Americans at the Chicago Mayor's Office. Carmona also championed federal policies through her work as the Illinois political director for the 2020 presidential campaign of U.S. Senator Elizabeth Warren and as Senator Warren's deputy press secretary. A native of Chicago, Illinois, Carmona holds a Master in Public Administration (MPA) from Harvard University and a B.A. from Northwestern University.
Amy J. Nelson, Foreign Policy
Amy J. Nelson conducts research and advises on defense innovation, arms control, and non-proliferation. Her work focuses on the role of emerging technologies across all three. Most recently, she was a fellow at the Center for the Study of Weapons of Mass Destruction at National Defense University. She is a research affiliate with the Center for International and Security Studies at the University of Maryland and is on the faculty of Missouri State University's Defense and Strategic Studies Program. She was previously a Bosch Fellow in residence at the German Council on Foreign Relations in Berlin, Germany, where her research focused on European defense innovation and transatlantic relations. Nelson was a Stanton Fellow at the Council on Foreign Relations and a policy analyst in the Bureau of Political-Military Affairs at the State Department. Dr. Nelson received her A.B. in philosophy with honors from Stanford University, has an M.A. in intellectual history from Columbia University, and an M.A. and a Ph.D. in political science from the University of California, Berkeley.