This curated collection examines Stephen Philip Cohen's impressive body of work.
Stephen Philip Cohen, the Brookings scholar who virtually created the field of South Asian security studies, has curated a unique collection of the most important articles, chapters, and speeches from his fifty-year career. Cohen, often described as the "dean" of U.S. South Asian studies, is a dominant figure in the fields of military history, military sociology, and South Asia's strategic emergence.
Cohen introduces this work with a critical look at his past writing—where he was right, where he was wrong. This exceptional collection includes materials that have never appeared in book form, including Cohen's original essays on the region's military history, the transition from British rule to independence, the role of the armed forces in India and Pakistan, the pathologies of India-Pakistan relations, South Asia's growing nuclear arsenal, and America's fitful (and forgetful) regional policy.
Related Books
The Idea of Pakistan
Shooting for a Century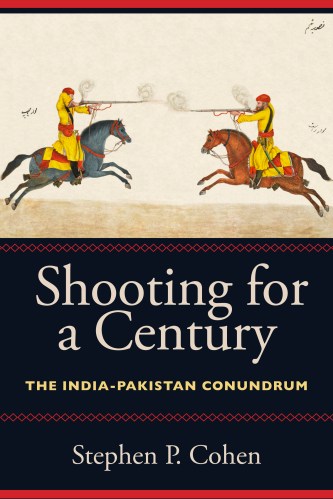 Passages to India: Reflecting on 50 years of research in South Asia
International Affairs
Passages to India: Reflecting on 50 years of research in South Asia
Stephen P. Cohen
May 18, 2016
Praise for Stephen Cohen's India: Emerging Power
Steve Cohen's mastery of India, and India's security and military strategy, and the dramatic changes which have taken place in India since Independence are well and clearly presented. . . .
—Ambassador Thomas R. Pickering, former under secretary of state for political affairs and U.S. ambassador to India
Cohen masterfully navigates through the complex features of India's democracy to depict both continuity and change in a state that is growing more confident and more powerful. . . .
—Ashley Tellis, Carnegie Endowment for International Peace
Praise for The Idea of Pakistan
Cohen is the United States' leading analyst of South Asia, and this authoritative work of broad scope and meticulous research will surely become required reading on Pakistan.
—Foreign Affairs
A lucid, penetrating, and brilliantly constructed book on the state and nation of Pakistan. Cohen, an old South Asia hand, brings to the fore all his knowledge and expertise of one of America's most important allies in the war against terror.
—A Choice Outstanding Title
Stephen Philip Cohen is a senior fellow in the India Project within the Foreign Policy program at Brookings. He joined Brookings after a career as a professor of political science and history at the University of Illinois at Urbana-Champaign, where he created the world's first program devoted to South Asian security studies. He was a member of Secretary of State George Shultz's policy planning staff during the Reagan administration between 1985 and 1987. In 2004 he was named by the World Affairs Councils of America as one of America's 500 Most Influential People in the area of foreign policy.