What is the price of federalism? Does it result in governmental interconnections that are too complex? Does it create overlapping responsibilities? Does it perpetuate social inequalities? Does it stifle economic growth?
To answer these questions, Paul Peterson sets forth two theories of federalism: functional and legislative. Functional theory is optimistic. It says that each level of the federal system is well designed to carry out the tasks for which it is mainly responsible. State and local governments assume responsibility for their area's physical and social development; the national government cares for the needy and reduces economic inequities. Legislative theory, in contrast, is pessimistic: it says that national political leaders, responding to electoral pressures, misuse their power. They shift unpopular burdens to lower levels of government while spending national dollars on popular government programs for which they can claim credit.
Both theories are used to explain different aspects of American federalism. Legislative theory explains why federal grants have never been used to equalize public services. Elected officials cannot easily justify to their constituents a vote to shift funds away from the geographic area they represent. The overall direction that American federalism has taken in recent years is better explained by functional theory. As the costs of transportation and communication have declined, labor and capital have become increasingly mobile, placing states and localities in greater competition with one another. State and local governments are responding to these changes by overlooking the needs of the poor, focusing instead on economic development. As a further consequence, older, big cities of the Rust Belt, inefficient in their operations and burdened by social responsibilities, are losing jobs and population to the suburban communities that surround them.
Peterson recommends that the national government adopt policies that take into account the economic realities identified by functional theory. The national government should give states and localities responsibility for most transportation, education, crime control, and other basic governmental programs. Welfare, food stamps, the delivery of medical services, and other social policies should become the primary responsibility of the national government.
Related Books
Constitutional Reform and Effective Government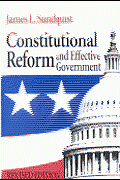 Government Failure versus Market Failure
Stalemate
Paul E. Peterson is the Henry Lee Shattuck Professor of Government at Harvard, the director of PEPG, and a senior fellow at the Hoover Institution. He is author or editor of numerous books, including The Education Gap: Vouchers and Urban Schools, with William G. Howell (Brookings, 2004 and 2006). He is coeditor (with Martin West) of No Child Left Behind? The Practice and Politics of School Accountability (Brookings, 2003).