The framers of the U. S. Constitution focused intently on the difficulties of achieving a workable middle ground between national and local authority. They located that middle ground in a new form of federalism that James Madison called the "compound republic." The term conveys the complicated and ambiguous intent of the framing generation and helps to make comprehensible what otherwise is bewildering to the modern citizenry: a form of government that divides and disperses official power between majorities of two different kinds—one composed of individual voters, and the other, of the distinct political societies we call states. America's federalism is the subject of this collection of essays by Martha Derthick, a leading scholar of American government. She explores the nature of the compound republic, with attention both to its enduring features and to the changes wrought in the twentieth century by Progressivism, the New Deal, and the civil rights revolution. Interest in federalism is likely to increase in the wake of the 2000 presidential election. There are demands for reform of the electoral college, given heightened awareness that it does not strictly reflect the popular vote. The U. S. Supreme Court, under Chief Justice William H. Rehnquist, has mounted an explicit and controversial defense of federalism, and new nominees to the Court are likely to be questioned on that subject and appraised in part by their responses. Derthick's essays invite readers to join the Court in weighing the contemporary importance of federalism as an institution of government.
Related Books
The Politics of Deregulation
Policymaking for Social Security
Getting Agencies to Work Together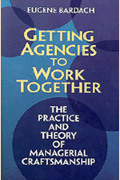 Martha Derthick is the former director of the Governmental Studies program at the Brookings Institution. She is retired from the Department of Government and Foreign Affairs at the University of Virginia, where she taught from 1983 to 1999. She has written five previous Brookings books, including Agency under Stress (1990), The Politics of Deregulation (1985, with Paul J. Quirk), and Policymaking for Social Security (1979).