The American dream is fading: for nearly two decades, the economy has been performing below par, the quality of life has deteriorated, and the government has not confronted the public problems that concern citizens most. In this provocative book, Alice Rivlin offers a straightforward, nontechnical look at the issues threatening the American dream and proposes a solution: restructure responsibilities between the federal and state government.
Under her plan, the federal government would eliminate most of its programs in education, housing, highways, social services, economic development, and job training, enabling it to move the federal budget from deficit toward surplus. States would pick up these responsibilities, carrying out a "productivity agenda" to revitalize the American economy. Common shared taxes would give the state adequate revenues to carry out their tasks and would reduce intrastate competition and disparities. The federal government would be freer to deal with increasingly complex international issues and would retain responsibility for programs requiring national uniformity. A primary federal job would be the reform of health care financing to ensure control of costs and to mandate basic insurance coverage for everyone.
Published in the summer of 1992, Reviving the American Dream was read by presidential candidate Bill Clinton; by year's end, President Clinton appointed its author, Alice Rivlin, as deputy budget director. Today, the ideal in Rivlin's book—and Rivlin herself—are having an impact inside the administration.
Selected as one of Choice magazine's Outstanding Books of 1993
Related Books
Restoring Fiscal Sanity 2007
Restoring Fiscal Sanity
The Economic Payoff from the Internet Revolution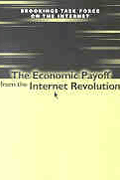 Health Care Policy
The Economic Payoff from the Internet Revolution
Robert E. Litan, Alice M. Rivlin
August 1, 2001
Alice M. Rivlin is a senior fellow in Economic Studies at the Brookings Institution and visiting professor at the Georgetown Public Policy Institute. She has been director of both the White House Office of Management and Budget and the Congressi