Hand-Off details the Bush administration's national security and foreign policy as described at the time in then-classified Transition Memoranda prepared by the National Security Council experts who advised President Bush. Thirty of these Transition Memoranda, newly declassified and here made public for the first time, provide a detailed, comprehensive, and first-hand look at the foreign policy the Bush administration turned over to President Obama. In a postscript to each memorandum, these same experts now in hindsight take a remarkably self- critical look at that Bush foreign policy legacy after more than a dozen years of watching subsequent administrations attempt to deal with the same vexing agenda of threats and opportunities– China, Russia, Iran, the Middle East, terrorism, proliferation, cyber, pandemics, and climate change—an agenda that still dominates America's national security and foreign policy.
Hand-Off will be an invaluable resource for scholars, students, policy analysts, and general readers seeking to understand afresh the Bush administration's foreign policy, particularly in view of the records of the Obama, Trump, and Biden administrations.
Related Books
Bending History
A Little Knowledge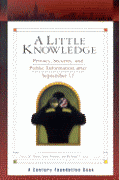 U.S. Defense Policy
A Little Knowledge
John Podesta, Peter M. Shane, Richard C. Leone
June 1, 2004
Shrewd Sanctions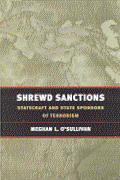 Praise for Hand-Off
"An impressive contribution to Applied History that shows the Bush administration learning from history to help subsequent administrations build on their success and learn from their failures."
— Graham Allison, Douglas Dillon Professor of Government, Harvard Kennedy School
"Stephen Hadley always has been and remains a thoughtful and candid public servant, one who puts his country's national interest on the very highest shelf. Above all, he understands well what philosopher George Santayana meant when he said: 'Those who do not learn history are doomed to repeat it.' This Hadley-edited book, Hand-Off, is a frank examination of the eight years of foreign policy of President George W. Bush, whom Steve served for four years as National Security Advisor and four years as Deputy National Security Advisor. An honest critique of both the strengths and weaknesses of that administration during a critical time in U.S. history, Hand-Off is a must read for anyone who wants a good understanding of how foreign policy was formulated and implemented under President Bush."— James A. Baker, 61st U.S. Secretary of State
"These national security transition memoranda, attachments, and, perhaps most importantly, the postscripts, constitute an invaluable resource for policy makers and historians. As a member of the Senate Foreign Relations Committee, and a veteran of two White Houses, I particularly appreciate how helpful these materials will be in ensuring future transitions serve the country well from a national security point of view."— Rob Portman, U.S. Senator, former Director of the Office of Management and Budget, and former U.S. Trade Representative
"Presidential transitions are fraught with risk, particularly when thousands of Americans are in harm's way as one administration passes the baton to the next. This volume provides invaluable insights as to how the Bush administration prepared to hand off the wars in Iraq and Afghanistan (not to mention persistent terrorist threats and other brewing crises) to the Obama administration. Whether one is a fan or critic of the Bush administration's foreign policy, there is much to be learned from these newly declassified materials and many lessons to be applied to reduce national security risks in future presidential transitions."— Michèle Flournoy, Cofounder and Managing Partner, WestExec Advisors, and former Undersecretary of Defense for Policy
"Reading this book is a rare privilege to understand the navigator's choices when charts are unclear and pathways forward are critical."— John J. Hamre, President and CEO, Center for Strategic and International Studies, and former Deputy Secretary of Defense
"This is a brilliant, powerful work of transparency. Serious people writing about declassified Top Secret and Secret transition memos that many of them had a hand in writing. I have covered nine presidential transitions going back to Nixon-Ford in 1974. Transitions are among the most dangerous times for our nation. Witness Trump-Biden and the Jan. 6, 2021 insurrection. These memos tell us a lot about the foreign policy Bush passed to Obama, what came after, and what stabilizing and timeless lessons can be learned."— Bob Woodward, associate editor of the Washington Post, co-winner of two Pulitzer Prizes, fifteen time #1 New York Times bestseller

"Headlines and spin come and go, but history and substance endure—a great truth amply illuminated by this landmark book. Historians and citizens alike will benefit enormously from this unusual offering of real-time memoranda and retrospective analysis. The result is an essential contribution to the literature not only of the American presidency, but of democracy itself."— Jon Meacham, Pulitzer Prize-winning presidential historian
"[A] tour d'horizon of the international challenges that awaited Mr. Obama and his team in January 2009. . . . As enlightening as the memos are, however, they also underscore that major challenges on the international stage are rarely solved for good, but instead are bequeathed from one administration to another, even in evolved form. So too are the successes and failures."—Peter Baker, The New York Times
Stephen J. Hadley served for four years as the Assistant to the President for National Security Affairs from 2005 to 2009. From 2001 to 2005, Mr. Hadley was the Assistant to the President and Deputy National Security Advisor, serving under then National Security Advisor Condoleezza Rice. He resides in Washington, D.C.
Peter D. Feaver served as Special Advisor for Strategic Planning and Institutional Reform on the National Security Council Staff at the White House from 2005 to 2007. He is currently a Professor of Political Science and Public Policy at Duke University. He resides in Durham, North Carolina.
William Inboden served as Senior Director for Strategic Planning on the National Security Council Staff and also on the State Department's Policy Planning Staff. He is currently the Executive Director of the Clements Center for National Security and associate professor at the LBJ Policy School, both at the University of Texas, Austin.
Meghan L. O'Sullivan was special assistant to President George W. Bush and Deputy National Security Advisor for Iraq and Afghanistan from 2004 to 2007. She is currently the Jeane Kirkpatrick Professor of the Practice of International Affairs and the Director of the Geopolitics of Energy Project at Harvard University's Kennedy School. She resides in Boston, Massachusetts.