Recently, I had the honor of testifying before the U.S. House Small Business Committee on opportunities and barriers in wireless technology.  In my statement, I argue that we need a balanced policy that includes licensed and unlicensed spectrum, greater efficiency in the use of current spectrum, incentives auctions that reallocate underutilized bandwidths to high priority areas, and universal access to high-speed broadband.
I made the point that wireless communications is growing dramatically and is vital for economic development (See Figure Below).  There are a number of research studies that find national economic growth rises with mobile usage as well as investment in mobile infrastructure.  With new advances in mobile learning and mobile health care, it is crucial to have high-speed networks that promote connectivity and communications.
Number of U.S. Smartphone Users in Millions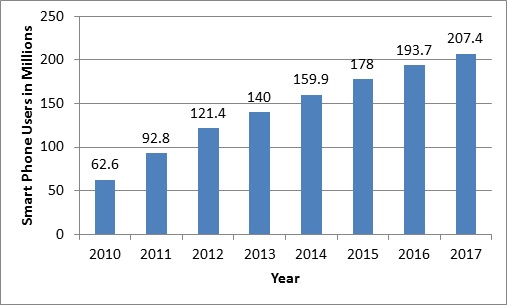 Small business plays a vital role in the mobile sector because many large companies started out small and a number of small firms design and build innovative products and services. We need to overcome barriers in terms of financing, regulation, spectrum availability, infrastructure, and access. If we can do this, there are tremendous opportunities for consumers and businesses to gain the benefits of the mobile revolution.