Planet Policy
Understanding COP21 and beyond: The issues, the actors, and the road ahead on climate change
Slowing global warming is one of the most complex political, economic, and diplomatic challenges our world faces. In a few weeks, governments from nearly 200 nations will convene in Paris for the United Nations Climate Change Conference (COP21). Despite a disappointing and chaotic 2009 summit in Copenhagen, expectations are exceedingly high for COP21 as leaders hope to finalize a legally binding international climate agreement limiting global warming to below 2 degrees Celsius.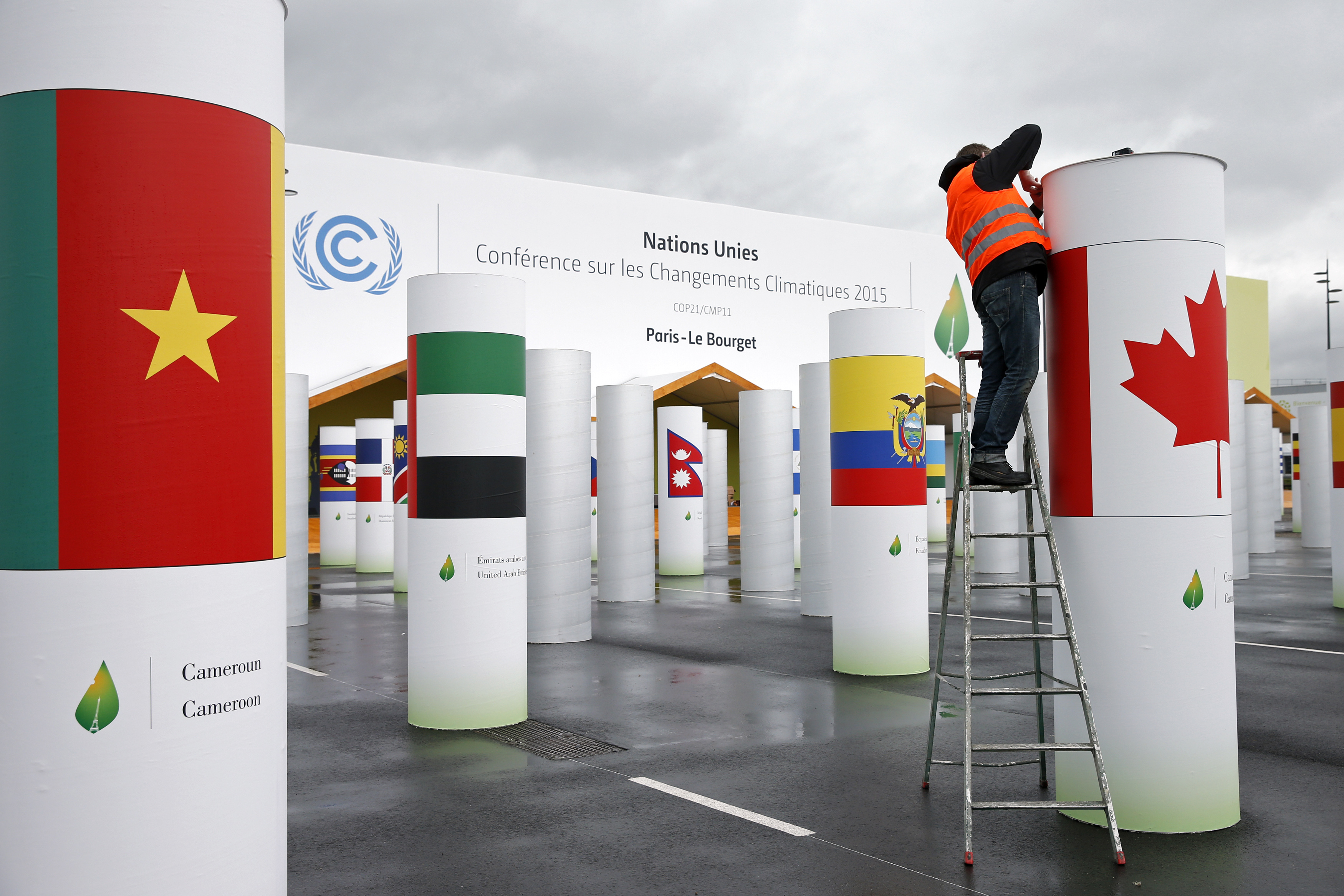 Men work on the site where the upcoming COP21 World Climate Summit will be held at Le Bourget, near Paris, France (REUTERS/Benoit Tessier)

In the lead up to COP21, Brookings experts have compiled a collection of short policy briefs entitled, "COP21 at Paris: The issues, the actors, and the road ahead on climate change," on some of the key issues in climate action, including climate aid and finance, infrastructure, the pricing of carbon, the relationship between agriculture and climate—as well as some of the key players in global negotiations including Africa, China, India, and the United States.
"One of the most important messages is that there is great worldwide mobilization and that many countries as well as businesses and cities are putting forward their own plans to protect the planet from dangerous amounts of climate change." – Kemal Dervis, Vice President and Director, Global Economy and Development
The Paris Moment
A Transformative End to the Year, Timmons Roberts
The Road from Paris, Amar Bhattacharya and Lord Nicholas Stern
The Issues
Pricing Carbon, Warwick J. McKibbin, Adele C. Morris, and Peter J. Wilcoxen
The Role of Public Policy in Sustainable Infrastructure, Zia Qureshi
Aid and Climate Finance, Homi Kharas
Financing Sustainable Infrastructure, Joshua P. Meltzer
Transforming the Global Energy Environment, Charles K. Ebinger
Agriculture in the COP21 Agenda, John W. McArthur
The Players
United States: A Credible Climate Action Plan, but Political Uncertainty, Katherine Sierra
China: Ambitious Targets and Policies, Warwick J. McKibbin and Weifeng Liu
India: Potential for Even Greater Emissions Reductions, Charles Frank
Africa: Financing Adaption and Mitigation in the World's Most Vulnerable Region, Amadou Sy
In the lead up to, during, and after COP21, PlanetPolicy will analyze and examine the top agenda items and what's at stake as world leaders aim to achieve an international climate agreement limiting global warming.
Christina Golubski contributed to this post.
The findings, interpretations and conclusions posted on Brookings.edu are solely those of the authors and not of The Brookings Institution, its officers, staff, board, funders, or organizations with which they may have a relationship.