Asia's wealth, high quality of human capital, and entrepreneurial innovation make the region the world's engine of growth. The Asian Development Bank Outlook 2016 reports that Asia will continue to contribute about 60 percent of global growth in the next two years, as it has in the last five. Asia has more millionaires, with the highest collective net worth, than any other region of the world.
So why is it so stingy in accepting asylum seekers and resettling refugees?
Despite the region's economic achievements and aspirations for global power and influence, most Asian countries are locked in by myopic state-centrism with respect to humanitarianism, as well as backwardness in adopting international standards and laws that promote human rights. They tend to hold a narrow view of sovereignty, deterring them from accepting and implementing such global norms. Moreover, Asia lacks good regional models of constructive refugee policy and capacity-building to host the strangers at the gates. For Asian countries to continue their economic growth and political rise, they'll need better national and regional efforts to open up to the world's diverse people and cultures.
Not a money problem
There is no clear pattern that explains why Asia is missing in action regarding refugees. Wealth and development levels are apparently a bad metric for predicting openness to strangers in need: Japan and South Korea, two of the wealthiest and most developed countries in the region, fall dismally behind their poorer counterparts.
In 2015, Japan accepted 27 refugees while rejecting 99 percent of the record-high 7,586 asylum applications. Even that was a big increase from 2014, when it admitted 11 out of 5,000 asylum seekers. Japan has the most restrictive refugee policy among all wealthy advanced countries. As of August 2016, only 600 non-ethnic Korean refugees have been legally admitted, out of 18,800 applicants. The Korean government granted refugee status to only three Syrians out of 1,144 applicants (since 1994), and after much international criticism in recent years, granted 670 Syrians "humanitarian visas." The latter offers none of the social welfare provisions that are available to official refugees and the tens of thousands of co-ethnic newcomers from North Korea. The Syrian migrants are allowed to stay and live as vagrants.
By contrast, poorer neighbors in Southeast Asia have done better. In contrast to Japan and Korea, the Philippines agreed in 2015 to temporarily host a limited number of Syrian refugees en route to permanent resettlement elsewhere. As of June 2016, Malaysia was hosting over 154,000 refugees and asylees, including more than 45,000 Rohingya from Myanmar. As of spring 2016, Malaysia took in 68 Syrian refugees (31 of whom are children) of the 3,000 that the government had pledged to receive in a three-year period ending 2018. In some cases, Southeast Asian countries are essentially countries of first asylum, since they're located near countries of origin like Myanmar, Pakistan, and Sri Lanka.
As of early 2016, Indonesia was hosting 13,679 refugees and asylum seekers (people who already filed asylum applications and are awaiting a judgement) in detention centers. Even if refugees chose Indonesia as a transit country, many ended up living there for years, waiting for the bureaucracy to let them move on. It is not unusual for these migrants to be "in transit" for 10 or more years in one country.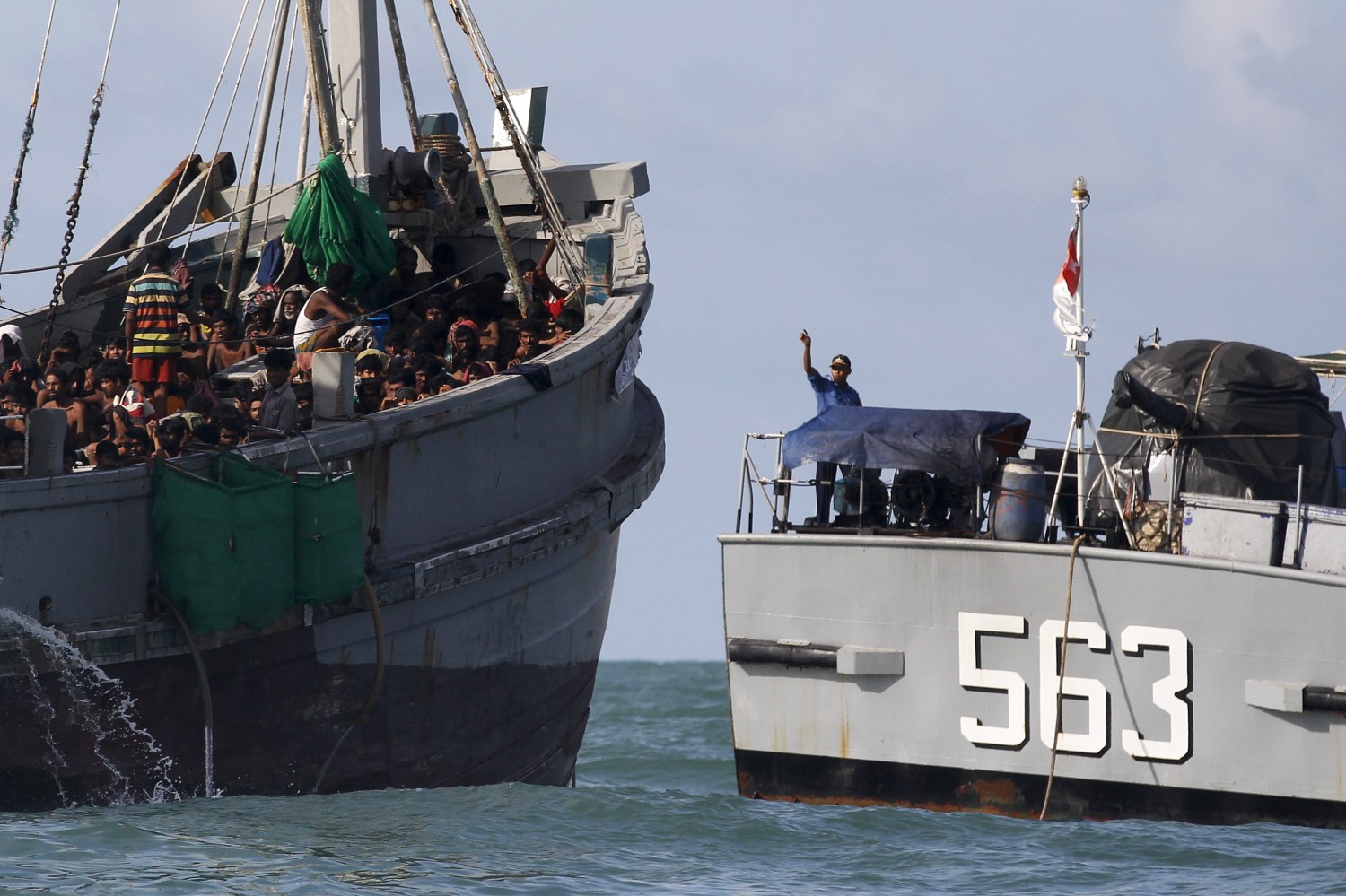 A Myanmar military officer gestures from a navy ship towards a boat packed with migrants, off Leik Island in the Andaman Sea May 31, 2015. More than 700 migrants found packed aboard an overcrowded boat in the Andaman Sea were still being held offshore by Myanmar's navy on Monday, more than three days after the converted fishing vessel was intercepted off the country's coast. Picture taken May 31, 2015. REUTERS/Soe Zeya Tun - RTR4YF8E
The poorer Asian countries have serious limitations to hosting refugees because of their domestic society's urgent needs. Indonesia's 13 detention centers—lacking funds and facing a five-fold increase in asylum seekers in recent years—are overcrowded and inadequately supplied. Over 25 percent of the Philippines population of 100 million live under the national poverty line, and former President Benigno Aquino made clear during his term that it would be irresponsible for the country to take in more asylees than it could manage. The Philippines also has the historical memory of admitting  400,000 refugees of wars in Vietnam and Cambodia in the late 1970s and 1980s—they were supposed to stay for two to three years, but many stayed well beyond that, with some becoming permanent residents at a time when the Philippines' economy was in shambles.
Since most of the world's 65.3 million forcibly displaced people are hosted by very poor nations, we can't explain Asia's MIA status in terms of poverty and economic difficulties. The world's poorest countries bear the disproportionate burden of caring for refugees: According to the 2015 U.N. High Commissioner for Refugees Global Trends Report, 30 countries with the largest numbers of refugees per GDP per capita were all in developing regions. The report reads: "Least Developed Countries—those least able to meet the development needs of their own citizens, let alone the humanitarian needs often associated with refugee crises—provided asylum to over 4 million refugees."
Rich countries like Japan have chosen to throw money at the refugee crisis but keep the people out. Australia, with a relatively generous refugee policy, recently has turned inward, refusing to accept more refugees and paying poorer countries like the Philippines, Indonesia, Cambodia, and Nauru to house asylees. Both have been criticized heartily on the world stage.
Don't tread on me
Asian leaders tend to interpret national sovereignty narrowly, resenting outside influence, governments, or migrant peoples. Even if they sign onto and benefit from globalization, the transformation of mindsets from boundaried nationality and nationalism to cosmopolitanism and global burden-sharing is nascent. This stems partly from colonial experiences and war.
A founding principle of ASEAN, for example, is respect for sovereignty and non-interference in the domestic matters of member states. But changes inside and outside the countries require the organization to adapt. ASEAN's membership has increased and diversified since its birth in 1967, and the organization has been gradually more accepting of the reality that domestic politics affects the region, and vice versa. Since the late 1990s, ASEAN has cautiously played with "flexible engagement" and "enhanced interaction," which allows member states to comment on the domestic matters of others. The organization has also taken a more assertive turn on human rights.
In the 20th century, millions of Asian peoples suffered massive dislocation. Many relied on the tolerance and goodwill of neighboring societies, and those farther away, to protect and provide for them and their compatriots. It is high time for Asians to give back and rise to the occasion as a regional force to help those who are in dire need.
Even if they sign onto and benefit from globalization, the transformation of mindsets from boundaried nationality and nationalism to cosmopolitanism and global burden-sharing is nascent.
To do so, Asian countries need regional standards and protocols for refugee and asylum policy. Most of the Asian signatories to the U.N. convention and protocol on refugees are relative newcomers, and Asia is the only region of the world that lacks a regional agreement on refugees. Inadequate knowledge and skill sets to protect and provide for refugees accompany this policy gap. There are slow, evolutionary moves toward regional cooperation. The "Bali process," which began in 2002  to address human trafficking and other transnational crimes, managed to have its member states, including those from outside Asia, agree in March 2016 to a legally non-binding set of aspirations through the Bali Declaration on People Smuggling, Trafficking in Persons, and Related Transnational Crime. The declaration recognizes that "irregular migration" (including refugees and asylum seekers) "requires a comprehensive regional approach, based on the principles of burden sharing and collective responsibility."
In the case of China, a signatory to the refugee convention, permitting the U.N. High Commissioner for Refugees to function in the country and ceasing deportations of asylum seekers are fundamental to observing its U.N. membership and role on the Security Council.
South Korea might serve as a trailblazer if it can continue its education on and adoption of international norms regarding refugee policy. As late as 2013, the first-ever refugee law was enacted in South Korea, granting migrants the right to apply for refugee status at the point of entry without temporary landing permits. It also banned forced repatriation until applicants receive a final decision (within six months). The new law promises living assistance, education, and job training to refugees. The first people to benefit from the new legislation was a group of 22 refugees from Myanmar, who were admitted for resettlement in December 2015 as part of a pilot project with the International Organization for Migration and the U.N. High Commissioner for Human Rights.
In Japan, the recent large influx of refugee applicants has prompted internal discussions on creating a special committee. But Japan is so far behind its regional and international neighbors that its snail's pace bureaucratic approach promises no real progress, while millions of refugees suffer. Japan has a very restrictive immigration policy in general, so in a sense it's no surprise that it accepts few refugees.
If Asia wants the Pacific century to come to fruition, its national leaders should heed the words of 18th century English writer Samuel Johnson: "a decent provision for the poor is the true test of civilization."