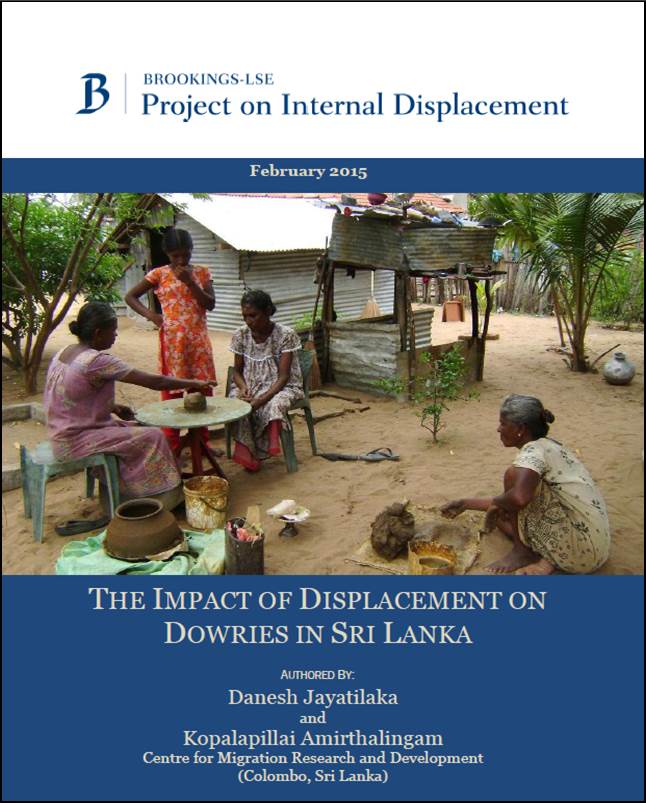 Displacement, whether due to conflict, natural disasters or development, not only directly and negatively affects those who are displaced, but also can have far-reaching effects on the culture and society as a whole. The objective of this study is to examine the impact of displacement, caused by both the civil war and the 2004 tsunami – on Sri Lanka's dowry systems – and the subsequent consequences for women's livelihoods, family life and social traditions. While there are existing studies on displacement, gender and dowry systems in Sri Lanka, to the best of our knowledge, there are no studies examining the impact of displacement on dowries in Sri Lanka. This study is an attempt to shed light on this subject.
Traditionally, dowry is defined as the properties transferred by parents to their daughter, the bride, and to the groom during marriage. Assets such as houses, land and jewelry customarily go to the bride while the prospective husband may receive money. There are advantages and disadvantages to the practice of dowry: on the one hand, it may help women attract husbands and increase their financial and social security; on the other hand, it may put undue pressure on women and their families, causing stress and anxiety, particularly if they are poor. Dowry systems can also lead to post-marital violence due to the reaction of husbands and/or his family members to dowries which are considered insufficient. Dowry systems are closely related to inheritance practices. While both involve transfer of assets and wealth, the former occurs during times of marriage and the latter can take place at any time between parents and their children. Further, although dowry is practiced at different scales among the rich and the poor, inheritance is mostly confined to the wealthy.
The laws pertaining to property and inheritance have been generally favorable to women in Sri Lanka, although due to unique customary laws, the Sinhalese, Northern Tamil and Muslim practices vary. These three communities practice Kandyan law, Thesavalamai Law and Muslim law, respectively. The Tamils and Muslims in the east of the country also use the Kudi, a matrilocal system which is related to religious festivals and marriage. In addition to customary law, all three communities follow the general law, which is a mixture of European laws and local practices.
Displacement caused by both the 30-year conflict which began in the early 1980s and by the 2004 tsunami has directly impacted the dowry system. Additionally, women affected by these events have experienced profound cultural and social disruption. Women lost family members, houses, valuables and livelihoods – all of which constrained the ways in which they were able to plan for the future. Displacement has affected almost every aspect of women's lives, ranging from identity and status to security and well-being. The particular effect of the war and the tsunami on women is evidenced by the high numbers of female heads of households and widows in the post-conflict north and east areas which includes the 8 districts of Jaffna, Kilinochchi, Mullaitheevu, Mannar, Vavuniya, Trincomalee, Batticaloa and Ampara. The loss of assets, and the impact of such loss on the dowry system, has changed women's roles as caregivers, mothers, wives and daughters.
Despite the odds, Sri Lankan women have shown great resilience and ingenuity in coping with their situations in the wake of the war and tsunami.
Despite the odds, Sri Lankan women have shown great resilience and ingenuity in coping with their situations in the wake of the war and tsunami. In many ways, their responses have been shaped by prior experiences with violence and dislocation. Land has always served as an important buffer against vulnerability and women have a long history of struggle with cultural and institutional practices that expected them to be dependent on and subservient to men. Even though women own property and customary laws favor them, this is often contested by men's traditional patriarchal role. While property ownership alone may not give women control over decisions, it can serve as a safety net for them and can help them navigate changing social structures and traditions.
While humanitarian assistance was important in the aftermath of the war and tsunami, the lack of gender analysis in formulating relief responses meant that it had negatively consequences for women's social and cultural roles. For example, during both the tsunami and conflict, the government and donors gave deeds to resettlement houses to men, with little consideration for traditional gender roles or customary practices of the specific region. This not only disrupted Sri Lanka's matrilocal system, where women hold the rights to land, but put them in harm's way because they were even more dependent on men. Other relief activities such as state and NGO programs to restore livelihoods, also suffered because they were not based on careful needs analysis. Gender-disaggregated studies which could be helpful in program design were almost never conducted.
One of the main obstacles to safeguarding the rights of internally displaced women is the lack of recognition by international humanitarian agencies of local resilience and social systems, including inheritance rights and dowry practices. These practices have been central to the way women have responded to other disasters.
Cultural and social systems are not static. Sri Lankan women are increasingly becoming more educated and are entering the workforce in greater numbers. At the same time, they are questioning archaic practices that are misaligned with contemporary social, economic and political transformations. In particular, different forms of dowry are emerging and young girls and boys are beginning to reshape the institution.
The payment of dowry is shaped by supply and demand and there have been changes in the going 'rates' for grooms within the Sinhala, Tamil and Muslim communities which have been accepted by the brides' families. The Tamil diaspora has generated remarkable market models for matrimonial partnerships between local girls and boys living abroad. These new post-war approaches have bypassed previous caste, class and wealth stratifications and brought about entirely new arrangements for dowry and marriage. This has meant new opportunities for girls, including those without dowry, and bonuses for their families due to the migration opportunities for the bride's siblings and the steady flow of remittances to the parents. Sri Lankan Muslims have also formed alternative arrangements for dowry, where they ask for financial assets rather than physical ones, since that gives them more flexibility and options in planning their future return to their original lands in the north. 
Given the impact of displacement on traditional marriage practices, including dowries, it is important for aid agencies to consider local cultural traditions when designing assistance programs. Failure to recognize these traditions can have harmful repercussions on women's family life, the sustainability of their livelihoods and their security.