Today, President Obama and German Chancellor Angela Merkel pledged harsher sanctions against Russia if the situation in Ukraine doesn't stabilize in time for Ukraine's presidential election. This comes amid reports of new violence in eastern Ukraine, including the deaths of Ukrainian military personnel, pro-Russia activists and civilians. Below is a roundup of some of what Brookings experts have been saying recently on the situation and way forward.
---
Brookings President Strobe Talbott told Al Jazeera America that "what we're hearing from President Putin is another stunning case of the big lie that we can remember from decades ago which is now front and center." Talbott called the new Russian nationalism, or chauvinism, a "two-edged sword" since the 20 percent of the population in Russia who are neither Slavic nor Russian "are going to feel alienated and perhaps down the road antagonistic toward a Moscow government that identifies itself as protecting the Russian people." He said this could mean that large parts of Russia may be "susceptible to secession and perhaps at some point in the future annexation by other countries." Watch the interview below or on aljazeera.com.
---
The main purpose of the [NATO] alliance may now shift back to what it was during the Cold War: collective defense. You are going to see some kind of permanent NATO presence [in central and eastern Europe]. — Steven Pifer, Senior Fellow, to Businessweek
---
Talbott also discussed the crisis on Capital Journal with Jerry Seib, telling him that "the impression that Putin holds the high cards is absolutely right, in the short run." He continued:
In the long run … I think what he is doing is catastrophic for Russia. But that's not very apparent and it's not very immediate right now. There's really nothing that can be done in … the eastern part of the country to keep Russia from basically consummating an invasion and a takeover of eastern Ukraine. That's essentially what's happening.
---
The whole idea that we are going to defeat Russians by imposing hardship on them boggles my mind. It's not a matter of how much pain you can impose but how much they can tolerate. And how much they can tolerate depends on the motivation for behavior. — Clifford Gaddy, Senior Fellow, to The Washington Post
---
Tim Boersma and Andreas Goldthau argue that "energy sanctions are not the way to go, as the price will be too high—not for Russia, but for Europe." They say that, instead, policy disentangle the security from the energy issues at stake. "The Ukraine crisis is a security issue and should be dealt with as one," they write.
---

Steven Pifer
 and Hannah Thoburn examine recent polling in the eastern areas of Ukraine on attitudes toward Kyiv, Moscow and whether people there believe their own rights and interests are threatened. The project, carried out in April, "revealed a far more diverse region than the pro-Russian monolith that is commonly portrayed in both Russian and Western media."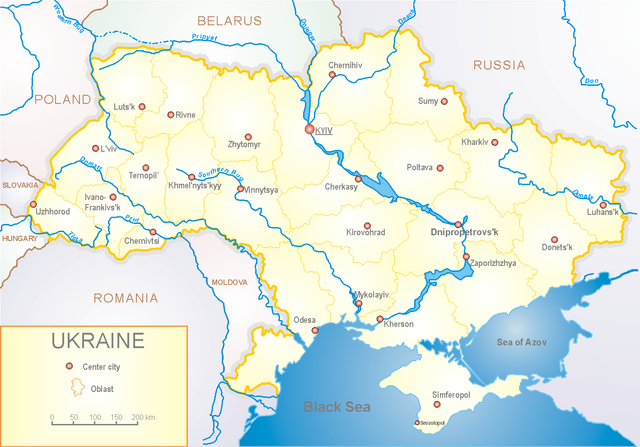 The poll shows, write Pifer and Thoburn, that "views in south and east Ukraine are more nuanced and diverse then the media often depicts." Read their analysis here.
---
Pifer, along with John Herbst and William Taylor, ask whether Putin wants war. "[I]t is increasingly difficult to escape that conclusion," they write. "The United States and Europe need to apply sterner sanctions immediately if they hope to have any chance of dissuading Mr. Putin from more aggressive action."
---
On Tuesday, the Center on the United States and Europe hosted a discussion with the ambassadors of Georgia, Moldova and Ukraine to the United States.
Amb. Archil Gegeshidze of Georgia said that Russia's actions in his country in 2008 and now in Ukraine are "an attempt to divide the map of Europe between a peaceful and democratic side, and on the other hand the area which Russia claims … and [Russia] is ready to wage war for the sake of its hegemonic ambitions."
Amb. Olexander Motsyk of Ukraine offered that the "illegal Crimea annexation and efforts to split up Ukraine clearly show that the Kremlin is ready to use all tools including brutal force to stop democratic developments in our region." He said that the "pretext for Crimea's annexation was fully fabricated" and now Russia is using the same tactics in eastern Ukraine as it used in Georgia and Crimea, "cowardly sending to Ukraine special operatives to foment provocations as well as the same men armed with the latest Russian weapons."
Amb. Igor Munteanu of Moldova called what happened in Crimea a farce: "It's certainly farce to conduct a referendum in Crimea on independence only to incorporate it a couple of days later into the body of another state. It is a farce to claim a responsibility to protect ethnics Russian with no evidence they need to be protected. Or to claim a right to restore an imaginary Tsarist Novorossiya, carving out pieces from a state that is a friendly neighbor."
Listen to an audio recording of this event.
---
Get an archive of Brookings research, commentary and activities on Ukraine and Russia.