Earlier this summer, we examined how the Big Four banks – Bank of America, Citigroup, JPMorgan Chase, and Wells Fargo – performed before, during, and after the 2007-09 financial crisis.  We also blogged about the lending trends within these large banks, expressing concern about the growing gap between deposits taken and loans made by the Big Four, and calling on policymakers to explore the issue further.  We have conducted a similar analysis on the regional banks – The regional banks: The evolution of the financial sector, Part II – and find that these smaller banks are actually faring somewhat better than their bigger counterparts.
Despite the mergers and acquisitions that happened during the crisis, the Big Four banks are a smaller share of banking today than they were in 2007.  The 15 regionals we evaluated, on the other hand, are thriving in the post-crisis environment and have a slightly larger share of total bank assets than they had in 2007.  The Big Four experienced rapid growth in the years leading up to the crisis but much slower growth in the years since.  The regionals, however, have been chugging along: with the exception of a small downward trend during the crisis, they have enjoyed slow but steady growth since 2003.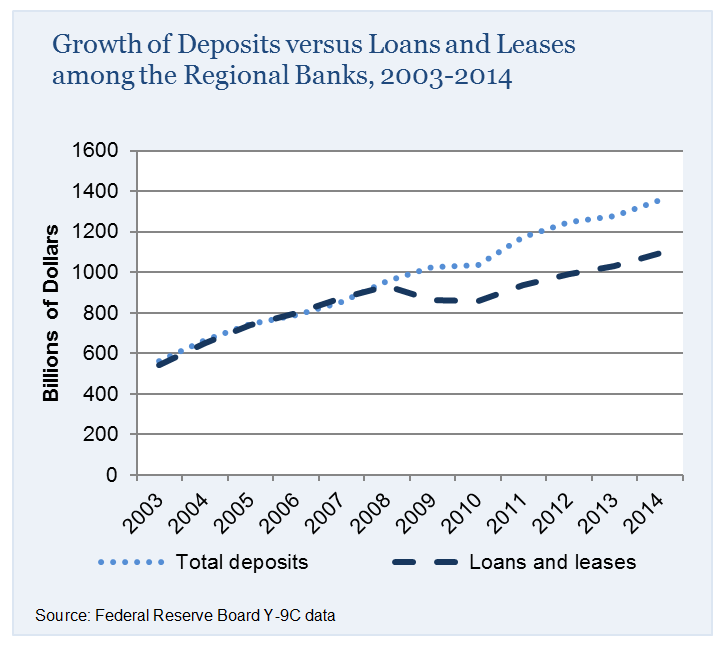 There is a gap between deposits and loans among the regionals, but it is smaller than the Big Four's gap.  Tellingly, the regionals' gap has remained basically constant in size during the recovery, unlike the Big Four's gap, which is growing.  Bank loans are important to economic growth, and the regional banks are growing their loan portfolios faster than the biggest banks.  That may be a good sign for the future if the regional banks provide more competition for the big banks and a more competitive banking sector overall.