Proponents of criminal justice reform are cautiously optimistic about prospects for a sweeping statutory overhaul to the federal prison system by the end of the 114th Congress. Several bills, including the Recidivism Reduction Act of 2016 (H.R. 759) and the Sentencing Reform Act (H.R. 3713), have passed the House Judiciary Committee, earning the support of Judiciary Chairman Bob Goodlatte (VA-6) and Ranking Member John Conyers (MI-13). House Speaker Paul Ryan has embraced criminal justice reform and pledged to bring reform legislation to the floor for a vote this Congress.
The legislative landscape in the Senate is a bit more complicated. The Sentencing Reform and Corrections Act (S. 2123) sailed out of the Judiciary Committee last fall, with the full-throated support of Senators Chuck Grassley (R-IA) and Patrick Leahy (D-VT), the Committee Chairman and Ranking Member. The bill is cosponsored by senators spanning the ideological gambit from conservative firebrand Senator Mike Lee (R-UT) to Democratic whip Senator Dick Durbin (D-IL). Shortly after the bill emerged from committee, Senator Tom Cotton (R-AR) led a small but fervent group of Republican lawmakers to oppose the bill. Although the senators' key objections are certainly subject to interpretation, concerted opposition in the upper chamber temporarily stymied legislative momentum.
At the end of last month, proponents breathed new life into the bill, announcing revisions to certain sentencing provisions and the support of six additional senators—two Republicans and four Democrats—and the influential National District Attorney Association. Largely absent from the national conversation, however, are the bill's extensive provisions to reduce recidivism and promote successful prisoner re-entry.
Recidivism in the United States
In addition to holding individuals who commit crimes accountable, correctional facilities should work hard to rehabilitate individuals and prepare them to rejoin society. Currently, the nation's astronomical rates of recidivism indicate that correctional facilities are failing to equip prisoners with tool for successful re-entry. Given that the vast majority of incarcerated individuals will one day be released, ensuring that correctional facilities have the resources to rehabilitate incarcerated individuals is a public safety imperative.
According to estimates by the Bureau of Justice Statistics, over a quarter of individuals released from state prison are rearrested within six months. As the figure below illustrates, recidivism rates increase steadily after each additional year of release; after five years, more than seventy five percent of formerly incarcerated individuals have been rearrested. This striking trend is consistent across demographic categories.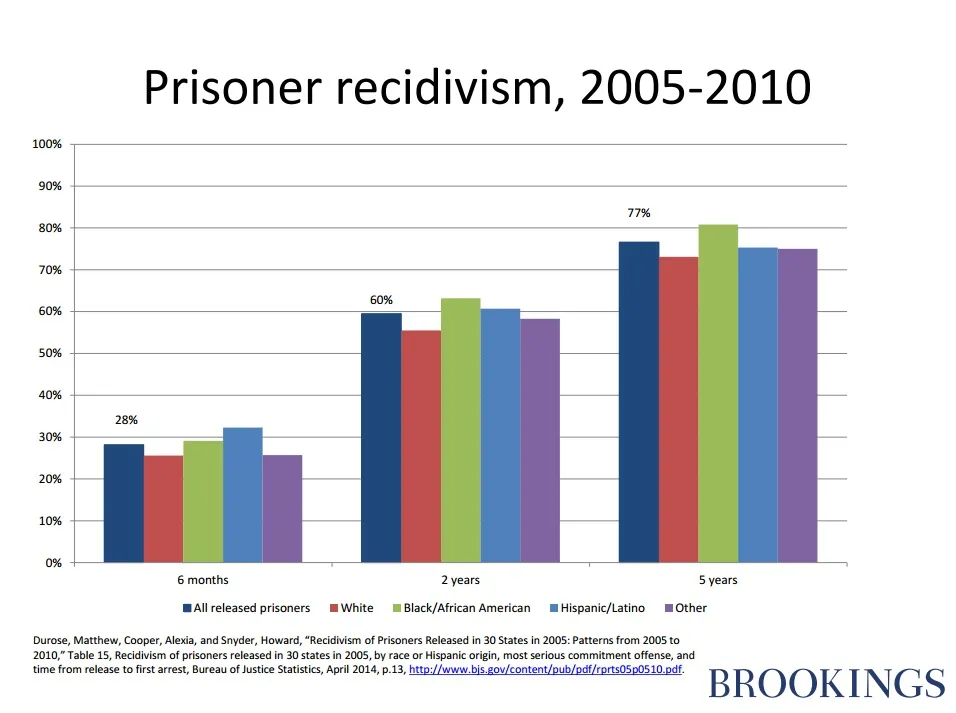 In a recent report to Congress, the bi-partisan Charles Colson Task Force on Federal Correction outlines evidence-based strategies to reduce recidivism. Numerous studies have shown that identifying and targeting individuals at greatest risk of re-offending based on key factors such as criminal history, employment prospects, and familial relations can have a significant impact on recidivism reduction. Once at-risk inmates are identified, research indicates that prioritizing these individuals for programming can positively impact rehabilitation, reduce recidivism, and improve public safety.
Based on these academic insights, the Task Force urged Congress endow the federal Bureau of Prisons (BOP) with the resources to deliver adequate and appropriate in-prison programming and services based on individual risk for recidivism and other identified needs. The Task Force also recommended that Congress create incentives for inmates to participate in rehabilitation programs by authorizing eligible individuals to earn up to 20 percent off time served for successfully completing their programs.
Legislative redress
The recidivism reduction measures outlined in the Senate bill closely track the recommendations of the Task Force. The bill's corrections provisions require the Attorney General to develop a system to determine the recidivism risk and programmatic needs of every prisoner, and the BOP to make statistically validated recidivism reduction programming available to all eligible prisoners, commensurate with an individual's risk status. The bill authorizes eligible prisoners to earn time credit for successful program completion, and it allows prisoners at low or moderate risk of recidivating to serve earned time credits in residential reentry centers, on home confinement, or on community supervision.
McConnell's calculus
With several Republicans facing tight re-election bids in November, the Senate Majority Leader faces an uphill battle to retain a GOP majority. Although any number of factors could determine which bills McConnell decides to bring to the floor, the politics of the 2016 election will be chief among them. On the one hand, the criminal justice reform bill could showcase Republicans' ability to enact sweeping statutory change on an issue that voters generally support. A recent poll conducted by the Mellman Group and Public Opinion Strategies, for instance, indicates that voters across demographic groups and party lines strongly support an array of significant changes to federal criminal justice laws, especially those pertaining to drug offenses.
On the other hand, McConnell is unlikely to bring a measure to the floor if it would further fragment a fragile GOP majority, and the bill has hardly been uncontroversial. In remarks at the Hudson Institute just last week, Senator Cotton opined, "the criminal-leniency bill in the Senate is dead in this year's Congress. And it should remain so if future versions allow for the release of violent felons from prison." As we have argued elsewhere, sentencing reform is the linchpin of GOP debate—specifically, which federal offenders should be eligible for targeted reductions to mandatory minimum sentences.
Expanding debate on the reform bill to include the evidence-based recidivism reduction provisions in the Sentencing Corrections and Reform Act may prove to be good politics. By highlighting the urgent need to contain astronomical recidivism rates, the Majority Leader has the opportunity to showcase his party's commitment to public safety and to demonstrate that the GOP is capable of working with Democrats on an issue of great public concern.