On this Presidents Day, here is a look back on some of the times Brookings experts and their research intersected with many of our past presidents.
John Adams, second president (1797–1801)
In America's Political Dynasties: From Adams to Clinton (Brookings Institution Press, 2016), first published in 1966, Senior Fellow Stephen Hess presents an encyclopedic tour of 18 families that have shaped Americans politics in the White House, Congress, and statehouses since the earliest days of the republic. "Despite having politically unpalatable personalities, which all the Adamses vigorously contended could not be altered," Hess wrote, "a collection of formidable enemies, and a lack of financial means, the Adamses built a great political dynasty."
Thomas Jefferson, third president (1801–09)
Akbar Ahmed, a former Brookings scholar and author of an acclaimed trilogy of books on Islam in the world, wrote of Mohammed Ali Jinnah, founder of Pakistan in 1947, that he has much in common with one of America's leading founders. "Each founding father, inspired by his own traditions but also drawing from the other's," Ahmed argued, "concluded that society is best organized on principles of individual liberty, religious freedom and universal education. With their parallel lives, they offer a useful corrective to the misguided notion of a 'clash of civilizations' between Islam and the West."
James Madison, fourth president (1809–17)
In their 2015 collection of papers, What Would Madison Do? The Father of the Constitution Meets Modern American Politics, ten leading experts explored Madison's constitutional legacy and what, if anything, would surprise him today. Experts Benjamin Wittes and Pietro Nivola wrote that "the foundation that Madison helped lay has proven neither static nor unproductive in the modern age. How radically the modern American state has stretched the original constitutional limits that he held dear remains a contested question."
John Quincy Adams, sixth president (1825–29)
In 2016, the Brookings Project on International Order and Strategy hosted a debate between Brookings Senior Fellow Robert Kagan and writer James Traub on the question of whether John Quincy Adams was a foreign policy realist and whether his approach to foreign policy can still inform America's choices today.
Andrew Jackson, seventh president (1829–37)
Former Federal Reserve Chairman Ben Bernanke, now a scholar at Brookings, called Jackson "a man of many unattractive qualities and a poor president." This came in a 2015 piece calling for keeping Alexander Hamilton on the $10 bill and finding a replacement for Jackson on the $20. "Given his views on central banking," Bernanke wrote, "Jackson would probably be fine with having his image dropped from a Federal Reserve note."
Theodore Roosevelt, twenty-sixth president (1901–09)
Having ascended to the White House upon the assassination of William McKinley, Theodore Roosevelt delivered his first inaugural address in March 1905. Tom Wheeler, former FCC chair and a visiting fellow at Brookings, wrote that Roosevelt's message of "the average citizen buffeted by technology-driven, market-concentrating change … could have been delivered today."
William Howard Taft, twenty-seventh president (1909–13)
In 1912, President Taft presented a report to Congress on the need for a national budget. Two future scholars of the early incarnation of the Brookings Institution were part of the Taft Commission that produced the report and would later testify in support of a budget bill that passed into law under President Harding.
Woodrow Wilson, twenty-eighth president (1913–21)
The late Pietro Nivola, a senior fellow and vice president at Brookings, authored a paper comparing the leadership styles of Woodrow Wilson and Barack Obama. "At the core of Wilson's public philosophy," Nivola observed, "was essentially a classical liberal conception of capitalism in which the government's role was limited to ensuring genuinely free enterprise—in other words, enabling even the small entrepreneur to compete in the marketplace."
Franklin D. Roosevelt, thirty-second president (1933–45)
Before World War II, President Franklin Roosevelt shifted the U.S. away from isolationism into the role of a world superpower. In 2013, Brookings hosted nonresident Senior Fellow Michael Fullilove, executive director of the Lowy Institute, to discuss his book, Rendezvous with Destiny: How Franklin D. Roosevelt and Five Extraordinary Men Took America into the War and into the World.
Harry Truman, thirty-third president (1945–53)
Marvin Kalb reflected on the July 1947 meeting between President Truman and Dwight D. Eisenhower, when Truman proposed to the former general that they form a presidential ticket (with Ike at the top) to prevent Douglas MacArthur from becoming president.
Dwight D. Eisenhower, thirty-fourth president (1953–61)
Stephen Hess remembered joining the speechwriting team in President Eisenhower's White House, and witnessing the speechwriting process at the time of Eisenhower's farewell address, famous for his warning against the "military-industrial complex."
Hess also reflected on the size and (lack of) diversity of Eisenhower's White House staff compared to the large operation that it is today. "Dwight Eisenhower had strong feelings about staffs and how they were expected to work," Hess wrote.
John F. Kennedy, thirty-fifth president (1961–63)
In 1960, Brookings published Presidential Transitions by scholar Laurin Henry to advise whichever candidate—John F. Kennedy or Richard Nixon—won the presidential election that year. The "President and his successor," Henry wrote, "do share a moral obligation for safeguarding the national safety and welfare in moments of crisis, because effective political power is divided between them."
Bruce Riedel wrote about President Kennedy's "forgotten crisis," the 1962 attack by China on Indian forces that threatened a dangerous escalation, which occurred at the same time as the Cuban Missile Crisis.
Lyndon B. Johnson, thirty-sixth president (1963–69)
On September 29, 1966, President Johnson addressed Brookings on the occasion of the Institution's 50th anniversary. In his address, titled "Government and the Critical Intelligence," LBJ said of Brookings that "You are a national institution, so important to, at least, the Executive Branch-and, I think, the Congress, and the country-that if you did not exist we would have to ask someone to create you."
Richard M. Nixon, thirty-seventh president (1969–74)
Stephen Hess recounted his years on the staff of the Nixon White House, working with Daniel Patrick Moynihan, in his 2014 book The Professor and the President: Daniel Patrick Moynihan in the Nixon White House.
In 2009, Brookings hosted a discussion of the book, Presidential Command: Power, Leadership, and the Making of Foreign Policy from Richard Nixon to George W. Bush (Knopf Publishing Group, 2009), authored the late Peter W. Rodman, former assistant secretary of defense and Brookings senior fellow.
Senior Fellow Jeff Bader examined Nixon's legacy in U.S.-China relations, 40 years after Nixon's "historic [1972] visit to China that ended over two decades of estrangement between the United States and the People's Republic of China."
Gerald R. Ford, thirty-eighth president (1974–77)
In 1975, the United States completed its withdrawal from Saigon, ending its involvement in the Vietnam conflict. In a book that originates in this moment, Haunting Legacy: Vietnam and the American Presidency from Ford to Obama, Marvin Kalb and Deborah Kalb explored the circumstances under which the U.S. should go to war.
Ron Nessen, former VP of Communications at Brookings and also press secretary to President Ford, wrote that "Ford moved into the Oval Office without having his persona distorted by lust for the presidency."
James Earl Carter, thirty-ninth president (1977–81)
In June 1978, Stephen Hess wrote an article assessing President Carter's presidency halfway through his term. "What has produced an undistinguished presidency?" Hess asked. "Jimmy Carter's failure to set consistent policy goals—or more grandly, a philosophy for government."
Stuart Eizenstat, President Carter's chief domestic policy adviser, came to Brookings last year to discuss his new book, President Carter: The White House Years, in an event moderated by Senior Fellow William Galston.
Ronald Reagan, fortieth president (1981–89)
In 1984, when he was issues director for Walter Mondale's campaign against President Reagan, Senior Fellow William Galston watched Reagan's D-Day anniversary speech delivered at Pointe du Hoc in Normandy. Reflecting on that moment, Galston wrote: "Reagan taught me that policy issues rest on something deeper—not only moral principle, but moral sentiment and shared memory, and that the ability to evoke those deeper things is the most powerful of all political forces. But this deep well is not—cannot be—the artifact of a speechwriter, however skilled."
As the GOP tax bill was moving through Congress in 2017, Senior Fellow David Wessel looked back on tax cuts during President Reagan's presidency.
In Fall 2015, long before the GOP settled on Donald Trump as its presidential candidate, the field was large, and debates frequent. Senior Fellow John Hudak observed one debate in September held at the Reagan Presidential Library, writing that "Behind the scenes and even in front of cameras, Mr. Reagan understood that how a president delivers a message is as important as the message itself."
George H. W. Bush, forty-first president (1989–93)
Strobe Talbott, distinguished fellow in residence and former Brookings president, described President George H.W. Bush's role at the end of the Cold War, as the Berlin Wall fell in 1989 and the Soviet Union disintegrated: "President George H.W. Bush served as a calm—and calming—air traffic controller, guiding an increasingly dispirited Gorbachev as he piloted the Soviet state in for a soft landing on the ash heap of history."
Bruce Riedel, whose long career of public service included his role as deputy chief of the CIA's Persian Gulf Task Force in August 1990 when Saddam Hussein invaded Kuwait, wrote that "Bush was a master at comprehending the intricacies of national security."
William J. Clinton, forty-second president (1993–2001)
During the impeachment of President Clinton, Senior Fellow Kent Weaver wrote that, "It's time for a change in our beliefs about the presidency, and in the behavior of our presidents. We should stop believing that an election every four years gives the presidential incumbent a divine right to rule unless he dies or commits an impeachable offense."
In the weeks before the end of his presidency, Brookings experts and national journalists took part in an event on Bill Clinton's legacy. Senior Fellow Thomas Mann offered that Clinton "demonstrated how it's possible to govern during a period of divided government, when you face a polarized Congress controlled by the other party."
George W. Bush, forty-third president (2001–09)
In January 2008, following his final State of the Union address and as he embarked on his final year in office, Brookings experts examined President George W. Bush's record and anticipated upcoming challenges. Senior Fellow Suzanne Maloney, reflecting on the president's words about the Middle East and foreign policy, said that "there was still a lot of talk about the big ideas, the freedom agenda, democracy, liberty, tyranny, but ultimately it was a much more sober discussion, a much more—one would argue—realistic discussion of some of the challenges that America faces in a variety of arenas."
Barack Obama, forty-fourth president (2009–17)
During his first year in office, President Barack Obama delivered an address at Brookings on jobs and the economy.
In her review of a new volume about Barack Obama's presidency, Senior Fellow Elaine Kamarck wrote that "it becomes clearer every day that Barack Obama, a historic president, presided over a somewhat less than historic presidency." She continued: "With only one major legislative achievement (Obamacare)—and a fragile one at that—the legacy of Obama's presidency mainly rests on its tremendous symbolic importance and the fate of a patchwork of executive actions."
Writing on the FixGov blog, professors Brandon Rottinghaus and Justin Vaughn presented findings from their original poll of members of the American Political Science Association on presidential greatness and Obama's place in history. While Lincoln, Washington, and FDR top the list, Barack Obama ranked 18th, but with "evidence of significant ambivalence" behind this number.
Donald J. Trump, forty-fifth president (2017–present)
In 2015, Governance Studies Vice President and Director Darrell West shared the story of the time when then-private citizen Donald Trump contacted him. Looking ahead to the Republican nominating contest, West presciently wrote, "With both Fox and CNN including only the top 10 candidates in the early television debates, Trump has a good shot at making the cut and dominating the discussion."
Professors Vaughn and Rottinghaus, along with Gregory Eady, presented their survey of experts who ranked Donald Trump as the most polarizing of all presidents. Of interest, Abraham Lincoln ranked second on the polarization scale. But Trump joined Lincoln's predecessor James Buchanan at the bottom of their greatness scale.
In 2016 as Donald Trump was securing the GOP presidential nomination, Senior Fellow Ben Wittes, editor-in-chief of Lawfare, penned a series of posts on the powers of the presidency and the possibility of Trump's election. Among his many concerns, Wittes wrote that "The first reason you should fear a Donald Trump presidency is what he would do to the ordinary enforcement functions of the federal government, not the most extraordinary ones."
---
Brookings experts have also authored important books on the U.S. presidency and major policy failures and successes of past presidents. These include: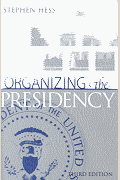 Organizing the Presidency, by Stephen Hess and James Pfiffner, published by Brookings in 2012.
"When Franklin D. Roosevelt was inaugurated in March 1933, the White House staff numbered fewer than fifty people. In the ensuing years, as the United States became a world power and both the foreign and domestic duties of the president grew more complex, the White House staff has increased twentyfold. This books asks how best to manage a presidency that itself has become a bureaucracy."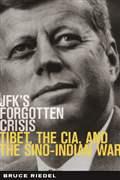 JFK's Forgotten Crisis: Tibet, the CIA, and the Sino-Indian War, by Bruce Riedel, Brookings 2017
"The Cuban Missile Crisis defined the presidency of John F. Kennedy. But the same week the world stood transfixed by the possibility of nuclear war between the United States and the Soviet Union, Kennedy was also consumed by a war that has escaped history's attention, yet still reverberates significantly today: the Sino-Indian conflict."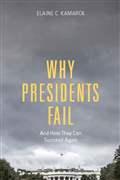 Why Presidents Fail and How They Can Succeed Again, by Elaine Kamarck, published by Brookings in 2016.
"From the botched attempt to rescue the U.S. diplomats held hostage by Iran in 1980 under President Jimmy Carter and the missed intelligence on Al Qaeda before 9-11 under George W. Bush to, most recently, the computer meltdown that marked the arrival of health care reform under Barack Obama, the American presidency has been a profile in failure. In Why Presidents Fail and How They Can Succeed Again, Elaine Kamarck surveys these and other recent presidential failures to understand why Americans have lost faith in their leaders—and how they can get it back."