The Senate is set to confirm U.S. District Judge L. Felipe Restrepo to the Third Circuit Court of Appeals on January 11th, 425 days after his nomination. Median days from nomination to confirmation of Obama's 55 circuit appointees (counting Restrepo) is 229, compared to 219 for Bush's 60 appointees and 139 for Clinton's 65 appointees.
There will be little need to update these figures, because any 2016 circuit confirmations after Restrepo are unlikely. His confirmation will also mark the high point of Obama's overall impact on the makeup of the courts of appeals. There is opportunity, however, for curbing the increase in district court vacancies.
Circuit confirmation shutdown
Restrepo's confirmation will leave nine circuit vacancies, none of which has a nominee. The time since the vacancies' announcements range from three months to five years, with a median age of over two years. Eight vacancies are long-standing (11 months to five years). All eight are in states with at least one Republican senator—two in Texas and one each in Alabama, Indiana, Kentucky, North Dakota, Pennsylvania, and Wisconsin—suggesting that these home-state senators are using the threat of an unreturned blue slip to prevent a nomination (explained here).
There's little reason to expect a change in 2016. (This phenomenon has occurred under Republican presidents, but not as strongly. At one point in Bush's seventh year, seven of 14 circuit vacancies had nominees, but five of the seven that did not were in states with a Democratic senator.)
Moreover, any 2016 nominee who did materialize (perhaps for the now-three-month old vacancy in a California seat) would need a confirmation vote by July. Senate Judiciary Chairman Charles Grassley said in April that "probably there'll be cut-offs, not approving any after July, for sure after the August break next year, because that's just kind of tradition to allow those judges to be filled by a new president." That statement is misleading as to recent two-term presidents' district nominees—Reagan, Clinton and Bush saw from four to ten district confirmations after August of their eighth years—but it is a bit more accurate for circuit nominees. The Senate confirmed two of Reagan's circuit appointees in October 1988, and one of Clinton's in July 2000, but W. Bush's final two circuit confirmations came in June, 2008.
So, with a July 2016 cut-off, even a (highly unlikely) January 1, 2016, circuit nomination would have to be confirmed in 210 days. The median number of days for Obama's appellate appointees is 229, and Grassley's and Senate Majority Leader Mitch McConnell's aggressive slowdown of confirmations provides no reason to expect any fast-paced circuit confirmation in 2016.
Assessing Obama's impact on the party-of-appointing-president make-up of the courts of appeals
When Obama took office, Republican appointees held 56 percent of the 179 circuit judgeships, Democratic appointees 36 percent; eight percent were vacant. With Restrepo's confirmation, Republican appointees will occupy 42 percent of the seats, Democratic appointees 53 percent, and five percent will be vacant.
Courts with a majority of Democratic appointees have increased from one to nine and courts with a majority of Republican appointees have dropped from ten to four (two were even in 2009).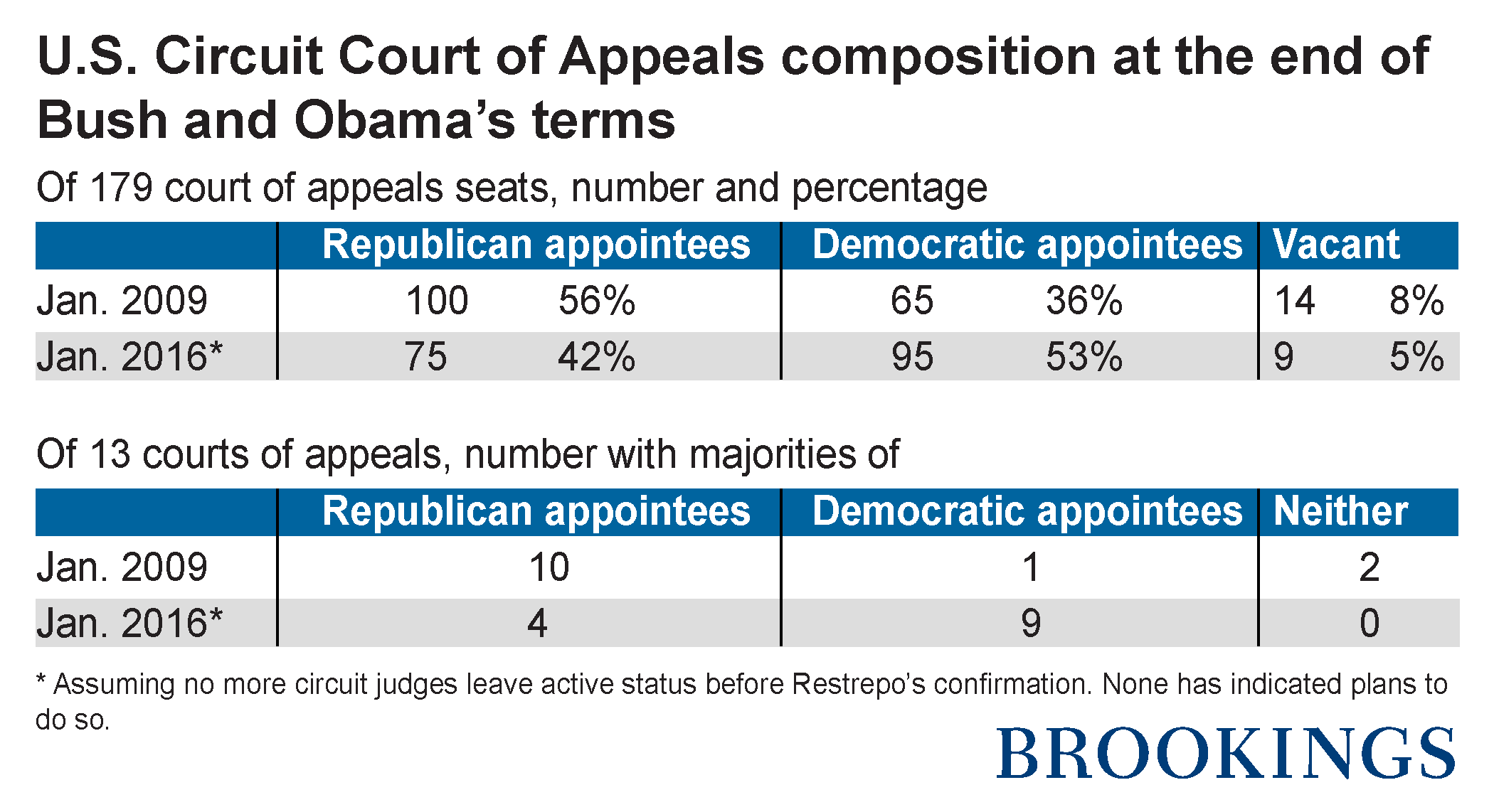 But Obama's final figures for appointees will be lower because vacancies will increase as judges leave active status. Five circuit judges did so in Bush's final year in office. Those five vacancies were offset, though, by four confirmations; 2016 will see no offsets after Restrepo. Depending on who leaves active status—so far, one circuit judge, a Democratic appointee, has announced his 2016 senior status date—the respective percentages will decline.
Opportunities to decrease other vacancies
The Senate can still reduce other federal judicial vacancies. Bush started his seventh year with 40 district vacancies, which the Democratic-controlled Senate reduced to 23 by the date of his final district confirmation in September 2008. It did so by confirming 58 district judges, 34 by this time late in 2007.
Obama started his seventh year with 33 district vacancies, which this Republican Senate has let rise to 52, largely by confirming only 10 district judges. But 21 nominations are pending, providing an opportunity to reduce the number of vacancies. And, because 31 vacancies are nominee-less (27 in states with a Republican senator), there are likely to be a sizable number of vacancies for the next president to try to fill even if all current nominations are confirmed.