America's population has been uncharacteristically frozen in place since the 2007-2009 recession began. National migration rates have been stuck at historically low levels, and traditional flows to the suburbs and Sun Belt have been stunted or at best uneven. But newly released population estimates for counties and metro areas signal that a shift may be under way.
The new statistics through July 2014 suggest a renewed growth in outer suburban "exurban" counties, propelled by domestic migration. The growth is perhaps a sign that the housing market is luring young adults out of the urban core, and  it raises the possibility that the attraction of cities—registered for the last three years—may not be as permanent as some assumed.
Using a Brookings classification of counties associated with urban cores and suburbs within large metropolitan areas, we see for the first time since 2010 that exurban counties are growing faster than inner urban core counties nationally (Figure 1). These locations, like Waller County in suburban Houston, Barrow County in suburban Atlanta, and Johnston County in suburban Raleigh, lie on the peripheries of a slew of large urban areas.
The engine for these shifts appears to be domestic migration. During the peak exurban growth year of 2005-2006, the nation's urban core counties lost over 1.3 million migrants, with many spilling out into the middle and outer suburbs. This changed after the housing collapse, especially in 2010 to 2012, when the nation's urban cores lost only about 160,000 migrants annually. But out-migration from urban cores picked up to 363,000 in 2013-2014, and at the same time we see an uptick in in-migration to outer suburban and exurban counties—and greater population growth in these areas.
Like the outer suburbs, entire metropolitan areas in the interior Sun Belt are gaining migrants too. This shift was hinted at late last year when the Census Bureau's state estimates showed Florida overtaking New York. Now it is confirmed across metropolitan areas, and Phoenix and Atlanta are cases in point (Figure 2). Both benefited greatly from the supercharged Sun Belt movement that occurred prior to the housing market shutdown and Great Recession, and now migration has started to pick up again; it was especially strong in the latest year.
By the same token, the substantial flows out of New York and Los Angeles that were occurring before the recession were curtailed significantly during the downturn. Many "would be movers" stayed put as jobs and affordable housing dried up elsewhere, but now those two coastal metropolitan areas, along with many Snow Belt locations, are experiencing increased out-migration as opportunities once again open up outside their lines (Figure 3).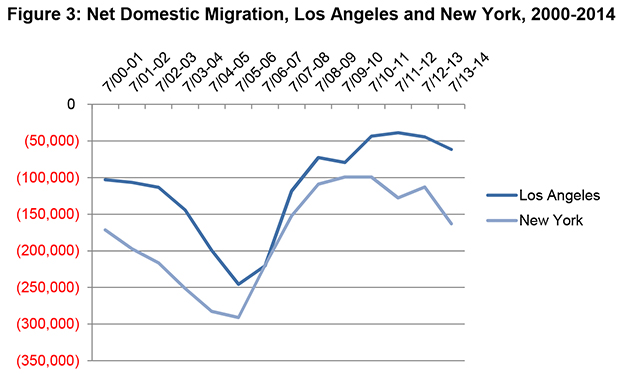 Of the 11 greatest migration-gaining large metropolitan areas, all are located in the Sun Belt, and each gained more migrants in 2013-2014 than in the previous year (download table). These areas include the four Texas metropolitan magnets of Houston, Dallas, Austin, and San Antonio and two in Florida—Tampa and Orlando. Several of these, including Las Vegas, experienced the same boom-then-bust experience of Phoenix and Atlanta. While few areas are gaining migrants at the torrid pace experienced in 2005-2006, they are nevertheless showing clear signs of migration revival.
The unfreezing of migration to the suburbs and Sun Belt may be a demographic sign that the economy is picking up—both jobs-wise and housing-wise. Migration rates are still at low levels historically, especially among young people, but the destinations of those who are moving indicate that traditional population shifts are beginning to reemerge.