Breakthrough therapy designation (BTD) is the newest of four expedited programs developed by the U.S Food and Drug Administration (FDA) to accelerate the development and review of novel therapies that target serious conditions. The public response to the program has been largely positive, and dozens of drugs have successfully received the designation. However, the FDA denies many more requests than it grants. In fact, as of March 2015, less than one in three of the BTD requests submitted have been granted. By contrast, roughly 75 percent of the requests for fast track designation (another of the Agency's expedited programs) were granted between 1998 and 2007. This discrepancy suggests ongoing uncertainty over what exactly constitutes a "breakthrough" according to the FDA's criteria.
On April 24, the Center for Health Policy at Brookings will host an event, Breakthrough Therapy Designation: Exploring the Qualifying Criteria, that will discuss qualifying criteria for the BTD program using real and hypothetical case studies to explore how FDA weighs the evidence submitted. Below is a primer that describes the definition, value, and impact of BTD.
What is BTD?
BTD was established in 2012 under the Food and Drug Administration Safety and Innovation Act, and is intended to expedite the development and review of drugs that show signs of extraordinary benefit at early stages of the clinical development process. However, BTD is not an automatic approval. The drug still has to undergo clinical testing and review by the FDA. Rather, BTD is designed to facilitate and shorten the clinical development process, which can otherwise take many years to complete.
What criteria does FDA use to evaluate potential breakthroughs?
In order to qualify for the designation, a therapy must be intended to treat a serious or life-threatening illness, and there must be preliminary clinical evidence that it represents a substantial improvement over existing therapies on at least one clinically significant outcome (such as death or permanent impairment).
In considering a request for BTD, FDA relies on three primary considerations:
1) the quantity and quality of the clinical evidence being submitted;
2) the available therapies that the drug is being compared to; and
3) the magnitude of treatment effect shown on the outcome being studied.
In practice, however, it can be difficult to define a single threshold that a therapy must meet. The decision depends on the specific context for that drug.  In some cases, for example, the targeted disease has few or no treatments available, while in others there may be several effective alternative treatments to which the new therapy can be compared. The request may also be made at different stages of the clinical development process, which means that the amount and type of data available to FDA can vary. In some cases, early evidence of benefit may disappear when the drug is tested in larger populations, which is why FDA reserves the right to rescinded the designation if subsequent data shows that the therapy no longer meets the criteria.
How many therapies have received the designation?
As of March 2015, FDA had received a total of 293 requests for BTD. Of these, 82 received the designation, and 23 have since been approved for marketing. Ten of these approvals were new indications for already approved drugs, rather than novel therapies that had never before received FDA approval.
What are the benefits of BTD?
For drug manufacturers, it is about the intensity and frequency of their interactions with FDA. Once the designation is granted, the FDA takes an "all hands-on-deck" approach to providing the manufacturer with ongoing guidance and feedback throughout the clinical development process. Products that receive BTD are also able to submit portions of their marketing application on a rolling basis (rather than all at once at the end of clinical trials) and BTD can also be used in combination with other expedited programs in order to further reduce the product's time to market.
For patients, the potential benefits are straightforward: earlier access to therapies that may significantly improve or extend their lives.
How does BTD relate to the other three expedited programs?
The other three expedited review and development programs—fast track designation, priority review, and accelerated approval—are also geared at facilitating the development and approval of drugs for serious conditions. These other programs have been in place for over 15 years, and have played a significant role in accelerating patient access to new therapeutics (Table 1). In 2014 alone, 66 percent of the 41 drugs approved by FDA's Center for Drug Evaluation and Research used at least one of these four pathways, and 46 percent received at least two of the designations in combination.
Table 1: Overview of FDA's Expedited Review Programs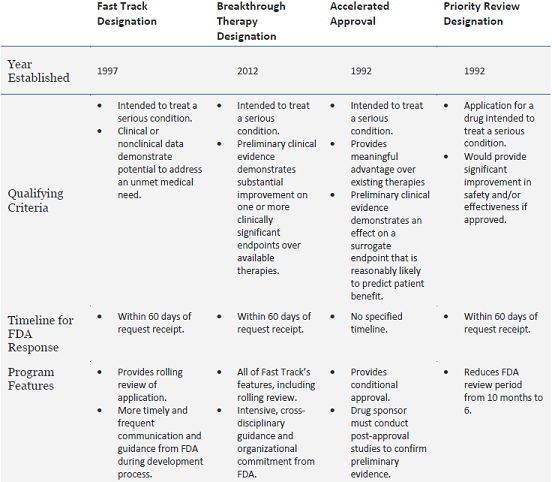 Adapted from FDA's Guidance for Industry: Expedited Programs for Serious Conditions – Drugs and Biologics