Whether you're planning summer travels or staying home to lounge by the pool, a good book is great company. If you're still compiling your summer reading list, let us help! The Brookings Press has you covered with some noteworthy new titles.
We've put together a list of our favorites to keep you educated and entertained this summer. Browse the titles below to learn more, and we hope you enjoy.
SUMMER SALE! Use code KSRL at checkout to receive 40% OFF every title in this list—including hardcover, paperback, and ebook. Offer good through 9/3/2015. Happy summer reading!
Fiona Hill & Clifford G. Gaddy

We'll start the list with "Mr. Putin: Operative" in the Kremlin. Part biography. Part political thriller. All true. 
The Financial Times has said, "This is not just another Putin biography. It is a psychological portrait," and this week the newspaper named "Mr. Putin" one of the 
best books for summer
.
Authors Fiona Hill and Clifford Gaddy take the reader across 62 years—from Putin's childhood in Leningrad to law school to the KGB and the Kremlin—parsing through facts and legends to create a multidimensional portrait of the man they say is at war with the west.

Learn more and buy the book at 40% off »

Isabel Sawhill

Isabel Sawhill's latest book explores the social and personal costs that come with the growing trend of unplanned pregnancies in the United States. Over half of all births to young adults in the U.S. now occur outside of marriage, resulting in increased poverty and inequality for children, and reduced opportunities for their parents.
An economist by training, Sawhill grounds this story in data, and is pragmatic, and even brusque, in pushing aside the idea that re-popularizing marriage is a realistic solution. Instead, she calls for childbearing by design, not by default. As Sawhill puts it, we should change "drifters" into "planners," and through the use of long-acting reversible contraceptives (LARCs), shift our culture to one in which adults only have children when they are ready to be parents.

Learn more and buy the book at 40% off »

Andrew Zimbalist

Sports economist Andrew Zimbalist traces the path of the Olympic Games and the World Cup from noble sporting events to exhibits of excess. It's no wonder this book is a top seller in Boston, one of the many cities now dealing with major resistance to hosting the 2024 Olympics.
If you've been watching the Women's World Cup this summer, or paying attention to the investigation of FIFA's corruption, you'll want to make sure you see how Zimbalist describes the roots of the problem:

"FIFA has the world monopoly for the world's most popular sport. The outcome is enormous power and overflowing revenues. Without competition and without any government oversight (prior to the U.S. Justice Department), FIFA executives have run an almost unimaginably corrupt organization. Sepp Blatter has been the grand choreographer, chief enabler, prime instigator and main beneficiary of this system since 1998."


Learn more and buy the book at 40% off »

Stephen Hess

Richard Nixon died 21 years ago, but he's more popular than ever. Just this month two thick new biographies have been released that are must-reads for Nixonphiles, but we have a more charming and unusual book to recommend.
Written by Stephen Hess, who served on the White House staff during both the Eisenhower and Nixon presidencies, this book is a uniquely personal account of what happened behind closed doors when conservative Richard Nixon made Daniel Patrick Moynihan, a liberal Ivy League professor, his top urban affairs adviser.
If you're planning a summer trip, or just looking to travel back in time, Hess' description of 1969's oddest couple in American public life is not to be missed.

Learn more and buy the book at 40% off »

William H. Frey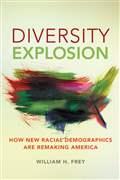 Melting in the summer heat? Then why not take a read up on the American "melting pot" in "Diversity Explosion," and learn all about the shifting demographic future of America. 
Leading demographer William Frey shows us that since 2011, the US has seen the births of more minority babies than white babies. Frey walks us through the data and shares the good news about diversity in the coming decades, as the U.S. will become a more globalized and multiracial nation. Take a look through a
recent data interactive
to get a taste of what you'll find in "Diversity Explosion."

Learn more and buy the book at 40% off »

Philip A. Wallach

Everyone loves a whodunit. Author Philip Wallach turned to the 2008 financial crisis to construct a uniquely modern and wonky American version. The economic devastation of the crisis is well-known, but some allege that ambitious attempts by the Treasury Department and the Federal Reserve to limit the fallout created lasting harm to the traditional American rule of law and government legitimacy.
Wallach sets out to discover how and why, in responding to the financial crisis, did the government end up with a political legitimation crisis.
This summer marks the fifth anniversary of the Dodd-Frank Wall Street Reform act, a far-reaching and still-controversial piece of legislation that was intended to reduce the odds of a repeat of the worst financial crisis in generations. Read "To The Edge" to learn more about its creation and how Wallach assesses Dodd-Frank.

Learn more and buy the book at 40% off »

Jean-Marie Guéhenno

Looking for more history?
At the close of the cold war the world felt full of promise for peace and security. That was nearly 25 years ago, and as author Jean-Marie Guéhenno puts it, "more and more we see that the separation between war and peace is not as clear-cut as it used to be."
In 2001, Guéhenno became undersecretary-general for peacekeeping operations at the United Nations with some clear ideas about the nature of peacekeeping. But the September 11 attacks three weeks later changed everything.
In "The Fog of Peace," Guéhenno brilliantly illustrates with personal, concrete examples—from the crises in Afghanistan, Iraq, Congo, Sudan, Darfur, Kosovo, Ivory Coast, Georgia, Lebanon, Haiti, and Syria—the need to accept imperfect outcomes and compromises in crises. This is an indispensable read for all those who want to understand the reality of peace and choices between engagement and isolationalism in today's world.

Learn more and buy the book at 40% off »

Don't forget to use code KSRL at checkout to receive 40% OFF every title in this list—including hardcover, paperback, and ebook. Offer good through 9/3/2015.